text.skipToContent
text.skipToNavigation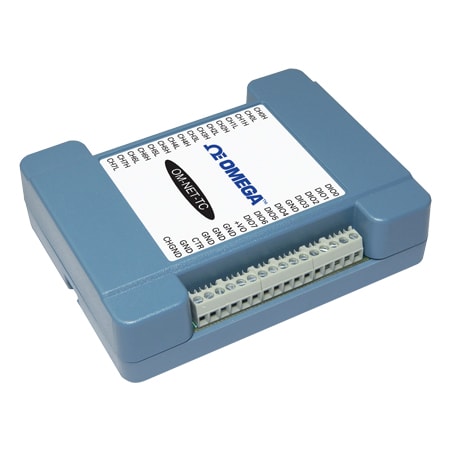 8-Channel Thermocouple Input Ethernet Data Acquisition Module
Item# OM-NET-TC
Added to Your Shopping Cart
Configuration complete.
Please add to cart to keep it or exit the configuration
Failed to Save Configurations, Click on Configure Button Start Again
Lead Time ( If not in Stock):
4 weeks
---
8-Channel Thermocouple Input Ethernet Data Acquisition Module
is rated out of
5
by
4
.
Eight 24-Bit Differential Thermocouple Inputs with Thermocouple Channel-to-Host Isolation
4 Samples/Sec Channel Maximum Sample Rate
Two Integrated Cold Junction Compensation (CJC) Sensors
Open Thermocouple Detection
8 Digital I/O Isolated From Thermocouple Inputs and Host
Digital Outputs Have ±24 mA Drive Capability and are Configurable as Thermocouple Alarms
10/100 Ethernet Interface

Edit Options
View all models
Not all combinations are valid. Options compatible with previous selections will be in bold.
*Highlighted options are not compatible. Please select a different combination.
Input Type
Number of Inputs
Input Range
Power
Digital I/O
Interface Protocol
Description
The OM-NET-TC thermocoupleinput data acquisition moduleoffers high-accuracy temperaturemeasurement with an Ethernetinterface. The device offers thebest value per channel and thebest possible accuracy becausethe accuracy of the internalmeasurement electronics exceedsthe accuracy specifications ofthe thermocouple sensors. TheOM-NET-TC is functionallyequivalent to an OMEGATM OM-USB-TCmodule (USB interface to computer)which makes application migrationvery easy.

Ethernet InterfaceThe OM-NET-TC has a built-in highspeedcommunication port. Userscan remotely access and configurethe device with software over theInternet.

Thermocouple InputConnect up to eight differentialthermocouple (TC) input channelsto the OM-NET-TC. The OM-NET-TCsupports a maximum sample rate of4 S/s per channel, and thermocoupletypes J, K, T, E, R, S, B and N.Thermocouple types are softwareselectableper channel.

Cold-JunctionCompensationThe OM-NET-TC has twohigh-resolution cold-junctioncompensation (CJC) sensors (oneper four thermocouple inputs).

Open-ThermocoupleDetectionThe OM-NET-TC is equipped withopen-thermocouple detection(OTD) for all thermocouple inputchannels. With OTD enabled,users can monitor for broken ordisconnected thermocouple inputs.

Digital I/OThe OM-NET-TC has eight digitalI/O channels that are electricallyisolated from the analog circuits.Each bit is individually configurablefor input or output. Data can betransferred at rates up to 5 kS/swhen the device and host areconnected by Ethernet to the samelocal network. Typical throughputis system-dependent. All DIOchannels are pulled high by defaultto 5V through 47 kO resistors witha jumper on the circuit board. Eachjumper configures the digital portfor pull-up or pull-down.

Temperature AlarmsEach digital output can beoptionally configured as an alarmfor each thermocouple input.When an alarm is enabled, theoutput line associated with thealarm is driven to the appropriatestate determined by the alarmoptions and input temperature.Use the alarm outputs to control adevice or application that indicateswhen a temperature threshold hasbeen exceeded, or to indicate anopen thermocouple condition.

Counter InputThe 32-bit event counter pincounts TTL pulses, and acceptsfrequency inputs up to 10 MHz.

PowerThe OM-NET-TC requires externalpower from the 5V, 1A poweradapter (OM-NET-PS) includedwith the device.

CalibrationThe OM-NET-TC is factorycalibratedusing a NIST-traceablecalibration process. Specificationsare guaranteed for one year.For calibration beyond one year,Contact Omega and return thedevice for recalibration.

SoftwareThe OMB-NET-TC moduleships with an impressive arrayof software, including the newTracerDAQ®, a full-featured, out-ofthe-box data logging, viewing, andanalysis application. Driver supportand detailed example programsare included for Universal Libraryprogramming libraries for Microsoft®Visual Studio® programminglanguages, and other languages,including DASYLab®, and ULx forNI LabVIEW® (comprehensivelibrary of VIs and exampleprograms compatible with 32-bit and 64-bit LabVIEW 2010 orlater) and InstaCalTM installation,calibration and test utility-powerfulsolutions for programmers andnonprogrammers alike. Thesemodules operate under MicrosoftWindows® VISTA/7/8/10 (32-bit and64-bit) operating systems.The OMB-NET-TC data acquisitionmodule is supplied with TracerDAQsoftware which is a collection offour virtual instrument applicationsused to graphically display andstore input data and generateoutput signals:
&nbsp&nbsp&nbsp&nbsp• Strip Chart—Log and graphvalues acquire from analoginputs, digital inputs, temperatureinputs and counter inputs
&nbsp&nbsp&nbsp&nbsp• Oscilloscope—Display valuesacquired from analog inputs
&nbsp&nbsp&nbsp&nbsp• Function Generator—Generatewaveforms for analog outputs
&nbsp&nbsp&nbsp&nbsp• Rate Generator—Generatewaveforms for counter outputsTracerDAQ PRO is an enhancedversion of TracerDAQ and isavailable as a purchased upgrade(SWD-TRACERDAQ-PRO).A comparison of some of thefeatures included in TracerDAQ vsTracerDAQ Pro (see Spec page PDF).

Specifications
(Typical for 25°C unlessotherwise specified)
THERMOCOUPLE INPUT
A/D Converter Type: Delta-Sigma
A/D Resolution: 24-bit
Number of Channels: 8 differentialchannels
Isolation Between Any ThermocoupleInput Channel and Digital/Chassis
Ground: 500 Vdc absolute max
Channel Configuration: Software selectablefor thermocouple typesJ, K, T, E, R, S, B, N (factory defaultconfiguration is type J). Channelconfiguration is stored on EEPROMexternal to the isolated microcontrollerby the firmware whenever any item ismodified. Modification is performed bycommands issued from an externalapplication, and the configuration ismade non-volatile through the use ofthe EEPROM.
Differential Input Voltage Range:±0.128V (calibration is performed at±70 mV)
Absolute Maximum Input Voltage(Between any Two TCx Inputs): ±25V(power on), ±25V (power off)
Differential Input Impedance: 40 MΩ
Input Current:
&nbsp&nbsp&nbsp&nbspOpen Thermocouple DetectDisabled: 1 nA
&nbsp&nbsp&nbsp&nbspOpen Thermocouple DetectEnabled: 65 nA
Common Mode Rejection(fin = 50 Hz or 60 Hz): 110 dB
Noise Rejection(fin = 50 Hz or 60 Hz): 75 dB
Input Bandwidth: 10 Hz
Crosstalk Between Any TwoThermocouple Inputs: -90 dB
Sample Rate: 4 Hz max (per channel).The enabled thermocouple inputs arecontinuously converted at the maximumA/D converter rate. If channels areenabled and have an open thermocoupleconnection the sampling rate will be lower.
Input Noise: 250 nV rms
Gain Error: 0.006% FSR
Offset Error: 3 µV
Measurement Sensitivity (SmallestChange in Temperature That Can BeDetected):
Thermocouple Type J,K,T,E,N: 0.09°C
Thermocouple Type R,S: 0.11°C
Thermocouple Type B: 0.13°C
Warm-Up Time: 20 minutes min
Open Thermocouple Detect ResponseTime: 1 s
CJC Sensor Accuracy (0 to 45°C):±0.20°C typ, ±0.40°C max
DIGITAL I/O
Digital Type: 5V TTL input/ CMOSoutput
Number of I/O: One port of 8 bits,shared with temperature alarmsConfiguration: Each bit can beindependently configured for input oroutput
Pull-Up Configuration: All pins pulledup to 5V using 47 K resistors (default).Can be changed to pull-down using aninternal jumper
Digital I/O Transfer Rate (System-Paced): 100 to 5000 port reads/writesor single bit reads/writes per secondtyp, on local network. This is the typicalthroughput when the device and host areboth connected by Ethernet to the samelocal network. The throughput can varysignificantly, and typical throughput isnot guaranteed if a wireless connectionis involved or data is sent over theinternet
Alarm Functionality: Any combinationof DIO bits may be configured to becomeoutputs and go to defined values whenan Ethernet connection with a host isestablished or lost
Power On and Reset State: All bits areinput unless the alarm functionality isenabled for them
Input High Voltage Threshold: 2.0V min
Input High Voltage Limit: 5.5V absolutemax
Input Low Voltage Threshold: 0.8V max
Input Low Voltage Limit: -0.5V absolutemin, 0 V recommended min
Output High Voltage: 4.4V min(IOH = -50 µA), 3.76V min(IOH = -24 µA)
Output Low Voltage: 0.1V max(IOL = 50 µA), 0.44V max (IOL = 24 µA)
Power On and Reset State: Input
TEMPERATURE ALARMS
Number of Alarms: 8 (one per digitalI/O line)
Alarm Functionality: Each alarmcontrols its associated digital I/O lineas an alarm output. When an alarm isenabled, its associated I/O line is setto output and driven to the appropriatestate determined by the alarm optionsand input temperature. The alarmconfigurations are stored in non-volatilememory and loaded at power on
Alarm Input Modes:
&nbsp&nbsp&nbsp&nbsp• Alarm when input temperature =T1,reset alarm when input temperature < T2
&nbsp&nbsp&nbsp&nbsp• Alarm when input temperature =T1,reset alarm when input temperature>T2
&nbsp&nbsp&nbsp&nbsp• Alarm when input temperature is T2
&nbsp&nbsp&nbsp&nbsp• T1 and T2 may be independently setfor each alarm
Alarm Error Modes:
&nbsp&nbsp&nbsp&nbsp• Alarm on temperature reading only
&nbsp&nbsp&nbsp&nbsp• Alarm on temperature reading oropen thermocouple error
&nbsp&nbsp&nbsp&nbsp• Alarm on thermocouple error only
Alarm Output Modes:
&nbsp&nbsp&nbsp&nbsp• Disabled, digital I/O line may be usedfor normal operation
&nbsp&nbsp&nbsp&nbsp• Enabled, active high output (DIO linegoes high when alarm condition is met)
&nbsp&nbsp&nbsp&nbsp• Enabled, active low output (DIO linegoes low when alarm condition is met)
Alarm Latency: 1 second (Alarmsettings are applied when changedand at power-ON. Temperaturesare converted on enabled channelsand processed for alarm conditionsregardless of the communicationsconnectivity)
COUNTER
Pin Name: CTR
Counter Type: Event counter
Number of Channels: 1
Input Type: Schmitt trigger, 47 kO pulldownto ground
Input Source: CTR screw terminalResolution: 32 bits
Schmitt Trigger Hysteresis: 0.6V min,1.7V max
Input High Voltage Threshold: 1.9Vmin, 3.6V max
Input High Voltage Limit: 5.5Vabsolute max
Input Low Voltage Threshold: 1.0Vmin, 2.3V max
Input Low Voltage Limit: -0.5Vabsolute min, 0V recommended min
Input Frequency: 10 MHz max
High Pulse Width: 50 ns min
Low Pulse Width 50 ns min
MEMORY
EEPROM: 4096 bytes
POWER
External Power Supply: 5V, 1A (viaincluded AC adapter)
Supply Current (Quiescent Current):177 mA typ (this is the total quiescentcurrent requirement for the device thatincludes the LEDs and does not includeany potential loading of the digital I/Obits or +VO terminal
User Output Voltage Range(Available at +VO Terminal): 4.40Vmin to 5.25V max, assumes suppliedAC adapter is used
User Output Current (Available at+VO Terminal): 10 mA max
NETWORK
Ethernet ConnectionEthernet Type: 100 Base-TX,10 Base-T
Communication Rates: 10/100 Mbps,auto-negotiated
Connector: RJ-45, 8 position
Cable Length: 1 meter standard and upto 100 meters (328') max
Additional Parameters: HP auto-MDIXsupport
NETWORK INTERFACE
Protocols Used: TCP/IP (IPv4 only), UDP
Network Ports Used: UDP:54211(discovery), UDP:6234 (bootloaderonly), TCP:54211 (com¬mands)Network IP Configuration: DHCP + linklocal,DHCP, static, link-local
Network Name: E-TC-xxxxxx, wherexxxxxx are the lower 6 digits of thedevice MAC address
Network Name Publication: By NBNS(responds to b-node broadcasts,therefore only available on the localsubnet)
NETWORK FACTORYDEFAULT SETTINGS
Factory Default IP Address:192.168.0.101
Factory Default Subnet Mask:255.255.255.0
Factory Default Gateway: 192.168.0.1
Factory Default DHCP Setting: DHCP+ link-local enabled
NETWORK SECURITY
Security Implementation: TCPsockets are not opened unlessapplication sends the correct PIN code(stored in non-volatile memory, may bechanged by user, default value 0000)
Number of Concurrent Sessions: 1
Vulnerabilities: TCP sequence numberapproximation vulnerability
LED DISPLAYS AND THEFACTORY RESET BUTTON
Factory Reset Button: Used to resetthe network configuration settings to thefactory default values.
Power LED (Top) 4.2V < Vext <5.6V: On
Vext <4.2V, Vext >5.6V: Off (power fault)
Activity LED (Bottom): On when thereis a valid host connection and blinkswhen a command is received
Ethernet Connector LEDs Left, Green:Link/activity indicator on when there isa valid Ethernet link and blinks whennetwork activity is detected.
Right, Yellow: Speed indicator on for100 Mbps, off for 10 Mbps or no link.
ENVIRONMENTAL
Operating Temperature Range:0 to 55°C max (32 to 131°F)
Storage Temperature Range:-40 to 85°C max (-40 to 185°F)
Humidity: 0 to 90% RH non-condensingmax
Screw Terminal ConnectorsConnector Type: Screw terminal
Wire Gauge Range: 16 to 30 AWG
MECHANICAL
Dimensions:117.9 L × 82.8 W × 29.0 mm H(4.64 × 3.26 × 1.14")
Weight: 0.4 kg (0.88 lb)
Rated

4

out of

5
by
Robert2
from
Good Hardware - Good Price - Software Not So Good
The Omega hardware has proven itself to be reliable and well developed. I wish there was at least one more set of software support possibilities that would support their hardware better than the InstaCal/TracerDaqPro combination. The software is not user friendly. Depending on how you move thru the programs, you can easily lose data. It is very sensitive to the sequence that you add/change data that is pertinent to both applications. Lastly, the application restricts thermocouple support to 48 channels. There should be an alternative selection/or software that supports more than 48 channels.
Date published: 2019-04-08
Rated

1

out of

5
by
researchreactor
from
Works but label was rotated
Same issue as the other 2 reviews: got an "open connection" error when trying to test the analog inputs, and when I rotated the connections 180 degrees the error went away. Very annoyed at Omega.
Date published: 2018-11-09
Rated

3

out of

5
by
jdbos
from
Works but connector label is applied wrong
I had the same experience as reviewer Clearw. However, I discovered the problem - the I/O label is rotated 180°. Just mentally rotate the label so that CH0H is at the front right and CH7L at the rear right when you look at the device from the end with the power connector. The attached photo shows the device hooked up to working thermocouples. As you can see, the TC wires are on the connector block on the right when you hold the power connector toward you. Once you do this, the device works fine, at least the TC inputs. Presumably the connector block on the left has the digital I/O etc. but I didn't check that out. The photo of the device on the Omega website actually shows the label affixed correctly - although I only discovered that after I had figured out the problem from other clues. (It did not make sense that the jumper for the digital PU/PD option was on the opposite side of the circuit board from the digital I/O, and when you look at the circuit board, the connections labeled for differing functions all appeared to have identical board topology, which is what you would expect for the TC inputs.) This should be embarrassing for Omega. They have had a month since Clearw posted his review and they haven't posted a correction. Their own photo on their website is different from the device I received, so somebody there has realized it but not told the service department.
Date published: 2018-09-08
Rated

1

out of

5
by
Clearw
from
Engineer
Did not work correctly right out of the package. "open connection" error messages.
Date published: 2018-08-06
CE