text.skipToContent
text.skipToNavigation
Configure Product
Saved Configuration
View Configuration
Terms and Conditions
Saved Addresses
Something went wrong
Your card information was not accepted. Please contact the issuing bank for details.
Payment submission timed out. The server might be busy.
There was an error processing your request.
Please verify there are no missing or invalid fields.
Please enter a card number
Please select a card type
Please enter a value for this field
Please enter an expiry month
Please enter an expiry year
Please enter an issue number
Please enter a start month
Please enter a start year
The card number is not valid
The card type is not supported
The card verification code is not valid
The expiry month is not valid
The expiry year is not valid
The issue number is not valid
The start month is not valid
The start year is not valid
This field is required
Errors were found with the address you provided. Please verify your address.
Date should be in MM/DD/YYYY format
Please enter valid values
Please enter future date
Please enter the shipping date
Shipment date is updated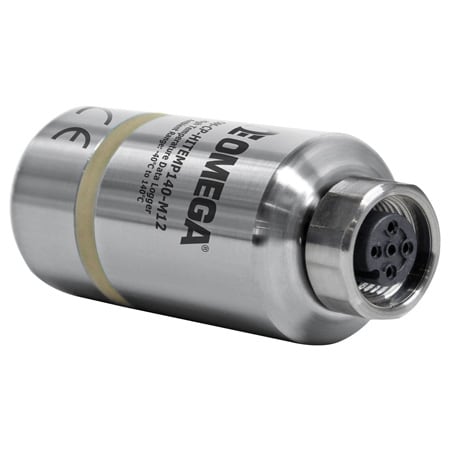 High Temperature Data Logger With Built-In M12 Connector
Item# OM-CP-HITEMP140-M12
M12 Probe Connector–Quickly Interchange RTD Probes to Fit Your Application
Measurement Range of -200 to 850°C
(-328 to 1562°F)
±0.05°C (±0.09°F) Accuracy
User Replaceable Battery
Trigger Settings
Programmable Start and Stop Time
Battery Life Indicator
Ready to Use Right Out-of-the-Box
Free NIST Certification
Number of Inputs
Measurement Type
Input Type
Data Points (Records) / Channel
Max Sampling Rate
Accuracy Rating
Display Type
Form Factor
Certificate
Power Supply Option
Communication
Additional Features
Added to Your Shopping Cart
Configuration complete.
Please add to cart to keep it or exit the configuration
Failed to Save Configurations, Click on Configure Button Start Again
Lead Time ( If not in Stock):
4 weeks
Description
The OM-CP-HITEMP140-M12 is a rugged and versatilehigh temperature data logger featuring an M12 probeconnector. Compatible with a wide variety of M12 RTDprobe styles, this data logger is capable of measuringup to 850°C (1562°F) (probe dependent). With theability to change probes as needed, this device satisfiesa multitude of application needs with one powerful datalogger versus the need for multiple loggers.
The OM-CP-HITEMP140 data logger has a water tightbody enclosure made of food grade stainless steel. Itcan be placed in environments with temperatures ashigh as 140°C (284°F) making it suitable for a widerange of applications including autoclave verification,food preparation and processing, environmental studies,well monitoring, washer disinfectors and pasteurization.The OM-CP-HITEMP140-M12 records and stores upto 43,690 time stamped readings and is equipped withnon-volatile solid state memory which retains data evenif the battery becomes discharged.
Using the OM-CP-HITEMP140-M12 software, starting,stopping and downloading the OM-CP-HITEMP140-M12is simple and easy. Graphical, tabular and summarydata is provided for analysis and data can be viewedin °C, °F, K or °R. The data can also be automaticallyexported to Excel® for further calculations.
The OM-CP-MULTIMOUNT-Z is a versatile mount orstand for use with the OM-CP-HITEMP140 series ofdata loggers. It can be used to stabilize a logger insidean autoclave, or screwed to a flat surface to createan anchored base. The OM-CP-MULTIMOUNT-Zis made of stainless steel and is able to withstandtemperatures up to 150°C (302°F) making it ideal foruse in autoclave sterilization processes.
The OM-CP-ALUCASE-14 and OM-CP-ALUCASE-18are high quality, multi-purpose briefcases, designedfor the protection, transport and storage of dataloggers, equipment and accessories. These durablealuminum cases include pick and pluck foam inserts,allowing the user to customize a snug fit and secureany combination of products. The briefcase frame isstrong yet surprisingly light weight with a comfortableergonomically upholstered handle. Two sizesare available: a compact 36 cm (14") width(OM-CP-ALUCASE-14) and large 47 cm (18") width(OM-CP-ALUCASE-18), both featuring an eggcrate foam lined lid and keyed locks.
The OM-CP-IFC406 is a multiplexer datalogger interface for compatible OM-CP Seriesdata loggers. The OM-CP-IFC406 allowsup to six data loggers to be connected intoone interface. Up to three OM-CP-IFC406units may be daisy-chained together tocommunicate with a total of 18 data loggersthrough one USB port. To connect multipleOM-CP-IFC406 multiplexer interfaces together,simply join the units side by side, making surethe spring pin contacts are connected andmagnetically joined.
CE