text.skipToContent
text.skipToNavigation
Configure Product
Saved Configuration
View Configuration
Terms and Conditions
Saved Addresses
Something went wrong
Your card information was not accepted. Please contact the issuing bank for details.
Payment submission timed out. The server might be busy.
There was an error processing your request.
Please verify there are no missing or invalid fields.
Please enter a card number
Please select a card type
Please enter a value for this field
Please enter an expiry month
Please enter an expiry year
Please enter an issue number
Please enter a start month
Please enter a start year
The card number is not valid
The card type is not supported
The card verification code is not valid
The expiry month is not valid
The expiry year is not valid
The issue number is not valid
The start month is not valid
The start year is not valid
This field is required
Errors were found with the address you provided. Please verify your address.
Date should be in MM/DD/YYYY format
Please enter valid values
Please enter future date
Please enter the shipping date
Shipment date is updated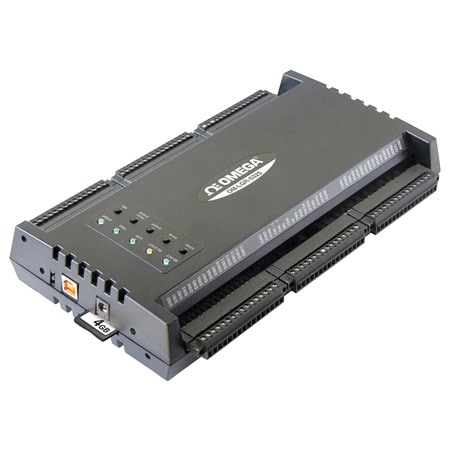 Stand Alone, High-Speed, Multifunction Data Loggers
Item# OM-LGR-5325
16 Analog Inputs up to ±30V
16-Bit Resolution
16 Industrial Digital Inputs up to 30V
Single Form C Relay Digital Output Configurable for Triggering/Alarming
4 Counter Inputs (Quadrature Available)
4 GB SD Memory Card Included, Supports up to 32 GB
Multi-Channel Analog and Digital Triggering
Pushbutton Controls for Field Operation
Number of Inputs
Measurement Type
Input Type
Data Points (Records) / Channel
Max Sampling Rate
Accuracy Rating
Display Type
Form Factor
Certificate
Power Supply Option
Communication
Additional Features
This item is available for quick shipping
Added to Your Shopping Cart
Configuration complete.
Please add to cart to keep it or exit the configuration
Failed to Save Configurations, Click on Configure Button Start Again
Lead Time ( If not in Stock):
7 weeks
Product Specs
Common Mode Rejection Ratio

fin = 60 Hz

Analog Input Impedance

12 kΩ min

Analog to Digital Converter Type

16-bit successive approximation type

Configurable Parameters

1 Form C

Maximum Storage Temperature

85°C (185°F)

Maximum Ambient Temperature

55°C (131°F)

Minimum Ambient Temperature

-40°C (-40°F)
Description
The OM-LGR-5320 Series are highspeed, standalone data loggers for analog and digital signals. Each module offers 16 analog inputs, 16 digital inputs, one single Form C relay (0.5A) digital output for triggering/alarming, and four counter/encoder inputs. These devices allow users to collect high-speed correlated analog and digital data without a computer. OM-LGR-5320 devices perform high-speed, correlated measurements, up to 200 kS/s, directly to a Secure Digital (SD) or SDHC memory card. Utilizing the advanced analog and digital triggering options, users can collect data to monitor systems and events without dedicating a PC. The OM-LGR-5320 loggers include easyto-use DAQLog software to configure the devices and retrieve data via the USB interface or SD memory card.
Three models are available in the OM-LGR-5320 Series. The OM-LGR-5325 features up to ±10V analog inputs, 100 kS/s sampling, four conventional counter inputs (non-quadrature), and singlechannel trigger modes. The OM-LGR-5327 features up to ±30V analog inputs, 200 kS/s sampling, four quadrature encoder inputs, and multi-channel trigger modes. The OM-LGR-5329 includes all the functionality of the OM-LGR-5327 plus isolated digital inputs.
Analog Input
16SE/8DE analog inputs are included on each data logger. The OM-LGR-5325 features multiple analog input gain ranges up to ±10V. The OM-LGR-5327 and OM-LGR-5329 add a ±30V analog input range for increased measurement capability. Each data logger provides 16-bit resolution.
Correlated, High-Speed Sampling
The OM-LGR-5327 and OM-LGR-5329 can sample input data at up to 200 kS/s while the OM-LGR-5325 offers a 100 kS/s sample rate. Each module can sample all analog, digital, and counter data synchronously, making it easy to compare time between all channels.
Configuration, Data Storage, and Retrieval
Each data logger can be configured through the SD memory card or via the on-board USB port. Simply configure the logging session with the included DAQLog software. All logging parameters are captured on the SD memory card. A 4 GB SD memory card is included with each data logger. Memory cards up to 32 GB are supported for extended data collection. Data is retrieved by removing the SD memory card from the logger and uploading to a PC or by connecting to the USB port on the logger.
Triggering
OM-LGR-5320 Series data loggers offer multiple triggering options for starting and stopping a data scan. These options vary by model. The OM-LGR-5325 features single-channel analog and digital triggering. The OM-LGR-5327 and OM-LGR-5329 offer multi-channel and pattern triggering options. Multiple trigger options allow collection of only the desired data. External clocking is also supported.
Digital I/O
16 digital inputs are included with each data logger. These inputs can be sampled synchronously with analog input data. The OM-LGR-5325 and OM-LGR-5327 feature up to 28V digital inputs while the OM-LGR-5329 features up to 30V digital inputs. The digital inputs on the OM-LGR-5329 also provide 500 Vdc isolation. Each data logger also features one digital output relay channel. The Form C relay can be programmed via the included DAQLog software to alarm when desired conditions are met.
Counters
Four counter inputs are built into the OM-LGR-5320 Series. The OM-LGR-5325 features conventional up/down counters. The OM-LGR-5327 and OM-LGR-5329 include quadrature and conventional counter inputs. Multiple count modes are also supported.
Pushbutton Logging Controls
Onboard one touch logging controls are featured on each module for quick and simple operation. These controls can be used for a variety of functions including:
• Configuration loading from SD memory card
• Start/stop logging
• Force trigger/user event
• Device reset
• Control of status LEDs
LEDs on each module provide instant logging and trigger status and activity state.
DAQLog Software
DAQLog Software is an easy to use application included with each OM-LGR-5320 Series data logger. DAQLog uses a spreadsheet style interface that allows simple setup of channel and logging parameters. DAQLog includes the following functions:
• Data logger configuration
• Channel setup
• Trigger setup
• Data conversion
• Scan rate and acquisition length
• Trigger, event, and alarm parameters
Data can be saved in .csv format for easy import into Excel®.
CE