text.skipToContent
text.skipToNavigation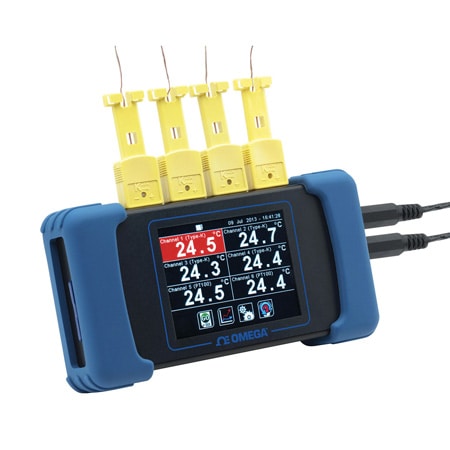 Six Channel Handheld Temperature Data Logger With Touch Screen
Item# RDXL6SD
---
Six Channel Handheld Temperature Data Logger With Touch Screen
is rated out of
5
by
7
.
Four Type J, K, T, E, R, S or N Thermocouple Inputs and Two 3-Wire Pt100 RTD Inputs (RTD connectors are included)
Display and Log All 6 Channels Simultaneously or Individually
Scheduled and Manual Logging Start/Stop
4 GB SD Card Stores Up to 1 Year of Data
Display Maximum, Minimum, Average and Standard Deviation
Display Temperature Difference Between Any 2 Channels
Battery or Mains Powered (With Adaptor)
Touch Screen with Backlight
2-Channel Temperature Chart
Alarm Indication for Each Channel

Product Specs
Alarm

12 x alarms (2 per channel) with adjustable level

Display Type

resistive touch TFT

Configurable Parameters

12 x alarms (2 per channel) with adjustable level

Display Size

72 mm

Maximum Ambient Temperature

50°C (122°F)

Minimum Ambient Temperature

0°C (32°F)
The old version of RDXL6SD is discontinued and please check the new version RDXL6SD-USB for details.

The RDXL6SD is a six-channel touchscreen data logger that accepts four thermocouples and two RTD inputs. Each channel has individually configurable HI/LO alarms. The intuitive touchscreen interface allows each channel to be configured separately for input type, math, alarm and display options. All six channels can be displayed and logged simultaneously or individually. Data can be logged as fast as once a second and is stored on the included 4 GB SD card in Excel® compatible format.

Specifications
Inputs: 4x thermocouple inputs (any of the following types), for use with miniature thermocouple connectors, and 2 x 3-wire Pt100 inputs, for use with 3-pole stereo 3.5 mm (0.14') connectors (see below)
Input Temperature Range:
Type J: -200 to 1200°C
Type K: -200 to 1372°C
Type T: -200 to 400°C
Type R: 0 to 1768°C
Type S: 0 to 1768°C
Type N: 0 to 1300°C
Type E: -200 to 1000°C
RTD: -200 to 850°C
Temperature Accuracy:
For Thermocouples: ±0.1% or 0.8°C
For RTD: ±1.0% or 1.0°C
Temperature Resolution: 0.1° for temperatures below 1000°C or °F, 1° for temperatures above 1000°C or °F
Display: 72 mm (2.83') resistive touch TFT, 320 x 240 pixels, backlit
Configurable Parameters: Temperature units, alarms, signal processing, date and time, data logging, power options, graph channels
Temperature Units: °F or °C
Alarm Configuration: 12 x alarms (2 per channel) with adjustable level, individually configurable as HI or LO
Signal Processing: Average, minimum, maximum, standard deviation, 2-channel temperature difference
Display Response Time: 1 second
Operating Temperature: 0 to 50°C (32 to 122°F)
Power Supply: Two "AA" batteries, 5 Vdc adaptor (included)
Current Draw: 250 mA while logging with full display brightness; 60 mA while logging in power saving mode
Weight: 180 g (6.3 oz) without batteries
Dimensions: 136 W x 71 H x 32 D mm (5.35 x 2.8 x 1.25')
Pt100 Connectors (RTD): Use stereo (3-pole) 3.5 mm (0.14') connectors, wired as follows:
Data Logging Specifications
Data Logging Interval: 1 to 86,400 seconds (1 day)
Maximum SD Card Capacity: 4 GB SD Card (included)
Variables Logged: Measured temperature, cold junction temperature, alarm events
File Format: .csv (can be imported to Excel)
Configurable Parameters: Sample period, number of samples, scheduled start date and time

Rated

5

out of

5
by
roxy46
from
For individual operator
I brought a this in this month. I want to know the individual temperature in all channel at a time. But when I added two channel at a time the display show the temperature difference between both channel. Please help me to know the individual temperature at a time
Date published: 2017-11-26
Rated

5

out of

5
by
morgadoc
from
Great Design and super user friendly
We bought the RDXL6SD for the price point versus features it offered and we are very happy to see that we were correct. The unit is super simple to set up and use. The best part is having the data saved onto the SD card and then popping that into the compute slot. Once Windows recognizes the card, it opens up the dialog box. Select your data file, and Excel will open up with your file. It would be hard to make it simpler. Very nice design!
Date published: 2016-05-23
Rated

1

out of

5
by
RobertRanger
from
Key things keep this from being great
The main reason for this purchase was to be able to record data and the plot that data. While that is technically possible, it is not possible to do it in a useful format. Most everyone that would plot this data would do so in Excel, however the data are recorded by hour with a single date entry at the top, so you can't plot the temperature vs time over multiple days. To make matters worse, the date format is in a dd-mm-yyyy format, which Excel does not like. If you only want to plot "data point" vs temperature this would work out fine for you. If you're like me and need to trend over multiple days, keep looking.
Date published: 2017-03-17
Rated

3

out of

5
by
gilbot
from
Promising, but missing live PC interface
A USB or serial link to use this as a live logger as well would make this a killer device.
Date published: 2016-07-06
Rated

4

out of

5
by
ovenprofiler
from
Durable for factory use
We like everything except 1 feature. We wish the 4 thermocouple lead sockets were just a little farther apart. They fit mini connectors well, but in our application we connect to ceramic connectors so we can let the leads travel through our oven at the end of the chamber heat test. Four ceramic connectors won't fit in this space. I think we have seen there are now "mini-ceramic" connectors, and if so, we will be perfectly satisfied.
Date published: 2018-03-18
Rated

5

out of

5
by
EZul
from
Good Value
This temperature logger works great. It is simple and easy to use. The functions are very intuitive to use. Excellent tool to track temperature over time.
Date published: 2017-12-04
Rated

5

out of

5
by
RZ17
from
RDXL6SD - Good Quality/ Low Price
I purchased Six channel Handheld Temperature Data logger to monitor temperature deviation on new developed equipment. Pros: Unit is well build, with intuitive controls and good features. Came with 4 K-type TC probes. Cons: Did not include RTD sensors. Included Pt Connectors Stereo (3-pole) 3.5 mm connectors Do Not Provide good low resistance contact, which affects measurements on 5th and 6th channels. Note: Qmega Customer Support is excellent! One of K-type TC from the kit was defective and after a single call to Qmega Customer Support, new TC was quickly shipped to me.
Date published: 2017-04-10
Data sheet for RDXL6SD-USB-DECAL comes with 4 thermocouples but no thermocouple connectors to interface with unit. I need to know the correct part number for the thermocouple connectors and the length of the thermocouple lead wires
Thanks for your question. Our Tech Support has connected with you and advised that the probes that come with the RDXL6SD-USB are 36" in length and you get one per channel. The connector that mates with the connector on the probe is the SMPW-K-F and the meter accepts a SMPW-K-M. The extension wire and a mating pair of connectors to extend and just use the 36" thermocouple as is for 36" or less.
Date published: 2019-05-20
what is the cost of this unit with calibration certs?
Hi, the part number requested with calibration would be RDXL6SD-USB-CAL-3 priced at $600 and has a 3 week lead time. Please contact us via phone or email anytime if you need any further assistance. Thank you!
Date published: 2019-05-17