text.skipToContent
text.skipToNavigation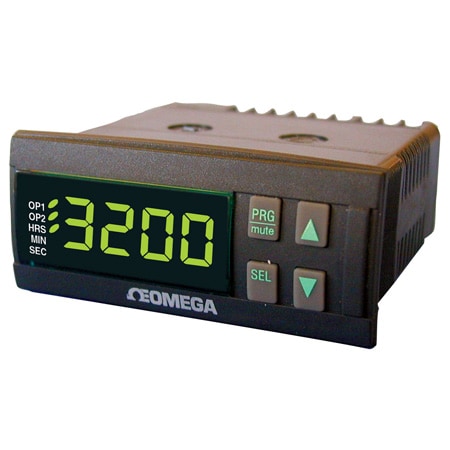 Economical, Compact Programmable Timer, IP65
Compact Programmable Timer

Item# PTC-14
---
The PTC-14 has been discontinued. For a replacement, please see PTC-14-A. replacement.

9 Programmable Modes
6 Timing Ranges
Security Code
2- or 1-Time plus 1 Instantaneous Contact
Programmable Reset Function
External Hold and Reset
IP65 Water and Dust Protection
LED Status and Timing Indicators

The PTC-14 programmable timer, packaged in a compact 75 x 33 x 69 mm (2.9 x 1.3 x 2.7') housing, is an extremely versatile product offering nine operating modes applied to two timed output relay contacts. When only one of the timers is being used, the other output acts as a set of instantaneous changeover contacts. The single model provides timing from 0.1 seconds to 100 hours.

Specifications
Timing Ranges:
0 to 999.9 sec,
0 to 9999 sec, 0 to 9999 min,
0 to 99 min 59 sec, 0 to 99 hr 59 min,
23:59 in 24 hr clock mode
Timing Modes:
DE, DDE, DP, CCT, DE-2, IT-2,
DE-IT, DD-2, 24-hour clock
Supply Voltage: 12 to 24 Vac/Vdc
Supply Variation:±10% of supply voltage
Battery Backup:External 3 Vdc to
retain clock on 24 hr mode only at
loss of supply voltage
Power Drain: 3 Va max
Contact Ratings:
OP1: 8 A @ 240 Vac, SPDT
OP2: 5 A @ 240 Vac resistive, SPST
Reset Time:100 msec max
Ambient Conditions
Working Temp:0 to 50°C (32 to 122°F)
Storage Temp:0 to 70°C (32 to 158°F)
Approvals: Complies with CE directives EN50081-1 and
EN50082-1 for EMC and EN61010-1 for low voltage
Weight: 140 g (5 oz)


Rated

5

out of

5
by
EM1967
from
Easy to program and practical
Nice unit to replace timers with mechanical relays. It improves accuracy on my process
Date published: 2016-04-07
Rated

4

out of

5
by
Enovix Corp
from
Good But Display Cuts Out
Performed as expected but the display blanks out some of the lines, randomly. Unplugging and plugging back in usually works. Doesn't affect the timer itself, must be a bad display.
Date published: 2021-02-07
I have a customer requesting the CE certificate of Declaration of conformity for the PTC-14 Timer and also the PSW-190 Series Pressure Switch? Can you help?
These certs are in process and will be emailed shortly to the email address you provided.
Date published: 2020-03-25
Do you have CAD drawings available for the PTC-14 ?
Thank you for your inquiry. Unfortunately there are no CAD drawings for this product.
Date published: 2020-03-11
Is this timer capable to do automatic cycling ? I need to set an infinite loop and to activate one of the relays at the end of each cycle.
Thank you for connecting with Omega. The PTC-14 timer has several modes including a cycle mode. You can set the relay on and off times in the program and have it loop infinite.
Date published: 2020-05-12
Do you have a recommended panel cutout size for the PTC-14?
Thank you for your inquiry Sideshowbob. The panel cut-out dimensions are 2.795 inches x 1.142 inches (71 mm x 29 mm).
Date published: 2021-03-31
Hello.,  I have recently bought the PTC-14 Timmer but I am concern about the temperature the Timmer reaches.  I did some dummy testing with a 20 VDC power supply in cct mode inside my office and goy 52 C˚. Is this normal ?
Thanks again for contacting us. This sounds abnormal. Please contact Omega temperature engineering support at 800-359-1660 and select temperature group to review. Best regards OMEGA
Date published: 2020-01-14
How long does the EEPROM memory last on the timer? Also, will the timer ever 'forget' the parameters programmed by the user and revert to default settings?
Hi Blair, Thank you for the inquiry. This is not in specification, but settings should remain stored in memory for more than a year. Best regards OMEGA
Date published: 2021-05-21