text.skipToContent
text.skipToNavigation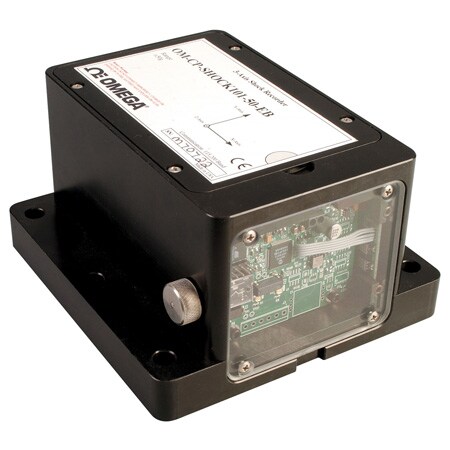 Tri-Axial Shock Data Logger with Extended Battery Life
Item# OM-CP-SHOCK101-100-EB
---
Shipment Monitoring
Assembly Line Monitoring
Brake Testing
Fragility Testing
Laboratory Drop Testing
Aircraft Turbulence Measurement
Machinery Monitoring
Railcar Coupling Impacts
Ready to Use Right Out-of-the-Box
Free NIST Certification
A newer version of this product is available with better features at a lower price! Please see OM-CP-SHOCK Series.
The OM-CP-SHOCK101-EB is a battery powered, stand alone 3-axis shock recorder which offers a battery life of up to 60 days typical. The unit measures and records shock as the peak acceleration levels over the user defined interval.

The OM-CP-SHOCK101-EB is specifically designed for documenting dynamic environments such as moving vehicles, trucks, containers, ships, etc. The device is also valuable in characterizing environments such as production and assembly lines of delicate equipment, IC fabrication, communications and computer components. This is an all-in-one compact, portable, easy to use device that will measure and record up to 349,525 measurements per axis. The storage medium is non-volatile solid state memory, providing maximum data security even if the battery becomes discharged. The user can start and stop directly from the computer and it's small size allows it to fit almost anywhere.

The OM-CP-SHOCK101-EB makes data retrieval quick and easy. Simply plug it into an empty COM or USB port and our userfriendly software does the rest.

Specifications
Channels: Shock (3 axes)
Sample Rate: 1.953ms/512Hz
Reading Interval: 64Hz to 5min
Memory: 349,525 readings per axis, for a total of 1,398,100 readings
Start Time: Software programmable start time and date, up to 180 days in advance
Status Indicators:
Red: Blinks to indicate sleep mode
Red & Green: Blinks to indicate delay start
Green: Blinks to indicate taking samples (blinks at sample rate)
Password Protection: An optional password may be
programmed into the device to restrict access to configuration
options. Data may be downloaded without the password
Real Time Recording: Record instantaneous acceleration in
real time (1 second or slower reading rate)
Calibration: Digital calibration through software
Calibration Date:Automatically recorded within device
Power: 6 D-cell alkaline batteries included, user replaceable
Replaceable Battery: 60 days typical @25°C, 1 minute reading rate
Data Format: Date and time stamped gravities (g and mg)
Time Accuracy: ±1 minute/month (at 20°C, RS232 port not in use)
Computer Interface: PC serial or USB (interface
cable required); 115,200 baud
Software: XP SP3/Vista/7 and 8 (32-bit and 64-bit)
Operating Environment:
-20 to 54°C, (-4 to 129°F) 0 to 95% RH non-condensing
Dimensions: 5.5 x 5.4 x 3.2'
(140 mm x 137 mm x 80 mm)
Weight: 2.3 kg (5 lbs)
Materials: Anodized aluminum
I purchased a OM-CP-SHOCK101-100-EB but found it didn't come with a patch cord for setting it up and data retrieval. Is the patch cord sold separately or did I just not get one? Please advise as I need this quickly. Thanks. Chris Remen
Thanks for your question. You will need the part number OM-CP-IFC200. https://www.omega.com/en-us/search/?text=OM-CP-IFC200 , The OM-CP-IFC200 has windows software and USB cable, and is in stock.
Date published: 2019-06-13