text.skipToContent
text.skipToNavigation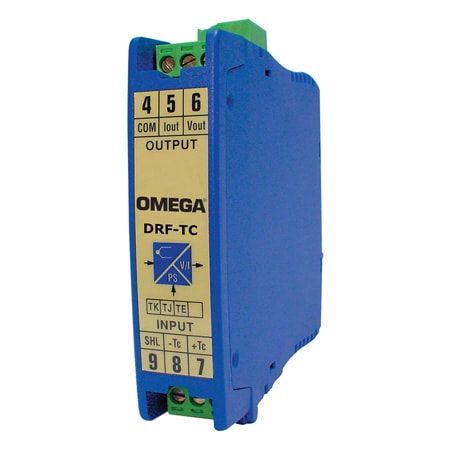 DIN Rail Thermocouple Input Signal Conditioners
Thermocouple Input Signal Conditioner

Item# DRF-TCJ-115VAC-0/150C-0/10
---
This product has been discontinued. For a potential alternate, please see DRSL-TC.

Models for J K E T R and S Thermocouples
Accuracy 0.3%
250 ms Response Time
Upscale Break Protection
Linearized Output
Galvanic Isolation Between Input Output and Power
The DRF series DIN rail signal conditioners are designed to accept a broad range of input signals, such as ac and dc voltage and current, frequency, temperature (thermocouple and RTD), and process transducers, and provide standard process outputs of either 4 to 20 mA, or 0 to 10 Vdc. The DRF series feature a modern housing design, that is easily mounted on standard 35 mm DIN rails. Connections are safely and securely made through pluggable screw terminal connectors, with input and output connections on the opposite sides of the module.

The DRF-TC thermocouple signal conditioners accept thermocouple input and provide a linearized and isolated 0 10 Vdc or 4 to 20 mA output. Models are available with three different power options, 24Vdc, 120 Vac and 240 Vac.

The DRF-TC are ideally suited for industrial applications. All models mount on a standard 35 mm DIN rail and provide galvanic isolation between input, output and power up to 3500 Veff (model specific). To insure maximum measurement accuracy the units feature cold junction compensation, 0.2% linearity and less than 0.1°C/1°C thermal drift due to compensation. Module response time is 250 ms or less.

Range Code Table for DRF-TC

| | | | | | | | |
| --- | --- | --- | --- | --- | --- | --- | --- |
| Range Code | Range | J | K | T | E | R | S |
| 0/100°C | 0 to 100°C | | | | X | | |
| 0/150°C | 0 to 150°C | X | X | | | | |
| 0/175°C | 0 to 175°C | | | | X | | |
| 0/200°C | 0 to 200°C | | | X | | | |
| 0/250°C | 0 to 250°C | X | X | | | | |
| 0/300°C | 0 to 300°C | | | X | X | | |
| 0/400°C | 0 to 400°C | X | X | X | | | |
| 0/500°C | 0 to 500°C | | | | X | | |
| 0/700°C | 0 to 700°C | X | X | | | | |
| 0/800°C | 0 to 800°C | | | | X | | |
| 0/1200°C | 0 to 1200°C | | X | | | | |
| 0/1600°C | 0 to 1600°C | | | | | | X |
| 850/1700°C | 850 to 1700°C | | | | | X | |
| Minimum Span* | | 85°C | 85°C | 100°C | 85°C | 100°C | 100°C |
* Custom ranges may be obtained by adjusting on-board zero and span potentiometers.
The minimum range is limited by the minimum span specification.


SPECIFICATIONS

Accuracy: <0.3% full scale
Linearity: <0.2% full scale
Thermal Drift: 250 ppm/°C typical
Thermocouple CJC Drift: 0.1°C/°C
Response Time: <250 mS (90% of signal)
Power: 24 Vdc ±10%, 230 Vac ±10% 50/60 Hz, 115 Vac ±10% 50/60 Hz
Power Consumption: <3.8 VA

Output: 4 to 20 mA and 0 to 10 Vdc
Maximum Voltage Output: 11 Vdc approx.
Minimum Voltage Output: -1 Vdc approx.
Minimum Load Resistance (Voltage): >1 KΩ Maximum Current Output: 22 mA approx.
Maximum Current Output: -1.5 mA approx.
Maximum Load Resistance (current): >400 Ω


Electrical Connections: Plug-in screw terminals
Protection: IP-30

MECHANICAL DIMENSIONS
Weight:
(DC Powered Models): 120 g (4.2 oz)
(AC Powered Models): 200 g (7 oz)
Dimensions:
(DC Powered models):
110 H x 22.5 W x 93 mm D (4.3 x 0.9 x 3.7")
(AC Powered models):
110 H x 37 W x 93 mm D (4.3 x 1.46 x 3.7")
Operating Temperature: 0 to 60°C (32 to 140°F)
Storage Temperature: -20 to 70°C (-4 to 158°F)
Rated

4

out of

5
by
JWH1
from
DRF series signal conditioners.
I have purchased numerous DRF style conditioners through the years and have always been pleased with the operation. I have seen a significant decrease in the quality of the housing. The older module frames are more rigid and secure while the newer modules have a tendency to separate and come with the circuit board misaligned. All four on a recent purchase had to be opened, the board re-seated, still the case tends to separate.
Date published: 2016-06-30