Skip to main content
Skip to navigation
Replacement Flow Tubes for Flow Meters & Gas Proportioners
ACCESSORY FLOWTUBES For Use with FL-3000 Series Variable Area Flow Meters, Multitube Assemblies and Gas Proportioners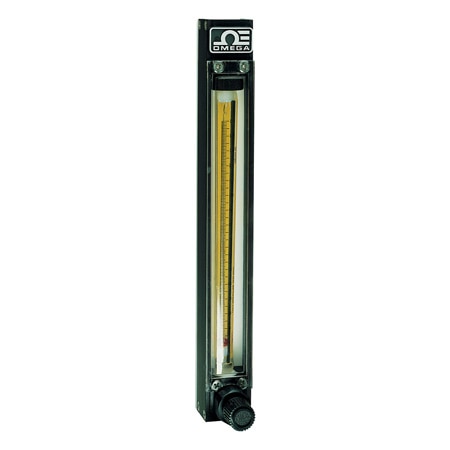 Item# FLT-02ST-NISTAIR
Added to Your Shopping Cart
Configuration complete.
Please add to cart to keep it or exit the configuration
Failed to Save Configurations, Click on Configure Button Start Again
Lead Time (If not in stock):
5 weeks
Multitube Assemblies
Gas Proportioners
FLT-02ST-NISTAIR Model Options
View all models
Edit these specs to order a different model. Not all combinations are valid. Options compatible with previous selections will be in bold.
*Highlighted options are not compatible. Please select a different combination.
The flow tubes shown on this page can be installed into the FL3000, gas proportioning FL-1GP Series or multiple tube FL-2AA Series 150 mm Variable Area Flow Meters. Flow capacities shown are based on calibrations with air and water at 21°C (70°F) and 14.7 psia. For other fluids or conditions, the following equations provide rough approximations.

GAS
Qa = Qg x [G x (Ta/T0) x (P0/Pa)]1/2

where:
Qa = equivalent air flow scale reading at Standard Conditions
Qg = true flow of metered gas
G = specific gravity of metered gas
Ta = absolute temperature at flow conditions (Kelvin or Rankine)
T0 = absolute temperature at standard conditions (294 K or 530°R)
Pa = pressure at flow conditions (psia)
P0 = pressure at Standard Conditions (14.7 psia)

LIQUID
Qw = QL x [(df - dw)/(df - dL)) x (dL/dw)]1/2

where:
Qw = equivalent water flow capacity at Standard Conditions
QL = max flow of metered liquid
df = density of float selected
Glass: 2.53 g/ml
Sapphire: 3.98 g/ml
Stainless Steel: 8.04 g/ml
Carboloy: 14.98 g/ml
Tantalum: 16.58 g/ml
dL = density of metered liquid, g/ml
dw = density of water at Standard Conditions (1.0 g/ml)
(note: does not include viscosity effect)

150 mm Flowtube, Gas Flow Capacities of Routine Gases
Ranges in cc/min, flowtubes have 10:1 range
| Model No. | Air | Water | Argon | CO2 | He | H2 | N2 | O2 |
| --- | --- | --- | --- | --- | --- | --- | --- | --- |
| FLT-45G | 19 | 0.196 | 15 | 23 | 16 | 37 | 20 | 17 |
| FLT-45SA | 30 | 0.392 | 24 | 37 | 26 | 59 | 31 | 27 |
| FLT-45ST | 60.6 | 0.94 | 49 | 72 | 53 | 123 | 62 | 54 |
| FLT-45C | 110 | 1.91 | 90 | 127 | 101 | 232 | 114 | 99 |
| FLT-45T | 121 | 2.13 | 99 | 139 | 112 | 256 | 125 | 109 |
| FLT-41G | 49 | 0.49 | 44 | 56 | 46 | 94 | 48 | 42 |
| FLT-41SA | 73 | 0.98 | 60 | 84 | 69 | 149 | 76 | 70.4 |
| FLT-41ST | 143 | 2.34 | 113 | 150 | 133 | 301 | 143 | 131 |
| FLT-41C | 247 | 4.7 | 202 | 251 | 260 | 567 | 255 | 228 |
| FLT-41T | 264 | 5.1 | 222 | 263 | 288 | 602 | 274 | 244 |
| FLT-61G | 93 | 0.9 | 75.6 | 103 | 90 | 208 | 92 | 81 |
| FLT-61C | 444 | 8.5 | 373 | 445 | 519 | 1120 | 462 | 407 |
| FLT-61T | 484 | 9.2 | 393 | 470 | 555 | 1225 | 495 | 433 |
| FLT-02G | 374 | 5.5 | 305 | 355 | 450 | 1021 | 382 | 340 |
| FLT-02SA | 513 | 10.0 | 429 | 472 | 681 | 1497 | 520 | 472 |
| FLT-02ST | 814 | 20.4 | 676 | 728 | 1290 | 2496 | 824 | 753 |
| FLT-02C | 1222 | 33.7 | 1020 | 1072 | 2221 | 3876 | 1220 | 1131 |
| FLT-02T | 1331 | 36.1 | 1085 | 1134 | 2356 | 4257 | 1310 | 1206 |
| FLT-03G | 844 | 16.5 | 687 | 725 | 1490 | 2620 | 827 | 772 |
| FLT-03SA | 1093 | 26.1 | 910 | 944 | 2059 | 3546 | 1110 | 1024 |
| FLT-03ST | 1682 | 44.6 | 1380 | 1420 | 3397 | 5547 | 1662 | 1545 |
| FLT-03C | 2423 | 70.5 | 1996 | 2039 | 5120 | 8170 | 2405 | 2246 |
| FLT-03T | 2576 | 75.6 | 2131 | 2163 | 5437 | 8717 | 2575 | 2364 |
| FLT-04G | 2313 | 54 | 1949 | 2048 | 4880 | 7817 | 2395 | 2169 |
| FLT-04SA | 3079 | 78 | 2605 | 2620 | 6458 | 10,455 | 3142 | 2860 |
| FLT-04ST | 4562 | 133 | 3903 | 3990 | 9770 | 15,855 | 4685 | 4341 |
| FLT-04C | 6621 | 201 | 5665 | 5743 | 14,500 | 22,790 | 6845 | 6307 |
| FLT-04T | 6932 | 212 | 6040 | 6018 | 15,420 | 24,252 | 7080 | 6690 |
| FLT-05G | 3922 | 84 | 3151 | 3374 | 7803 | 13,105 | 3868 | 3485 |
| FLT-05SA | 5188 | 126 | 4175 | 4388 | 10,336 | 16,108 | 5090 | 4652 |
| FLT-05ST | 7825 | 217 | 6384 | 6308 | 15,960 | 27,804 | 7722 | 6992 |
| FLT-05C | 11,154 | 329 | 9460 | 9222 | 23,509 | 37,553 | 10,973 | 10,082 |
| FLT-05T | 11,965 | 353 | 9627 | 9475 | 25,131 | 39,998 | 11,628 | 10,741 |
| FLT-39G | 8678 | 210 | 7366 | 7485 | 19,426 | 29,840 | 8916 | 8269 |
| FLT-39SA | 11,357 | 306 | 9539 | 9557 | 25,400 | 40,006 | 11,524 | 10,706 |
| FLT-39ST | 16,737 | 506 | 14,131 | 14,051 | 38,576 | 59,995 | 17,021 | 15,710 |
| FLT-39C | 23,752 | 747 | 20,166 | 19,854 | 56,220 | 83,052 | 24,071 | 22,432 |
| FLT-39T | 25,252 | 790 | 21,414 | 21,115 | 60,596 | 90,410 | 25,709 | 23,790 |
| FLT-40G | 23,742 | 541 | 19,761 | 18,989 | 53,100 | 85,812 | 23,512 | 21,350 |
| FLT-40SA | 30,711 | 806 | 24,563 | 23,855 | 70,100 | 110,100 | 29,930 | 27,181 |
| FLT-40ST | 45,227 | 1288 | 35,300 | 34,287 | 103,647 | 159,699 | 43,000 | 39,567 |
| FLT-40C | 66,346 | 1881 | 47,890 | 46,311 | 146,500 | 221,872 | 59,580 | 54,902 |
| FLT-40T | 69,940 | 2001 | 51,997 | 49,009 | 189,826 | 234,423 | 63,826 | 57,960 |