Skip to main content
Skip to navigation
Brass or SS Inline Duct Heater up to 440°F and 50 kW Power
Low Temperature Air Duct Heaters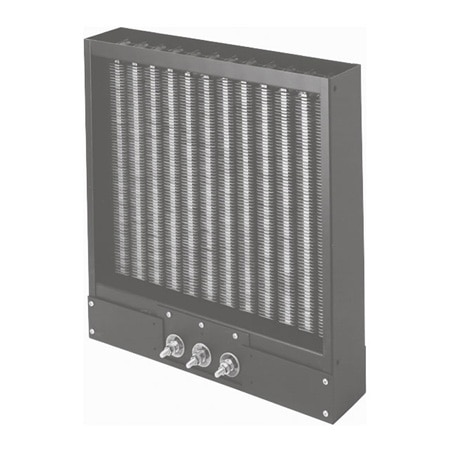 Item# CABB-611/480/3P
Volume discounts available
| Quantity | Price each |
| --- | --- |
| 1-4 | $2,403.00 |
| 5-9 | $2,282.85 |
| 10-24 | $2,234.79 |
| 25-49 | $2,138.67 |
| 50-99 | $2,090.61 |
| 100+ | $2,042.55 |
Added to Your Shopping Cart
Configuration complete.
Please add to cart to keep it or exit the configuration
Failed to Save Configurations, Click on Configure Button Start Again
Lead Time (If not in stock):
6 weeks
Side Terminals (type CAB)
Bottom Terminals (type CABB)
6 - 100 kW
120, 208, 240 and 480 Volt
CABB-611/480/3P Model Options
View all models
Edit these specs to order a different model. Not all combinations are valid. Options compatible with previous selections will be in bold.
*Highlighted options are not compatible. Please select a different combination.
Maximum Outlet Air Temperature
Features
Simple Duct Transition Sections may be used to adapt standard heater sizes to various duct sizes to increase air velocities for better heat transfer, lower sheath temperature and longer element life.

Field Wiring Terminals — Heavy duty 3/8' diameter bolts of either brass (iron sheath units) or Stainless Steel (chrome steel sheath units) with necessary hardware are provided for field wiring connections. Terminals are located on the side for CAB units and on the bottom for CABB units, and should be on the outside of ducting.

Fins of aluminized steel are provided to improve heat transfer to the air.

Elements are individually replaceable.

Terminal Cover Option is available to prevent accidental contact with live electrical terminals (PCN 269720), one (1) required per circuit. MONEL Sheath and MONEL Fins are available for humid conditions. Model TDH heaters, using Fintube elements are also available.


kW
Volts
Phase
Amps/
Circ.
No.
Circ.
No.
Elem.
A
B
D
Rust-Resisting Iron Sheath
Temperatures to 750°F
Model No.
Chrome Steel Sheath
Temperatures to 950°F
Model No.
Wt.
(Lbs.)
CAB — Side Terminals (26 W/In2)
6
6
6
6
6
6
6
120
208
240
480
208
240
480
1
1
1
1
3
3
3
50
28.9
25
12.5
16.7
14.5
7.2
1
1
1
1
1
1
1
6
6
6
6
6
6
6
10 3/4
10 3/4
10 3/4
10 3/4
10 3/4
10 3/4
10 3/4
15 7/8
15 7/8
15 7/8
15 7/8
15 7/8
15 7/8
15 7/8
11 1/2
11 1/2
11 1/2
11 1/2
11 1/2
11 1/2
11 1/2
CAB-62/120V
CAB-62/208V
CAB-62/240V
CAB-62/480V
CAB-62/208V/3P
CAB-62/240V/3P
CAB-62/480V/3P
CAB-611/120V
CAB-611/208V
CAB-611/240V
CAB-611/480V
CAB-611/208V/3P
CAB-611/240V/3P
CAB-611/480V/3P
25
25
25
25
25
25
25
12
12
12
12
12
12
208
240
480
208
240
480
1
1
1
3
3
3
57.7
50
25
33.4
28.9
14.5
1
1
1
1
1
1
9
9
9
9
9
9
15 3/8
15 3/8
15 3/8
15 3/8
15 3/8
15 3/8
18 1/2
18 1/2
18 1/2
18 1/2
18 1/2
18 1/2
14 1/8
14 1/8
14 1/8
14 1/8
14 1/8
14 1/8
CAB-122/208V
CAB-122/240V
CAB-122/480V
CAB-122/208V/3P
CAB-122/240V/3P
CAB-122/480V/3P
CAB-1211/208V
CAB-1211/240V
CAB-1211/480V
CAB-1211/208V/3P
CAB-1211/240V/3P
CAB-1211/480V/3P
35
35
35
35
35
35
15
15
15
15
15
15
208
240
480
208
240
480
1
1
1
3
3
3
72.1
62.5
31.3
41.7
36.1
18.1
1
1
1
1
1
1
9
9
9
9
9
9
15 3/8
15 3/8
15 3/8
15 3/8
15 3/8
15 3/8
21 5/8
21 5/8
21 5/8
21 5/8
21 5/8
21 5/8
17 1/4
17 1/4
17 1/4
17 1/4
17 1/4
17 1/4
CAB-152/208V
CAB-152/240V
CAB-152/480V
CAB-152/208V/3P
CAB-152/240V/3P
CAB-152/480V/3P
CAB-1511/208V
CAB-1511/240V
CAB-1511/480V
CAB-1511/208V/3P
CAB-1511/240V/3P
CAB-1511/480V/3P
40
40
40
40
40
40
20
20
20
208
240
480
3
3
3
55.6
48.2
24.1
1
1
1
12
12
12
20 1/8
20 1/8
20 1/8
21 5/8
21 5/8
21 5/8
17 1/4
17 1/4
17 1/4
CAB-202/208V
CAB-202/240V
CAB-202/480V
CAB-2011/208V
CAB-2011/240V
CAB-2011/480V
55
55
55
25
25
25
208
240
480
3
3
3
69.5
60.2
30.1
1
1
1
12
12
12
20 1/8
20 1/8
20 1/8
26 1/8
26 1/8
26 1/8
21 3/4
21 3/4
21 3/4
CAB-252/208V
CAB-252/240V
CAB-252/480V
CAB-2511/208V
CAB-2511/240V
CAB-2511/480V
65
65
65
30
480
3
18.1
2
18
29 1/2
21 5/8
17 1/4
--
CAB-3011/480V
75
40
40
40
208
240
480
3
3
3
55.6
48.2
24.1
2
2
2
18
18
18
29 1/2
29 1/2
29 1/2
27 3/8
27 3/8
27 3/8
23
23
23
CAB-402/208V
CAB-402/240V
CAB-402/480V
CAB-4011/208V
CAB-4011/240V
CAB-4011/480V
90
90
90
50
50
50
208
240
480
3
3
3
69.5
60.2
30.1
2
2
2
18
18
18
29 1/2
29 1/2
29 1/2
33 1/8
33 1/8
33 1/8
28 3/4
28 3/4
28 3/4
CAB-502/208V
CAB-502/240V
CAB-502/480V
CAB-5011/208V
CAB-5011/240V
CAB-5011/480V
110
110
110
75
75
75
208
240
480
3
3
3
69.5
60.2
30.1
3
3
3
27
27
27
44 7/16
44 7/16
44 7/16
42 1/8
42 1/8
42 1/8
37 3/4
37 3/4
37 3/4
CAB-752/208V
CAB-752/240V
CAB-752/480V
CAB-7511/208V
CAB-7511/240V
CAB-7511/480V
200
200
200
100
100
100
208
240
480
3
3
3
92.6
80.3
40.1
3
3
3
27
27
27
44 7/16
44 7/16
44 7/16
47 1/2
47 1/2
47 1/2
43 1/8
43 1/8
43 1/8
CAB-1002/208V
CAB-1002/208V
CAB-1002/480V
CAB-10021/208V
CAB-10021/208V
CAB-10021/480V
220
220
220
CABB — Bottom Terminals (26 W/In2)
6
6
240
480
3
3
14.5
7.2
1
1
6
6
10 3/4
10 3/4
15 7/8
15 7/8
111/2
111/2
--
--
CABB-611/240
CABB-611/480
25
25
12
12
12
208
240
480
3
3
3
33.4
28.9
14.5
1
1
1
9
9
9
15 3/8
15 3/8
15 3/8
18 1/2
18 1/2
18 1/2
141/8
141/8
141/8
--
--
--
CABB-1211/208
CABB-1211/240
CABB-1211/480
35
35
35
20
480
3
24.1
1
12
20 1/8
21 5/8
171/4
--
CABB-2011/480
55
25
480
3
30.1
1
12
29 1/2
26 1/8
213/4
CABB-252/480
CABB-2511/480
65
40
480
3
24.1
2
18
29 1/2
27 3/8
23
CABB-402/480
CABB-4011/480
90
50
480
3
30.1
2
18
29 1/2
33 1/8
283/4
CABB-502/480
CABB-5011/480
110
75
480
3
30.1
3
27
44 7/16
42 1/8
373/4
CABB-752/480
CABB-7511/480
200
100
480
3
40.1
3
27
44 7/16
47 1/2
431/8
CABB-1002/480
CABB-10021/480
220
More Related Items
Related Categories