text.skipToContent
text.skipToNavigation
Semi-Cylinder Ceramic Heaters 2012°F Max and 9.5 kW Max
CRWS Series Semi-Cylindrical Ceramic Heaters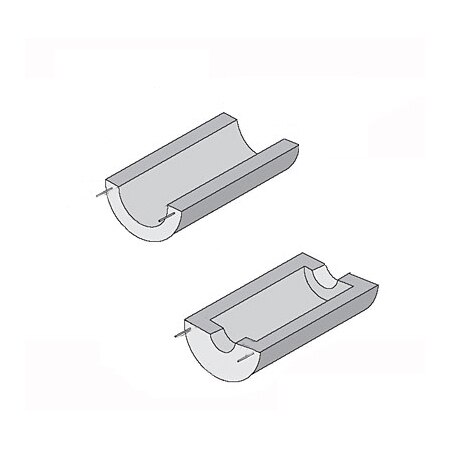 Item# CRWS-128/240-A
Added to Your Shopping Cart
Configuration complete.
Please add to cart to keep it or exit the configuration
Failed to Save Configurations, Click on Configure Button Start Again
Lead Time (If not in stock):
6 weeks
Rated to 1800°F (982°C)
Helically Wound Iron- Chrome-Aluminum Wire
Fast Heat-Up and Cool Down
Greater Temperature Uniformity
Lower Operating Costs
Heating Element and Insulation in One
Applications: Tube Furnaces, Annealing Ovens, Pipe Heating
CRWS-128/240-A Model Options
View all models
Edit these specs to order a different model. Not all combinations are valid. Options compatible with previous selections will be in bold.
*Highlighted options are not compatible. Please select a different combination.
Maximum Operating Temperature
OMEGALUX™ CRFC and CRWS Series radiant heaters are produced using high quality and purity vacuum formed ceramic fiber, with low sodium inorganic bond. Helically wound iron-chrome-aluminum wire elements assure top quality in this extra-efficient, low watt density series. The helically wound wire is imbedded into the vacuum formed ceramic fiber.



Without Vestibules
Model No.
With Vestibules
Model No.
Watts
Volts
Dimensions are in inches (cm)
A DIM*
B DIM
C DIM
D DIM
CRWS-62/60-A
CRWS-62/60-C-A
300
60
6 (15)
4 (10)
2 (5)
1.5 (4)
CRWS-122/120-A
CRWS-122/120-C-A
600
120
12 (30)
4 (10)
2 (5)
1.5 (4)
CRWS-182/120-A
CRWS-182/120-C-A
900
120
18 (46)
4 (10)
2 (5)
1.5 (4)
CRWS-242/240-A
CRWS-242/240-C-A
1200
240
24 (61)
4 (10)
2 (5)
1.5 (4)
CRWS-63/120-A
CRWS-63/120-C-A
425
120
6 (15)
5 (13)
3 (8)
2 (5)
CRWS-123/120-A
CRWS-123/120-C-A
850
120
12 (30)
5 (13)
3 (8)
2 (5)
CRWS-183/240-A
CRWS-183/240-C-A
1275
240
18 (46)
5 (13)
3 (8)
2 (5)
CRWS-243/240-A
CRWS-243/240-C-A
1700
240
24 (61)
5 (13)
3 (8)
2 (5)
CRWS-64/120-A
CRWS-64/120-C-A
565
120
6 (15)
6 (15)
4 (10)
2.5 (6)
CRWS-124/120-A
CRWS-124/120-C-A
1130
120
12 (30)
6 (15)
4 (10)
2.5 (6)
CRWS-184/240-A
CRWS-184/240-C-A
1700
240
18 (46)
6 (15)
4 (10)
2.5 (6)
CRWS-244/240-A
CRWS-244/240-C-A
2250
240
24 (61)
6 (15)
4 (10)
2.5 (6)
CRWS-65/120-A
CRWS-65/120-C-A
650
120
6 (15)
9 (23)
5 (13)
3.5 (9)
CRWS-125/120-A
CRWS-125/120-C-A
1300
240
12 (30)
9 (23)
5 (13)
3.5 (9)
CRWS-185/240-A
CRWS-185/240-C-A
1950
240
18 (46)
9 (23)
5 (13)
3.5 (9)
CRWS-245/240-A
CRWS-245/240-C-A
2600
240
24 (61)
9 (23)
5 (13)
3.5 (9)
CRWS-66/120-A
CRWS-66/120-C-A
850
120
6 (15)
10 (25)
6 (15)
4(10)
CRWS-126/240-A
CRWS-126/240-C-A
1700
240
12 (30)
10 (25)
6 (15)
4(10)
CRWS-186/240-A
CRWS-186/240-C-A
2550
240
18 (46)
10 (25)
6 (15)
4(10)
CRWS-246/240-A
CRWS-246/240-C-A
3400
240**
24 (61)
10 (25)
6 (15)
4(10)
CRWS-67/240-A
CRWS-67/240-C-A
920
240
6 (15)
11 (28)
7 (18)
5 (13)
CRWS-127/240-A
CRWS-127/240-C-A
1840
240
12 (30)
11 (28)
7 (18)
5 (13)
CRWS-187/240-A
CRWS-187/240-C-A
2760
240
18 (46)
11 (28)
7 (18)
5 (13)
CRWS-247/240-A
CRWS-247/240-C-A
3680
240**
24 (61)
11 (28)
7 (18)
5 (13)
CRWS-68/240-A
CRWS-68/240-C-A
1100
240
6 (15)
12 (30)
8 (20)
6 (15)
CRWS-128/240-A
CRWS-128/240-C-A
2200
240
12 (30)
12 (30)
8 (20)
6 (15)
CRWS-188/240-A
CRWS-188/240-C-A
3300
240
18 (46)
12 (30)
8 (20)
6 (15)
CRWS-248/240-A
CRWS-248/240-C-A
4400
240**
24***(61)
12 (30)
8 (20)
6 (15)
CRWS-1210/240-A
CRWS-1210/240-C-A
2250
240
12 (30)
14 (36)
10 (25)
8 (20)
CRWS-1810/240-A
CRWS-1810/240-C-A
3400
240**
18 (46)
14 (36)
10 (25)
8 (20)
CRWS-2410/240-A
CRWS-2410/240-C-A
4500
240**
24***(61)
14 (36)
10 (25)
8 (20)
CRWS-1212/240-A
CRWS-1212/240-C-A
2700
240
12 (30)
16 (41)
12 (30)
10 (25)
CRWS-1812/240-A
CRWS-1812/240-C-A
4050
240**
18 (46)
16 (41)
12 (30)
10 (25)
CRWS-2412/240-A
CRWS-2412/240-C-A
5400
240**
24***(61)
16 (41)
12 (30)
10 (25)
CRWS-1215/240-A
CRWS-1215/240-C-A
3400
240**
12 (30)
19 (48)
15 (38)
13 (33)
CRWS-1815/240-A
CRWS-1815/240-C-A
5100
240**
18 (46)
19 (48)
15 (38)
13 (33)
CRWS-2415/240-A
CRWS-2415/240-C-A
6800
240**
24***(61)
19 (48)
15 (38)
13 (33)
CRWS-1218/240-A
CRWS-1218/240-C-A
4100
240**
12 (30)
22 (56)
18 (46)
16 (41)
CRWS-1818/240-A
CRWS-1818/240-C-A
6150
240**
18 (46)
22 (56)
18 (46)
16 (41)
CRWS-2418/240-A
CRWS-2418/240-C-A
8200
240**
24***(61)
22 (56)
18 (46)
16 (41)
CRWS-1221/240-A
CRWS-1221/240-C-A
4750
240**
12 (30)
25 (64)
21 (53)
19 (48)
CRWS-1821/240-A
CRWS-1821/240-C-A
7125
240**
18 (46)
25 (64)
21 (53)
19 (48)
CRWS-2421/240-A
CRWS-2421/240-C-A
9500
240**
24***(61)
25 (64)
21 (53)
19 (48)
* Add 3" for units with vestibules
** Dual 240 VAC circuits
More Related Items
Related Categories