Skip to main content
Skip to navigation
Submersible Pressure Transducer for Level and Depth Measurement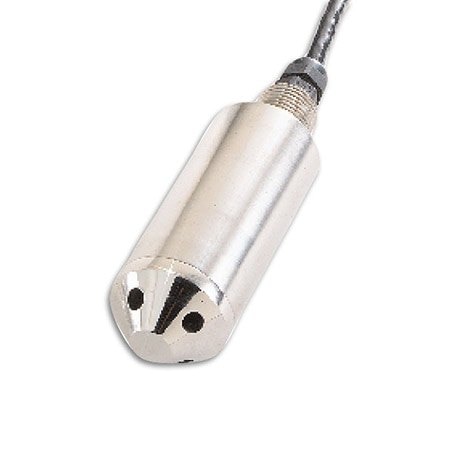 All Stainless Steel Construction
Hermetically Sealed Housing
Screw on Protective Cap Included
3 m (10 ft) Vented Cable Standard
Excitation

10 Vac/Vdc (15V max)

Accuracy Value

3 mV/V nominal 2.5 mV/V ≤ 5 psig

Input Resistance

5000 Ω minimum

Output Resistance

5000 ±50 Ω

Zero Balance

±2% FSO
OMEGA's PX78 Series pressure transducer is a fully submersible transducer designed for liquid level and depth measurement. Its all stainless steel hermetically sealed housing makes it suitable for immersion in most industrial liquids and oils. A standard 10 foot vented cable (longer lengths available) provides an atmospheric pressure reference. The PX78 with a 5000 ohm bridge is designed to work with the DMD-16 and DMD-17 in line amplifiers for long distance transmission of the signal.

SPECIFICATIONS
Excitation: 10 Vac/Vdc (15 V max)
Output: 3 mV/V nominal 2.5 mV/V ≤5 psig
Zero Balance: ±2% FSO
Input Resistance: 5000 Ω min
Output resistance: 5000 ±50 Ω
Accuracy: 0.5% FS includes linearity, hysteresis and repeatability combined
Operating Temp Range: -29 to 93°C (-20 to 200°F)
Compensated Temp Range: 16 to 71°C (60 to 160°F)
Span Error: 0.003% rdg/°F
Zero Error: 0.005% FSO/°F
Proof Pressure: 150% of rated pressure
Burst Pressure: 300% of rated pressure
Wetted Parts: 316 stainless steel diaphragm and 17-4 PH stainless steel housing
Pressure Port: Nose protector included
Electrical Connection: 3 m (10') shielded and vented PVC cable
Notice: OMEGA does not offer a warranty on this product, its use, or application. It is the end user's responsibility to assure proper installation and use of this transducer.
CE Approved