Skip to main content
Skip to navigation
Industrial Wet/Wet Differential Pressure Transmitter High Line Pressures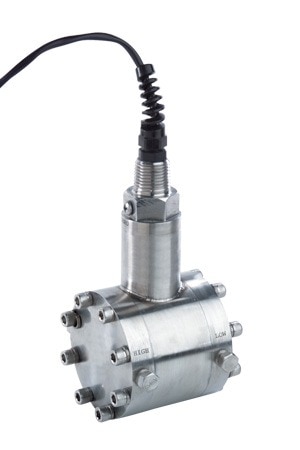 Low Differential Pressure at High Line Pressure - up to 5,000 psi
All Stainless Steel Construction
Hermetically Sealed for Harsh Environments
High Overpressure Capability
Excitation

10 to 40 Vdc

Accuracy Value

0 to 5 Vdc ±10% adj

Input Resistance

(Input voltage 12) x 50

Maximum Compensation Temperature

-73°C (-100°F)

Minimum Compensation Temperature

-73°C (-100°F)

Repeatability

±0.1% FSO

Zero Balance

0 V ±10% adj
OMEGA's PX80 Series is a heavy duty, wet/wet, differential pressure transmitter available in ranges from 1 to 5,000 psid. All stainless steel construction and high over pressure protection makes the PX80 Series suitable for harsh industrial environments.

The PX80 is also available in metric configurations, with G1/8 or G1/4 ports, and models from 0-2 to 0-350 bar pressure ranges. Please see the PXM80 for complete details, or contact our Pressure department for more information.

SPECIFICATIONS
Excitation: 10 to 40 Vdc
Output: 4 to 20 mA ±0.8 mA adj
Max Loop Resistance: (Input voltage - 12) x 50
Zero Balance: 4 mA ± 0.4 mA adj
Linearity: ±0.25% FSO
Hysteresis: ±0.10% FSO
Repeatability: ±0.1% FSO
Operating Temp Range: -46 to 107°C (-50 to 225°F)
Compensated Temp Range: 17 to 71°C (60 to 160°F)
Thermal Effects:
Zero: 0.013% FSO/°C
Span: 0.009% rdg/°C
Line Pressure: 1500 psi (100 bar) or 150% of rated pressure, whichever is greater
Burst Pressure: 6000 psi (414 bar) minimum
Wetted Parts: 17-4 PH stainless steel and Buna-N O-ring
Pressure Port: See dimensional drawings on spec pages
Electrical Termination:
Style '0' = 3 m (10') cable
Style '1' = PTIH-10-6P (or equiv)
Style '5' = Metal terminal box (4 to 20 mA output models only)
Style '6' = mini DIN
Mating Connector:
Style '1' = PT06F10-6S, sold separately
Style '6' = Mating connector (included)
Weight: 2.3 kg (5 lb)

Examples of pricing for popular models is referenced in the 'To Order' box. Use the 'Part Number Builder' below to get pricing for all available models.
CE Approved