Skip to main content
Skip to navigation
Ultra High Pressure Transmitter Lightning Protected Head Style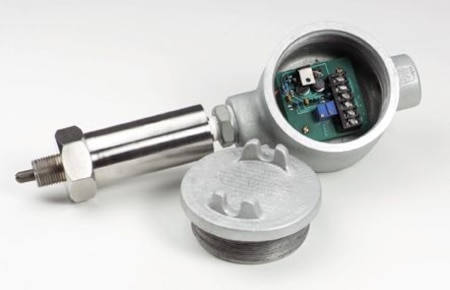 Ranges up to 200,000 psi
All Stainless Steel Case
High Operating Temperature
121°C (250°F)
Excitation

10 to 40 Vdc

Accuracy Value

4 to 20 mA ±10% adj.

Pressure Burst Pressure

110% of rated pressure

Repeatability

±10.10% FSO

Zero Balance

4 mA +10% -2% adj
OMEGA's PX91 Amplified Output Series is a rugged, high temperature/ ultra high pressure transducer. It is hermetically sealed, has all stainless steel construction and is designed for the harshest environments encountered in very high pressure/ high temperature test chambers. The PX91 is available in sealed gage pressures from 5,000 psi to 200,000 psi. Electrical connection is either a sealed Bendix connector or lightning protected amplifier housing. Pressure connection is via a high pressure ferrule connection.

SPECIFICATIONS
Excitation: 10 to 40 Vdc
Output: 4 to 20 mA ±10% adj.
Zero Balance: 4 mA +10% -2% adj
Linearity: ±0.35% FSO <75K psi ±0.50% FSO ≥75K psi
Hysteresis: ±0.10% FSO
Repeatability: ±0.10% FSO
Operational Temp Range: -46 to 121°C (-50 to 250°F)
Compensated Temp Range: +17 to 71°C (+60 to 160°F)
Thermal Effects:
Span: 0.005% Rdg/°F
Zero: 0.005% FSO/°F
Proof Pressure:
5K to 50K psi: 120% of rated pressure
60K to 200K psi: 110% of rated pressure
Burst Pressure:
5K to 75K psi: 150% of rated pressure
80K to 200K psi: 120% of rated pressure
Wetted Parts:
5 to 75K: 17-4 PH Stainless Steel
≥80K: 455 Stainless Steel
Pressure Port:
5K to 70K psi: 1/2-14 NPS (use 0.315 dia. 59° ferrule)
>70K psi: 1-14 NS-2 (use 0.910 dia. 150° ferrule)
Electrical Connection: Terminal Strip inside Lightning Protected Amplifier Housing


Examples of pricing for popular models is referenced in the 'To Order' box. Use the 'Part Number Builder' below to get pricing for all available models.
CE Approved