Application
All microbreweries need the ability to measure the liquid flow of their product in a manner that is sanitary and meets FDA regulations. This requires the use of a sanitary-style flow meter that has no cracks on the surface in which liquid can pass through and thus allow bacteria to generate.

In addition, flow measurements need to be highly accurate to allow the microbrewery to precisely measure volume in production and packaging processes.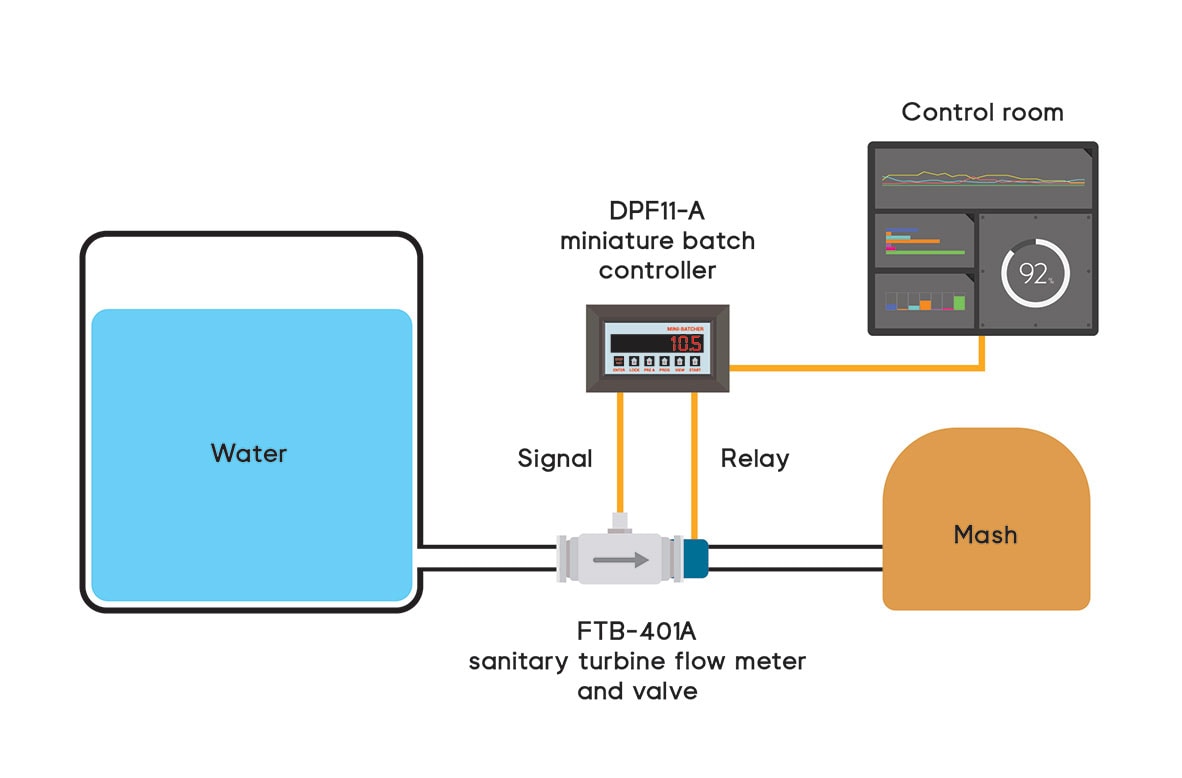 OMEGA products used in this application
Products
The figure above shows the schematic of a sanitary flow meter system. The application includes two products:

FTB-401A: This sanitary turbine flow meter is available in sizes from ¼ to 3" with standard Tri-GripTM fittings. The meter covers flow rates from 0.35 to 650 GPM and meets 3-A sanitary no.28-01 for measurement of process liquids where highly sanitary standards are required.

DPF11: This miniature batch controller includes a 6-digit totalizer and 4.5 digit ratemeter with two relay outputs and can re-transmit the signal back to a building automation or collection system and valve. The display will show batch amount, date, and batch/total at the push of a button. The unit can count up to the preset (reset to 0) or down from the preset (set to preset). Start, stop and reset functions can be activated from the front panel or remote inputs.
How it Works
The key elements to choosing a location for a flow meter are:
Ensuring a full pipe
Providing a straight run of pipe
In existing plumbing, flow meters are generally placed in large overhead pipes or pipes close to the floor.

The flow meter is connected to the batch controller. The batch controller is then connected to the building collection system, and, if relevant, to a control valve.

Flow meteres are not water resistant. Therefore, if a flow meter is located close to the floor and there is a possibility of exposure to water, the flow meter needs to be enclosed in a casing that protects it from water damage.
Results
By using a sanitary flow meter with high accuracy that can integrate with a building collection system or operator's control system a microbrewery can better ensure accurate flow for greater profitability and compliance with FDA regulations.
Pro Tip
Accuracy is important when measuring or dispensing liquid to account for the total volume of liquid. Straight run piping should be used to ensure that the velocity profile when measuring is laminar. A laminar flow profile is ideal for achieving the most accurate flow measurement when using a flow product.