Application
As part of a quality assurance process, a bike manufacturer developed a testing system that could quantify load and vibration forces on the physical parameters. Requirements included that the testing system be highly repeatable and provide accurate, granular data that could be used to validate a bicycle met performance standards.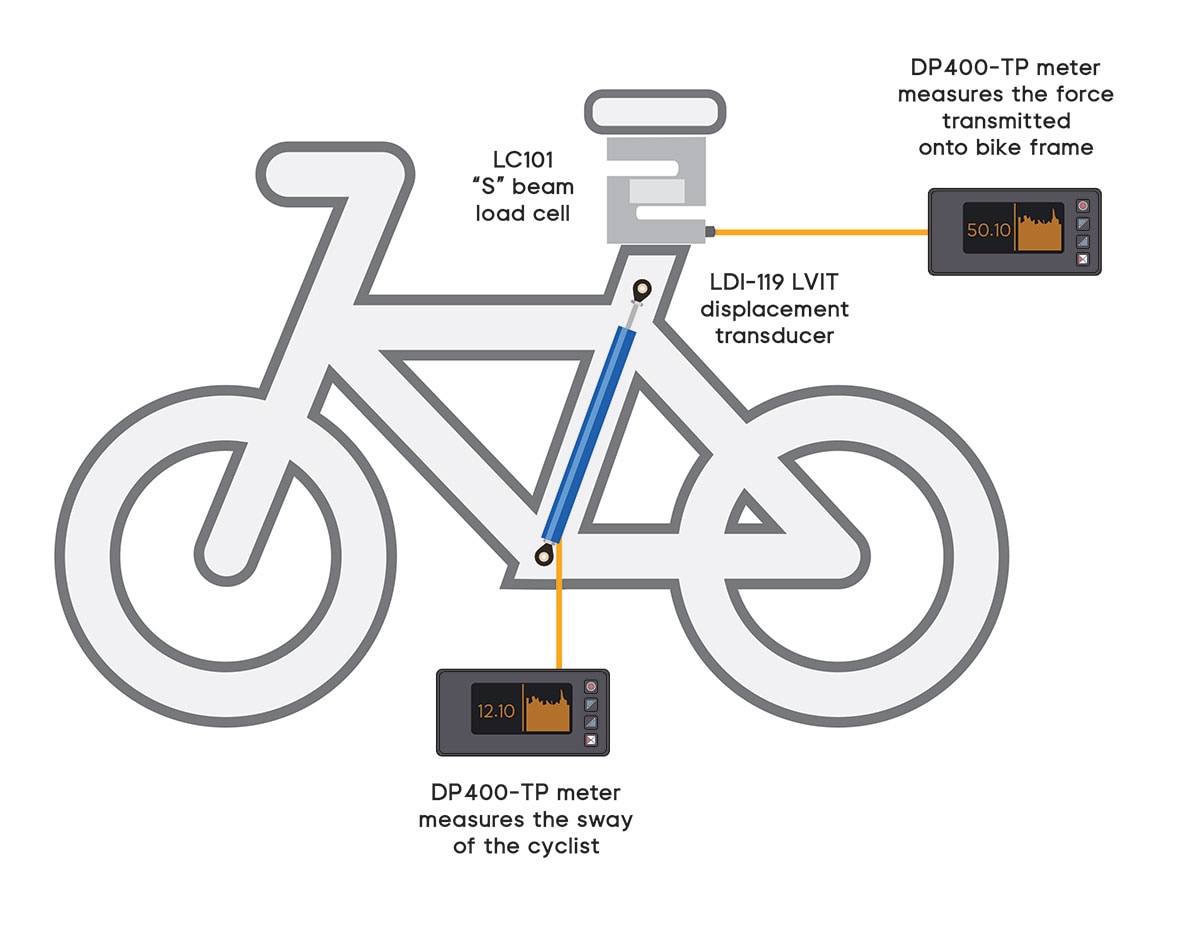 OMEGA products used in this application
Products
The figure above shows a schematic of the load and vibration testing system. The solution was comprised of four OMEGA products:

LC103B: A S-beam load cell with stainless steel construction and high accuracy that includes 5-point NIST traceable calibration with 59K shunt data.

SGD Series: A single axis strain gauge built with rugged construction and flexibility makes suitable for highly accurate static and dynamic measurement.

ACC101: A low cost general purpose industrial grade accelerometer that is constructed with high strength aluminum and is ideal for machine vibration monitoring.

LDl1119 Series: A high accuracy, low linearity error placement transducer, this device is contactless with stroke-to-length ratio designed to operate under adverse temperature, vibration, shock, and humidity conditions.
How it Works
Mount the bike frame on a test bench setup.
Install a S-beam load cell between the bike frame and the seat of the bike to measure the forces transmitted onto the bike frame.
Apply strain gauges to the main bike frame to measure the strain on the frame elements. This allows testing of the frame design determine how to improve strength and generate fewer stress points.
Use accelerometers to measure the vibration of the entire test setup.
Use a linear displacement transducer to monitor sway of cyclist.
Begin testing by subjecting the bike to sideways movement to simulate the motion of an actual bicyclist.
Transmit analog signals from the sensors to a data acquisition system.
Results
The testing system was able to accurately measure and collect granular data on a bicycle's performance during testing. This allowed bike manufacturer to analyze the data to determine the overall performance standards of the bike.
Pro Tip
In this application, S-beam load cells are the best choice over other types of load cells. They can not only handle heavy vibration and a dynamic load; they also have overload stops to prevent damage to the load cell.