In modern industrial systems, temperature is the most common physical measurement and temperature controllers are the most common controllers. From the everyday control of air and water temperatures to more complex processes (refineries, food processing etc.), the world as we know it is highly dependent on temperature controllers. Therefore, many universities and laboratories require a modern system to teach students how to setup a temperature controller and test with it.

3 Major Challenges with Temperature Controllers for Demonstration:
Lack of Multi-Control Sequence Capability
Difficulty to Setup and Configure the Product
Not Supported by LabVIEW® or DASYLab®
Our Product and Solutions
Product
The PLATINUM Demo and Training unit provides a PID control simulator that is a fully integrated temperature control system. It is suitable for use as a platform for technical students to learn the fundamentals of closed loop (PID) and simple on/off temperature control in both heating and cooling applications.

The OMEGA® CNPT demonstrator consists of the following: A controller (OMEGA Type CN8DPT-144-C24-EIP-DC or similar) with a Type K thermocouple mounted to a thermoelectric heating/cooling system consisting of a Peltier unit and power resistor and associated control electronics.

It is easy to setup the communication connectivity via Ethernet, USB or traditional serial, which is built into the unit. Please refer to the manual for more details and features as needed.

Solutions
An advanced multi-stage ramp and soak sequencer supports up to 99 profiles of 8 segment ramp/soak sequences. Profiles may be linked to provide extended sequences, and auxiliary outputs may be triggered based on individual Ramp or Soak states to provide external control over blowers, mixers or other auxiliary control functions.

Free Downloadable Configurator Windows® Application Software (PLATINUM Configurator and USB Driver) Allows You to:
Fully Configure all PLATINUM Functions/ Parameters
Auto-Connect through a USB Channel
Load/Save PLATINUM Configuration Files
Performance Tracking/Charting with Data Capture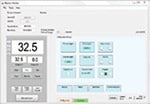 Software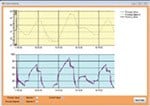 Software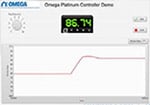 Software
The PLATINUM LabVIEW driver is the National Instrument device driver for communicating with OMEGA's PLATINUM controllers via Modbus® RTU/ ASCII and Modbus TCP protocols. The driver allows easy access to the internal data, configuration settings, and operating functions of the PLATINUM product family.

Support for the easy-to-use DASYLab software solves complex data acquisition and control problems by allowing you to work with flow charts directly on a PC screen. The high input accuracy, advanced process control, extended sequencing capability and flexible output options of a PLATINUM controller may be easily integrated with the rich set of function modules provided by the DASYLab software.