Skip to main content
Skip to navigation
Benchtop Oscilloscope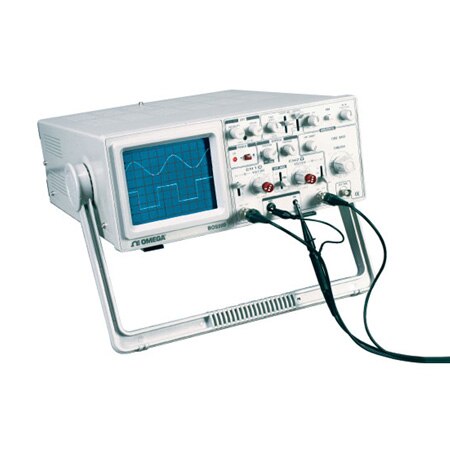 20 to 60 MHz Dual Trace, ALT Trigger
Vertical Sensitivity: 1 mV/DIV
Horizontal Resolution: 10 nS
Hold-Off, X-Y Operation, Z-Mod, Y-Output
AC Current Range

Max 11 mA (shorted)

AC Voltage Range

Max 6 Vrms (open circuit)

Capacitance Range

40 to 100 MHz at -3 dB

Display Area Diagonal

6 in

Input impedance

1 MΩ ±2%

Measurement Type

Electrical Signal

Power Source

800 mA fuse

Supply Frequency

50/60 Hz

Supply Voltage

110 to 130V

Trigger Source

CH 1

Trigger Coupling

AUTO

Vertical Sensitivity

1 mV/DIV to 1 V/DIV
The BOS Series comprises dual-channel oscilloscopes with frequency bandwidths of 40 to 100 MHz at -3 dB, a maximum sweep of 10 ns, a maximum sensitivity of 1 mV/DIV, and 150 mm rectangular CRT with internal graticule.
These oscilloscopes are rugged, easy to operate, and highly reliable. They are ideal for research, production, and electronics applications. The BOS converts a high-input differential voltage (≤1300 Vp) into a low voltage (≤6.5V).
Optional accessories include differential voltage probes, which provide a safe means of measuring a floating potential.


Models
BOS-200
BOS-205
BOS-350
BOS-355
BOS-605
Cathode Ray Tube
6' diagonal, rectangular screen with internal graticule 8 x 10 DIV (1 DIV = 1 cm), B31 phosphor, 2 kV acceleration voltage
6' diagonal, rectangular screen with internal graticule 8 x 10 DIV (1 DIV = 1 cm), B31 phosphor, 12 kV accel voltage
Vertical Deflection
Bandwidth
DC to 20 MHz (-3 dB)
DC to 40 MHz (-3 dB)
DC to 60 MHz (-3 dB)
Sensitivity
1 mV/DIV to 1 V/DIV (5 MHz, -3 dB), x5 gain selected 5 mV/DIV to 5 V/DIV
1 mV/DIV to 1 V/DIV (10 MHz, -3 dB), x5 gain selected 5 mV/DIV to 5 V/DIV
1 mV/DIV to 1 V/DIV (15 MHz, -3 dB), x5 gain selected 5 mV/DIV to 5 V/DIV
Attenuator
1-2-5 sequence, 10 step with variable control
Input Impedance
1 MΩ ±2%, 25 pF ± 10%
Max Input Voltage
400 V (DC + AC peak)
Rise Time
About 17.5 ns
About 8.8 ns
About 5.8 ns
Overshoot
Less than 5%
Operation Mode
CH 1, CH2, DUAL (ALT, CHOP)
Algebraic Addition
CH 1 + CH 2, CH 1 - CH 2
Inverter
CH 2 Only
Horizontal Deflection
X-Y Mode
Switch slectable using X-Y switch; CH 1: X axis, CH 2: Y axis
Accuracy
X Axis: ±6%, Y Axis: ±3%
Bandwidth
DC to 1 MHz (-3 dB)
X-Y Phase Difference
Approx. 3 degrees at 50 kHz
Sweep System
Sweep Display Mode
Main, Mix
Main, Mix, Delay
Main, Mix
Main, Mix, Delay
Main, Mix, Delay
Hold-Off Time
5:1 continuously variable
Main Sweep
Sweep Speed
0.1 ?s/DIV to 2.0 s/DIV in 1-2-5 sequence, 23 steps
Accuracy
±3%
Variable Time Control
5:1, uncalibrated, continuously variable between steps
Sweep Magnification
10x, ±10%, extended sweep speed up to 10 ns/DIV
Delay Sweep
Sweep Speed
0.1 ?s/DIV to 2.0 s/DIV in 1-2-5 sequence, 23 steps
0.1 ?s/DIV to 2.0 s/DIV in 1-2-5 sequence, 23 steps
Accuracy
±3%
±3%
Sweep Magnification
10x, ±10%, extended sweep speed up to 10 ns/DIV
10x, ± 10%, extended sweep speed up to 10 ns/DIV
Delay Timeposition
Variable control to locate desirable waveform for extending
Variable control to locate desirable waveform for extending
Triggering
Trigger Coupling
AUTO, NORM TV-V, TV-H
AUTO, NORM TV-V, TV-H
Trigger Source
CH 1, CH 2, ALT, LINE, EXT
CH 1, CH 2, ALT, LINE, EXT
Slope
±
±
Trigger Sensitivity
Coupling
TV-V, TV-H, Auto, Nom
Bandwidth
DC to 1 kHz, 1 kHz to 100 kHz , 100 Hz to 20 MHz, 100 Hz to 20 MHz
Interior
1.0 DIV, 1.5 DIV, 1.0 DIV, 0.5 Vp-p
Exterior
0.5 Vp-p
Dimensions
324 W x 398 D x 132 mm H (12.75 x 15.67 x 5.20')
Net Weight
Approx. 7.6 kg (16.75 lb)
Rated Range of Use
10 to 35°C (50 to 95°F), 10 to 80% RH
Component Test
Test Voltage
Max 6 Vrms (open circuit)
Max 6 Vrms (open circuit)
Test Current
Max 11 mA (shorted)
Max 11 mA (shorted)
Test Frequency
Line frequency
Line frequency
Components
Capacitor, inductor, diode, transistor, zener, etc.
Capacitor, inductor, diode, transistor, zener, etc.
CH 2 Output
Output level
100 mV (no load), 50 mV/DIV (with 50 Ω load)
Bandwidth
20 Hz to 20 MHz
20 Hz to 40 MHz
20 Hz to 60 MHz
Graticule Illumination
Adjustable
Calibrator
Square wave about 1 kHz, 2 V p-p ±3%
Square wave about 1 kHz, 2V p-p ±3%
Z-Modulation
Positive TTL signal, low-level blank intensity at any intensity, high-level unblank any intensity
Positive TTL signal, low-level blank intensity at any intensity, high-level unblank any intensity
Trace Rotation
Adjustable on front panel Adjustable on front panel
Power Source
110 to 130V (800 mA fuse), 200 to 260V (600 mA fuse) 50/60 Hz selectable
Power Consumption
Approx. 38 W
Limits of Operation
0 to 50°C (32 to 122°F), 10 to 80% RH
Storage Environment
-30 to 70°C (-22 to 158°F), 10 to 90% RH