text.skipToContent
text.skipToNavigation
Configure Product
Saved Configuration
View Configuration
Terms and Conditions
Saved Addresses
Something went wrong
Your card information was not accepted. Please contact the issuing bank for details.
Payment submission timed out. The server might be busy.
There was an error processing your request.
Please verify there are no missing or invalid fields.
Please enter a card number
Please select a card type
Please enter a value for this field
Please enter an expiry month
Please enter an expiry year
Please enter an issue number
Please enter a start month
Please enter a start year
The card number is not valid
The card type is not supported
The card verification code is not valid
The expiry month is not valid
The expiry year is not valid
The issue number is not valid
The start month is not valid
The start year is not valid
This field is required
Errors were found with the address you provided. Please verify your address.
Date should be in MM/DD/YYYY format
Please enter valid values
Please enter future date
Please enter the shipping date
Shipment date is updated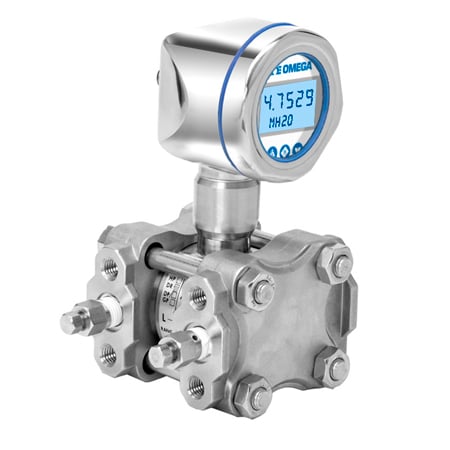 Pressure Transmitter with Display, Rangeable Wet/Wet Differential
Item# PX3005-012-ADAPTOR
0.075% Accuracy
Linear or Square Root Output
Adjustable Pulsation Dampening
LCD Displays Either Process Variable, mA, or %
Nineteen User Selectable Engineering Units
IP67 316 SS Enclosure
Pressure Range
Pressure Type
Accuracy Value
Output Signal
Electrical Output
Pressure Port Size
Pressure Port Type
Connection/Termination
Additional Options
Proof Pressure
Added to Your Shopping Cart
Configuration complete.
Please add to cart to keep it or exit the configuration
Failed to Save Configurations, Click on Configure Button Start Again
Lead Time ( If not in Stock):
5 weeks
Description
The Omega differential PX3005-DIFF is a compact, rangeable, pressure transmitter ideal for monitoring pressures in process automation, hydraulic systems, compressors, pumps, and in tank level applications where consistent, reliable pressure measurement is essential. The PX3005-DIFF utilizes a unique encapsulation construction of a MEMs piezoresistive pressure sensor coupled to an advanced microprocessing to provide superior accuracy and performance.
The unique construction enables high line pressure operations and superior protection from pressure overloads. The rugged 316 stainless-steel enclosure is IP67 rated making it suitable for wash down environments. A 5-digit backlit LCD allows for a full precision representation of process variable. Available in ranges from 1 to 1,500 psi, the intelligent transmitter module allows for configuration of the 4 to 20 mA signal, display of input or output, and choice of 19 measurement units. The output signal can be adjusted to re-arrange the transmitter or "tare" unwanted fluid head preloads. Rangeability is capable of adjusting zero and span are from -100 to 100% FS URL (Upper Range Limit) with a minimum span of 30% URL. This means a 15 psi transducer can have the zero set between -15 to FS 15 psi. For example, zero could be set for -15 psi and maximum 15 psi so the output would be 4 mA at -15 psi, midpoint 12 mA would be 0 psi and 20 mA would be 15 psi.
Dimensions: mm (inches)
Specifications
Accuracy (NLHR, 20°C ±5°C):
±0.075TD% SPAN
(Square root output accuracy is 1.5 times linear output accuracy)
Long Term Stability:
±0.2% URL/60 months
Ambient Temperature Effects -20 to 80°C (-4 to 176°F):
±(0.1 +0.1TD)% SPAN
Static Pressure Effects:
Effect on zero ±0.15TD % SPAN/10MPa (1450 psi) Effect on full scale ±0.2% SPAN/10 MPa (1450 psi)
Power Supply Effects:
± 0.005TD% SPAN/V (Zero and Span)
Mounting Position Effects:
Install error less than 400Pa (1.60" H
2
O) can be corrected by PV = 0 reset
Vibration Effects:
GB/T 1827.3/IEC61298-3 tests, 20g (5 to 2000 HZ, max <±3 mm), <0.1% URL
Supply Voltage (U):
10.5 to 55VDC
Output Signal:
4 to 20mA Two wire, linear or square root output selectable
Sensor Response Time:
200 mS
Damping Time:
Selectable, 0 to 100 S
Load Resistance Ω:
<(U-10.5)/0.021
Transmission Distance:
< 1000 m
Power Consumption:
500mW (20.8mA output @ 24VDC)
Operating Temperature:
-20 to 70°C (-4 to 160°F)
Storage Temperature:
-40 to 85°C (-40 to 185°F)
Media Temperature:
-40 to 120°C (-40 to 250°F)
Environmental Rating:
IP67
Media:
Fluids and gasses compatible with 316 SS
Process Connection/Material:
¼" -18NPT F/316 SS
Electrical Connection:
4 pin male M12
Isolating Diaphragm:
316L SS
Sensor Fill Fluid:
Silicone Oil
Sensor Seal:
O-ring, FKM
Housing Material:
316 SS
Weight:
Net Weight:
about 3kg (without mounting bracket and process connection adaptor)
Range Limit Table
Nominal Value
Minimum Span
UPPER (URL)
LOWER (LRL)
Static pressure limit
Hi Side Over Range Limit
Lo Side Over Range Limit
mbar
"H2O
mbar
"H2O
mbar
"H2O
mbar
"H2O
bar
psi
bar
psi
bar
psi
60
25
0.02
0.8
60
25
-60
-25
250
3600
250
3600
160
2300
400
160
0.04
1.6
400
160
-400
-160
400
5750
250
3600
160
2300
2500
1000
0.25
10
2500
1000
-2500
-1000
400
5750
250
3600
160
2300
bar
psi
bar
psi
bar
psi
bar
psi
bar
psi
bar
psi
bar
psi
10
150
10
40
10
150
-5
-70
400
5750
250
3600
160
2300
30
400
30
120
30
400
-5
-70
400
5750
250
3600
160
2300
100
1500
100
400
100
1500
-5
-70
400
5750
250
3600
160
2300
EMC Environment:
     &nbspGB/T 9254/CISPR22
     &nbspGB/T 17626.2/IEC61000-4-2
     &nbspGB/T 17626.3/IEC61000-4-3
     &nbspGB/T 17626.8/IEC61000-4-8
     &nbspGB/T 17626.4/IEC61000-4-4
     &nbspGB/T 17626.5/IEC61000-4-5
     &nbspGB/T 17626.6/IEC61000-4-6
CE