text.skipToContent
text.skipToNavigation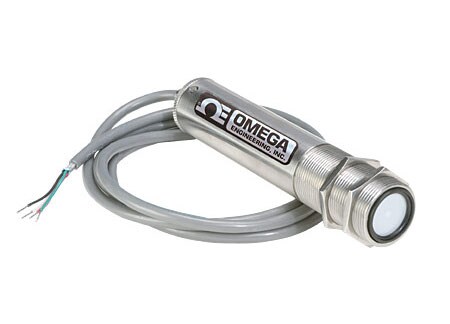 Compact Non-Contact Infrared Temperature Sensor/Transmitter
Item# OS137-1-V2
---
Three Temperature Ranges available:
OS137-1: 0 to 100°C (32 to 212°F)
OS137-2: -18 to 260°C (0 to 500°F)
OS137-3: -18 to 538°C (0 to 1000°F)
Sensor and Transmitter Combined
Adjustable Emissivity
Adjustable Alarm Setpoint and Output
Packaged into a 25 mm (1.0") OD by 127 mm (5.0") Long Stainless Steel NEMA-4 Rated Housing
10:1 Optical Field of View
4 to 20 mA, 0 to 5 Vdc, 0 to 10 Vdc, 10 mV/Deg, & Type K Thermocouple Outputs Available
Edit Options
View all models
Not all combinations are valid. Options compatible with previous selections will be in bold.
*Highlighted options are not compatible. Please select a different combination.
Field of View
Minimum Temperature Measurement
Maximum Temperature Measurement
Laser Output
Cable Length
Input Current
Analog Output
Supply Voltage
Spectral Response
Response Time
Features
This product is no longer available. Please see OS137A as a possible alternative or contact our Engineering department for a viable replacement.
OMEGA's compact high performance industrial infrared sensor/ transmitter model OS137 provides variety of features and options packaged into a small Stainless Steel housing. The standard features are adjustable Emissivity, 10 to 1 optical field of view, adjustable alarm set point and voltage output to drive external relays, and six pre-selected analog outputs that can easily be interfaced to all meters, controllers, dataloggers, recorders, computer boards, and PLCs. The unit comes with two hex nuts, 1.8 m (6') shielded cable for power and output connections, and complete operator's manual.


Specifications
Temp Range:
OS137-1: 0 to 100°C (32 to 212°F)
OS137-2: -18 to 260°C (0 to 500°F)
OS137-3: -18 to 538°C (0 to 1000°F)
Accuracy: 1.5% Rdg or 3.5°F (2°C) whichever is greater
Repeatability: 1% Rdg or 2°F (1°C)
Field of View: 10 to 1
Spectral Response: 5 to 14 microns
Emissivity: 0.4 to 1.0, adjustable via a single turn pot
Response Time: 150 msec, 0 to 63% of final value
Outputs:
-MA: 4 to 20 mA
-V1: 0 to 5 Vdc
-V2: 0 to 10 Vdc
-K: K Thermocouple
-MVF: 10 mV/°F
-MVC: 10 mV/°C
Alarm Output:
Voltage, 100 mA drive
Alarm Set Point: 0 to 100 % adj., set via pot



Power: 12 to 24 Vdc @ 50 mA
Operating Temperature: With No Cooling: 0 to 70°C
With Water Cooling: 0 to 200°C
With Air Cooling: 0 to 110°C
Operating Relative Humidity: Less than 95% RH, non-condensing
Housing: Stainless Steel, NEMA-4 and IP65
Dimensions: 1" OD x 5" L (25.4 OD x 127 L mm)
Weight: 226 g (0.5 lbs)
LASER SIGHTING
Wavelength (Color): 630-670 nm (Red)
Operating Distance: Up to 9.1 m (30')
Max. Laser Power Output: Less than 1 mW
European Classification: Class 2, EN60825-1/11.2001 FDA Classification: Class II, Complies with 21 CFR 1040.10
Laser Beam Diameter: Less than 5 mm
Beam Divergence: Less than 2 mrad
Power Switch: Slide switch on the battery pack Power Indicator: Red LED
Caution & Certification Label: Located on the head circumference
Aperture & Identification Label: Located on the head circumference
How far away from the target can this be installed? Can that distance be constantly changing? Like reading the temperature in a tank where the level changes.
Optical field of view of the OS137A series which replaces the OS137 is 10:1 . Area at the spot size will be the location where the average temperature is measured . The spot size will increase in a 10:1 ratio as the distance from the sensor to target is increased. The spot size needs to be smaller than area that you wish to measure . To help us determine the appropriate IR sensor for your application ,please email a description of your application to temperature@omega.com . For example , Temperature range min and max ? Size of the object that is being measure ? Distance of the sensor to the object ? Ambient temperature of the IR sensor ? Material that is being measured ? Is there dust , steam, smoke in the area ? Indoor or outdoor application ? Any other details specific to the application .
Date published: 2020-02-23
CE