Skip to main content
Skip to navigation
Dual Element Thermocouple Probes with Standard Size Connectors
Dual Element Thermocouple probe with Standard Size Connector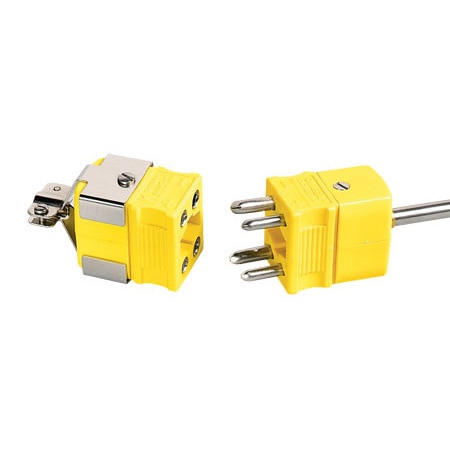 Item# CAXL-IM30U-300-DUAL
Two Sensor Readings Allows Two Readings of a Single Point
Continuous Monitor and Control & Built-in Backup
Made from Special Limits of Error Material
Glass Filled Nylon Connector Rated to 180°C (356°F)
CAXL-IM30U-300-DUAL Model Options
View all models
Edit these specs to order a different model. Not all combinations are valid. Options compatible with previous selections will be in bold.
*Highlighted options are not compatible. Please select a different combination or click the CONFIGURE button to build your own.
Process Temperature Range
Connector Color Code Standard
Measurement Units

°C

Measurement Type

Air/Gas Temperature
OMEGA™ dual-element thermocouple assemblies are manufactured using 4-conductor OMEGACLAD™ wire, and feature rugged DTC connector terminations. Either 304 SS or Inconel sheaths are available in sizes from 1/16 to 1/4" O.D., with either grounded, ungrounded or exposed junctions. Standard length is 12", with other lengths available.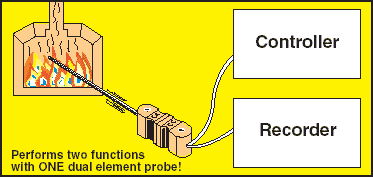 Thermocouple
Alloy
Sheath Dia.
mm (in.)
Grounded
Junction
Ungrounded
Junction
Exposed
Junction
J
IRON-CONSTANTAN
Inconel Sheath
1.5 (1/16")
3.0 (1/8")
4.5 (3/16")
6.0 (1/4")
ICIN-116G-12-DUAL
ICIN-18G-12-DUAL
ICIN-316G-12-DUAL
ICIN-14G-12-DUAL
ICIN-116U-12-DUAL
ICIN-18U-12-DUAL
ICIN-316U-12-DUAL
ICIN-14U-12-DUAL
ICIN-116E-12-DUAL
ICIN-18E-12-DUAL
ICIN-316E-12-DUAL
ICIN-14E-12-DUAL
J
IRON-CONSTANTAN
304 SS Sheath
1.5 (1/16")
3.0 (1/8")
4.5 (3/16")
6.0 (1/4")
ICSS-116G-12-DUAL
ICSS-18G-12-DUAL
ICSS-316G-12-DUAL
ICSS-14G-12-DUAL
ICSS-116U-12-DUAL
ICSS-18U-12-DUAL
ICSS-316U-12-DUAL
ICSS-14U-12-DUAL
ICSS-116E-12-DUAL
ICSS-18E-12-DUAL
ICSS-316E-12-DUAL
ICSS-14E-12-DUAL
K
CHROMEGA™-ALOMEGA™
Inconel Sheath
1.5 (1/16")
3.0 (1/8")
4.5 (3/16")
6.0 (1/4")
CAIN-116G-12-DUAL
CAIN-18G-12-DUAL
CAIN-316G-12-DUAL
CAIN-14G-12-DUAL
CAIN-116U-12-DUAL
CAIN-18U-12-DUAL
CAIN-316U-12-DUAL
CAIN-14U-12-DUAL
CAIN-116E-12-DUAL
CAIN-18E-12-DUAL
CAIN-316E-12-DUAL
CAIN-14E-12-DUAL
K
CHROMEGA™-ALOMEGA™
304 SS Sheath
1.5 (1/16")
3.0 (1/8")
4.5 (3/16")
6.0 (1/4")
CASS-116G-12-DUAL
CASS-18G-12-DUAL
CASS-316G-12-DUAL
CASS-14G-12-DUAL
CASS-116U-12-DUAL
CASS-18U-12-DUAL
CASS-316U-12-DUAL
CASS-14U-12-DUAL
CASS-116E-12-DUAL
CASS-18E-12-DUAL
CASS-316E-12-DUAL
CASS-14E-12-DUAL
E
CHROMEGA™-CONSTANTAN
Inconel Sheath
1.5 (1/16")
3.0 (1/8")
4.5 (3/16")
6.0 (1/4")
CXIN-116G-12-DUAL
CXIN-18G-12-DUAL
CXIN-316G-12-DUAL
CXIN-14G-12-DUAL
CXIN-116U-12-DUAL
CXIN-18U-12-DUAL
CXIN-316U-12-DUAL
CXIN-14U-12-DUAL
CXIN-116E-12-DUAL
CXIN-18E-12-DUAL
CXIN-316E-12-DUAL
CXIN-14E-12-DUAL
E
CHROMEGA™-CONSTANTAN
304 SS Sheath
1.5 (1/16")
3.0 (1/8")
4.5 (3/16")
6.0 (1/4")
CXSS-116G-12-DUAL
CXSS-18G-12-DUAL
CXSS-316G-12-DUAL
CXSS-14G-12-DUAL
CXSS-116U-12-DUAL
CXSS-18U-12-DUAL
CXSS-316U-12-DUAL
CXSS-14U-12-DUAL
CXSS-116E-12-DUAL
CXSS-18E-12-DUAL
CXSS-316E-12-DUAL
CXSS-14E-12-DUAL
T
COPPER-CONSTANTAN
Inconel Sheath
1.5 (1/16")
3.0 (1/8")
4.5 (3/16")
6.0 (1/4")
CPIN-116G-12-DUAL
CPIN-18G-12-DUAL
CPIN-316G-12-DUAL
CPIN-14G-12-DUAL
CPIN-116U-12-DUAL
CPIN-18U-12-DUAL
CPIN-316U-12-DUAL
CPIN-14U-12-DUAL
CPIN-116E-12-DUAL
CPIN-18E-12-DUAL
CPIN-316E-12-DUAL
CPIN-14E-12-DUAL
T
COPPER-CONSTANTAN
304 SS Sheath
1.5 (1/16")
3.0 (1/8")
4.5 (3/16")
6.0 (1/4")
CPSS-116G-12-DUAL
CPSS-18G-12-DUAL
CPSS-316G-12-DUAL
CPSS-14G-12-DUAL
CPSS-116U-12-DUAL
CPSS-18U-12-DUAL
CPSS-316U-12-DUAL
CPSS-14U-12-DUAL
CPSS-116E-12-DUAL
CPSS-18E-12-DUAL
CPSS-316E-12-DUAL
CPSS-14E-12-DUAL
View the Thermocouple Accuracy and Color Code charts