text.skipToContent
text.skipToNavigation
Bolt-On RTD Surface Sensors with Aluminum Flag Housing
Bolt-On or Cement-On Surface RTD Sensor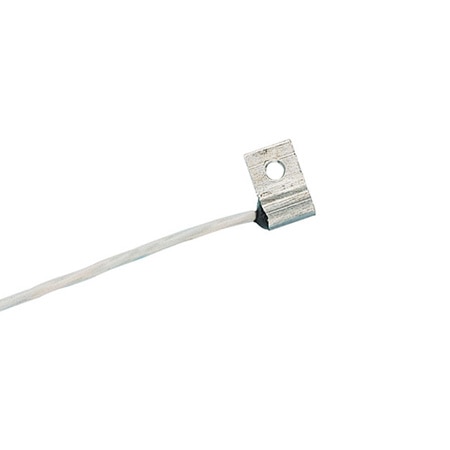 The RTD-830 is designed for use as a surface temperature sensor. The aluminum housing allows for fast transfer of heat to/from the sensing element. The housing contains a clearance hole for a #4 mouting screw so the pt100 sensor can be bolted or cemented into place. If bolt mounted, a small amount of Omega's OT-201 High Conductive Paste placed between the housing and surface can improve thermal response. The sensor includes a 100 ohm Class A DIN Platinum element connected to 1 meter (40") of PFA insulated & jacketed cable and a 3-pin miniature connector.
Do the black wires have polarity?
Thank you for your inquiry. RTD's are a resistive temperature sensor, and do not have any polarity designations on the leads. 3-wire RTD's will usually have 1 red lead connected to one side of RTD sensor, and 2 black leads that are compensating leads connected to the other side of sensor and are common to each other. They do not have any polarities. It is more important to follow the wiring diagram for the particular meter you will connect RTD sensor to.
Date published: 2019-11-01
How does accuracy vary with temp? Is +/- 0.15C applicable across the whole -50C to 230C range?
Thank you for your inquiry. The ±0.15°C is only referenced at 0°C. the accuracy decreases as the temperature goes above and below 0°C.
Date published: 2020-02-14
is this available with 2m cables or can you offer extension cables
Thank you for your inquiry. See link https://www.omega.com/en-us/sensors-and-sensing-equipment/temperature/sensors/surface-sensors/rtd-830-series/p/RTD-830-72-SE
Date published: 2020-09-03