text.skipToContent
text.skipToNavigation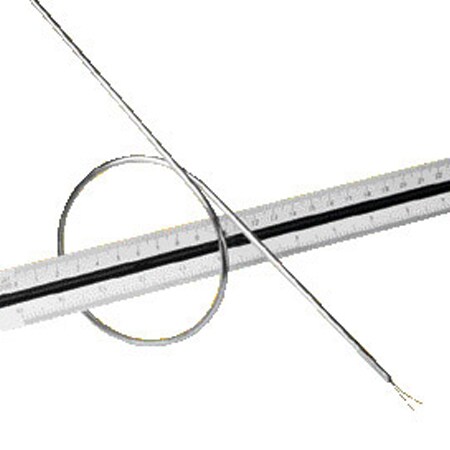 Dual Metric Mineral Insulated Thermocouple Cable
Metric Dual OMEGACLAD Mineral Insulated Thermocouple Wire, M.I. Cable with MgO

Item# 310-N-MO-3.0MM-DUAL-SLE

Added to Your Shopping Cart

Configuration complete.
Please add to cart to keep it or exit the configuration

Failed to Save Configurations, Click on Configure Button Start Again

Lead Time ( If not in Stock):

9 weeks
---
Available for J, K, T, and E Thermocouple Calibrations
Diameters as Small as 1.5 mm (0.059 inches)
High Quality Magnesium Oxide Insulation
Bends Easily
Edit Options
View all models
Not all combinations are valid. Options compatible with previous selections will be in bold.
*Highlighted options are not compatible. Please select a different combination.
Category
Thermocouple Type
Process Temperature Range
Sheath Material
Conductor Insulation
Conductor Material
Dual Changed From
Diagonal/Parallel Construction
Cable Diameter
Number of Conductors
Standard/Metric
Special Limit of error
Additional Feature
Product Specs
Use With Sensor Type

Thermocouple
OMEGACLAD™ wire is metal-sheathed cable containing thermocouple wires which are insulated from each other and from the sheath by highly compacted magnesium oxide (MgO). Metric size OMEGACLAD wire is available in 304 Stainless Steel, 316 Stainless Steel, 321 Stainless Steel Inconel 600 and SUPER OMEGACLAD™ sheathing. To order, specify the desired model number and desired length in meters.
Consult sales for units available with Inconel construction
DUAL PAIR METRIC OMEGACLAD WIRE
Model No.
Wire
Calibration
Sheath
Material
Sheath
Diameter
mm(in.)
Wall
Thickness
mm(in.)
Resistance
15.5°C Ohm/
dbl. ft.
Wire
Diameter
mm(in.)
304-J-MO-1.5MM-DUAL
304-J-MO-3.0MM-DUAL
304-J-MO-4.5MM-DUAL
304-J-MO-6.0MM-DUAL
Iron-
Constantan
J
304
Stainless
Steel
1.5(0.059)
3.0(0.118)
4.5(0.177)
6.0(0.236)
0.254(0.010)
0.457(0.018)
0.660(0.026)
0.940(0.037)
3.81
1.38
0.45
0.25
0.254(0.010)
0.559(0.022)
0.787(0.031)
1.016(0.040)
INC-J-MO-1.5MM-DUAL
INC-J-MO-3.0MM-DUAL
INC-J-MO-4.5MM-DUAL
INC-J-MO-6.0MM-DUAL
Iron-
Constantan
J
Inconel
600
1.5(0.059)
3.0(0.118)
4.5(0.177)
6.0(0.236)
0.254(0.010)
0.457(0.018)
0.660(0.026)
0.940(0.037)
3.81
1.38
0.45
0.25
0.254(0.010)
0.559(0.022)
0.787(0.031)
1.016(0.040)
304-K-MO-1.5MM-DUAL
304-K-MO-3.0MM-DUAL
304-K-MO-4.5MM-DUAL
304-K-MO-6.0MM-DUAL
CHROMEGA™-
ALOMEGA™
K
304
Stainless
Steel
1.5(0.059)
3.0(0.118)
4.5(0.177)
6.0(0.236)
0.254(0.010)
0.457(0.018)
0.660(0.026)
0.940(0.037)
5.82
1.47
0.66
0.38
0.254(0.010)
0.559(0.022)
0.787(0.031)
1.016(0.040)
INC-K-MO-1.5MM-DUAL
INC-K-MO-3.0MM-DUAL
INC-K-MO-4.5MM-DUAL
INC-K-MO-6.0MM-DUAL
CHROMEGA™-
ALOMEGA™
K
Inconel
600
1.5(0.059)
3.0(0.118)
4.5(0.177)
6.0(0.236)
0.254(0.010)
0.457(0.018)
0.660(0.026)
0.940(0.037)
5.82
1.47
0.66
0.38
0.254(0.010)
0.559(0.022)
0.787(0.031)
1.016(0.040)
304-T-MO-1.5MM-DUAL
304-T-MO-3.0MM-DUAL
304-T-MO-4.5MM-DUAL
304-T-MO-6.0MM-DUAL
Copper-
Constantan
T
304
Stainless
Steel
1.5(0.059)
3.0(0.118)
4.5(0.177)
6.0(0.236)
0.254(0.010)
0.457(0.018)
0.660(0.026)
0.940(0.037)
3.03
0.77
0.36
0.20
0.254(0.010)
0.559(0.022)
0.787(0.031)
1.016(0.040)
INC-T-MO-1.5MM-DUAL
INC-T-MO-3.0MM-DUAL
INC-T-MO-4.5MM-DUAL
INC-T-MO-6.0MM-DUAL
Copper-
Constantan
T
Inconel
600
1.5(0.059)
3.0(0.118)
4.5(0.177)
6.0(0.236)
0.254(0.010)
0.457(0.018)
0.660(0.026)
0.940(0.037)
3.03
0.77
0.36
0.20
0.254(0.010)
0.559(0.022)
0.787(0.031)
1.016(0.040)
304-E-MO-1.5MM-DUAL
304-E-MO-3.0MM-DUAL
304-E-MO-4.5MM-DUAL
304-E-MO-6.0MM-DUAL
CHROMEGA™-
Constantan
E
304
Stainless
Steel
1.5(0.059)
3.0(0.118)
4.5(0.177)
6.0(0.236)
0.254(0.010)
0.457(0.018)
0.660(0.026)
0.940(0.037)
6.12
1.56
0.92
0.48
0.254(0.010)
0.559(0.022)
0.787(0.031)
1.016(0.040)
INC-E-MO-1.5MM-DUAL
INC-E-MO-3.0MM-DUAL
INC-E-MO-4.5MM-DUAL
INC-E-MO-6.0MM-DUAL
CHROMEGA™-
Constantan
E
Inconel
600
1.5(0.059)
3.0(0.118)
4.5(0.177)
6.0(0.236)
0.254(0.010)
0.457(0.018)
0.660(0.026)
0.940(0.037)
6.12
1.56
0.92
0.48
0.254(0.010)
0.559(0.022)
0.787(0.031)
1.016(0.040)