text.skipToContent
text.skipToNavigation
Configure Product
Saved Configuration
View Configuration
Terms and Conditions
Saved Addresses
Something went wrong
Your card information was not accepted. Please contact the issuing bank for details.
Payment submission timed out. The server might be busy.
There was an error processing your request.
Please verify there are no missing or invalid fields.
Please enter a card number
Please select a card type
Please enter a value for this field
Please enter an expiry month
Please enter an expiry year
Please enter an issue number
Please enter a start month
Please enter a start year
The card number is not valid
The card type is not supported
The card verification code is not valid
The expiry month is not valid
The expiry year is not valid
The issue number is not valid
The start month is not valid
The start year is not valid
This field is required
Errors were found with the address you provided. Please verify your address.
Date should be in MM/DD/YYYY format
Please enter valid values
Please enter future date
Please enter the shipping date
Shipment date is updated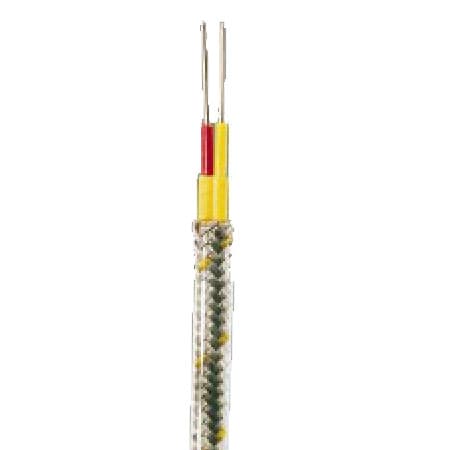 Thermocouple Extension Wire with Polyvinyl Coated Wire and Tinned Copper Overbraid
Item# EXPP-E-16-TCB-P-100
Durable, Flexible and Long Lasting
Tinned Copper Overbraid Electrically Shields and Mechanically Protects the Wire
Polyvinyl Coating Protects from Moisture and Provides Chemical Resitance
See the Related Links Section on the Bottom of This Page for Other Overbraid Options
Wire Gauge
Thermocouple Calibration Type
Cable Type
Wire Type
Number of Pairs
Conductor Insulation
Overbraiding Type
Cable Length
Number of Conductors
Special Limit of error
Additional Feature
Added to Your Shopping Cart
Configuration complete.
Please add to cart to keep it or exit the configuration
Failed to Save Configurations, Click on Configure Button Start Again
Lead Time ( If not in Stock):
6 weeks
Product Specs
Use With Sensor Type

Thermocouple

Wire Grade

Extension Grade
OMEGA™ extension cables are designed for use in connecting a thermocouple probe to a readout or indicator. Made from extension grade thermocouple wire, J, K and E wire types are rated from 0-105°C (32 to 22°F) for the insulation. The range type T extension wire is rated from -60° to 100°C (-76 to 212°F). Used for a wide variety of applications, these cables are constructed with color-coded extruded PVC or PFA applied to each wire leg. Another color-coded sheath of the same material is then extruded over the two primary legs. A metal overbraid is then applied over the insulated wire: tinned copper over PVC wire, stainless steel over PFA wire. This overbraid adds durability, flexibility and long-term abrasion protection to the wire, in addition to providing electrical shielding for use in noisy environments. Finally, a third layer of PVC or PFA is extruded over the entire assembly to protect the metal overbraid.
Polyvinyl Coated Wire with Tinned Copper Overbraid
Model Number
Calibration
Nominal Size (mm)
AWG No.
EXPP-J-14-TCB-P
EXPP-J-16-TCB-P
EXPP-J-16S-TCB-P
EXPP-J-20-TCB-P
EXPP-J-20S-TCB-P
EXPP-J-24S-TCB-P
J
Iron-
Constantan
5.08 x 7.41
4.75 x 6.73
4.82 x 6.86
4.06 x 5.53
4.09 x 5.59
4.01 x 5.13
14 Solid
16 Solid
16 Stranded
20 Solid
20 Stranded
24 Stranded
EXPP-T-14-TCB-P
EXPP-T-16-TCB-P
EXPP-T-20-TCB-P
EXPP-T-20S-TCB-P
T
Copper
Constantan
5.08 x 7.41
4.75 x 6.73
4.06 x 5.53
4.09 x 5.59
14 Solid
16 Solid
20 Solid
20 Stranded
EXPP-K-14-TCB-P
EXPP-K-16-TCB-P
EXPP-K-16S-TCB-P
EXPP-K-20-TCB-P
EXPP-K-20S-TCB-P
EXPP-K-24S-TCB-P
K
CHROMEGA™-
ALOMEGA™
5.08 x 7.41
4.75 x 6.73
4.82 x 6.86
4.06 x 5.53
4.09 x 5.59
4.01 x 5.13
14 Solid
16 Solid
16 Stranded
20 Solid
20 Stranded
24 Stranded
EXPP-E-16-TCB-P
EXPP-E-20-TCB-P
EXPP-E-24S-TCB-P
E
CHROMEGA
Constantan
5.08 x 7.41
4.06 x 5.53
4.01 x 5.13
16 Solid
20 Solid
24 Stranded