text.skipToContent
text.skipToNavigation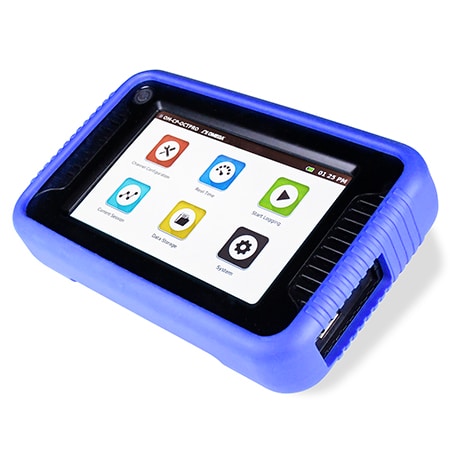 Eight Channel Programmable Portable Data Logger - Touch Screen
Eight Channels Programmable Portable Data Logger

Item# OM-CP-OCTPRO

Added to Your Shopping Cart

Configuration complete.
Please add to cart to keep it or exit the configuration

Failed to Save Configurations, Click on Configure Button Start Again

Lead Time ( If not in Stock):

3 Days
---
All-in-one solution that does not require a PC
5" touch screen with full-color display
8 input channels simultaneously measure current, voltage, temperature and pulse
Supports thermocouple, RTD and thermistor probes
Real-time data is automatically generated into graphs for immediate analysis

Edit Options
View all models
Not all combinations are valid. Options compatible with previous selections will be in bold.
*Highlighted options are not compatible. Please select a different combination.
Measurement Type
Number of Measurements
Input Type
Maximum Samples
Display
Power
Data Interface
Max Sampling Rate
The OM-CP-OCTPRO Logger is an all-in-one solution for applications that require immediate analysis. Equipped with eight input channels, the OCTPRO can simultaneously measure current, voltage, temperature and pulse, providing users with real-time data at a moment's notice. There's no need for a PC, users can view all data in tabular or graph form on the 5" touch screen, full-color display.



OM-CP-OCTPRO Logger Highlight

Versatility makes OM-CP-OCTPRO the perfect companion for industrial engineers, quality assurance professionals, compliance officers or automotive technicians. The OM-CP-OCTPRO is very easy to use and configure via the built in capacitive touchscreen graphic display.

Applications
- Process Monitoring
- Machine efficiency studies
- Multi-use Laboratory and R&D applications


SPECIFICATIONS
Dimensions: 6.65 in x 4.40 in x 1.41 in (168.9 mm x 111.8 mm x 35.8 mm) Data logger only
Touch Screen Dimensions: 5 inches
Number of Channels: 8
Weight: 1.3 lbs (20.8 oz)
IP Rating: IP20
Start Modes: Immediate Start & Delay Start
Memory: 1,000,000 readings
Battery Type: Rechargeable 3.7 V Lithium-Ion Battery Pack
Battery Life: Continuous on-screen sampling: 9 hours; Stand-by mode: 100 hours
Data Format: Exported .csv file format
Time Accuracy: ±1 minute/month
Operating Environment: 0 °C to +50 °C (32 °F to +122 °F) 0 %RH to 95% RH non-condensing
Enclosure Material: Polycarbonate, TPE Protective Boot
Calibration: Factory calibration is recommended annually


Setting Up the OM-CP-OCTPRO


Input Type and Accuracy
Process Inputs
0-24 MA
Resolution: 0.0001 mA
Accuracy: ±0.024 mA
Input Impedance: 30 O
0-100 MV
Maximum Voltage: 3.0 V
Resolution: 0.0001 mV
Accuracy: ±0.1 mV
Input Impedance: 1 GO
0-10 V
Maximum Voltage: 25 V
Resolution: 0.0001 V
Accuracy: ± 0.01 V
Input Impedance: 1 GO
FREQUENCY / PULSE
Maximum Count: 4,000,000,000
Maximum Frequency: 20 KHz
Input Signal: 0 V - 12 V
Input Impedance: 58 KO
Thermistor Inputs
NTC-1 (2252)
Resolution: 0.01 °C
Accuracy: ±0.50%
Range: -25 °C to 150 °C
NTC-2 (10K)
Resolution: 0.01 °C
Accuracy: ±0.50%
Range -25 °C to 150 °C
RTD Inputs
PT-100 (2-WIRE RTD)
Resolution: 0.01 °C
Accuracy: ±0.1 °C
Range -200 °C to 400 °C
PT-100 (3-WIRE RTD)
Resolution: 0.01 °C
Accuracy: ±0.1 °C
Range: -200 °C to 400 °C
Thermocouple Inputs
• At room temperature (25 °C ±10 °C) after 60 minute warm-up period.
• Temperature calibrated accuracy is thermocouple dependent.
• Accuracy does not include Cold Junction Compensation (CJC). CJC error: ±1.5 °C
J Type
Resolution: 0.1 °C
Accuracy ±0.5 °C
Range -200 °C to 760 °C
K Type
Resolution: 0.1 °C
Accuracy ±0.5 °C
Range -270 °C to 1370 °C
T Type
Resolution: 0.1 °C
Accuracy ±0.5 °C
Range -270 °C to 400 °C
E Type
Resolution: 0.1 °C
Accuracy ±0.5 °C
Range -270 °C to 980 °C
R Type
Resolution: 0.5 °C
Accuracy ±2.0 °C
Range -50 °C to 1760 °C
S Type
Resolution: 0.5 °C
Accuracy ±2.0 °C
Range -50 °C to 1760 °C
N Type
Resolution: 0.1 °C
Accuracy ±0.5 °C
Range -270 °C to 1300 °C
B Type
Resolution: 0.5 °C
Accuracy ±2.0 °C
Range 50 °C to 1820 °C


Channel Configuring the OM-CP-OCTPRO


BATTERY
Set-up: Backlight intensity set to 20%, Backlight timeout set for 5 seconds, 1 second reading rate
Battery Life: 1-minute reading rate, 8 channels = 10 Hours, 30 minutes
Set-up: Backlight intensity set to 20%, Backlight timeout set to off, 1 second reading rate
Battery Life: 1-second reading rate, 8 channels = 9 Hours
WARNING: Battery may explode or fire if mistreated. Do not disassemble or dispose of in fire. Do not charge except specified with charging condition. Do not heat above 212 °F, or short circuit. Do not crush or modify.

Reading Rate Information
All channels will use the same reading rate. Reading rates will be capped at 4 Hz when a temperature channel is selected.

Rated

5

out of

5
by
ChE John
from
So easy to use!!!
Let me preface my review by letting you know that I am an engineer employed at a large and very well-known chemical company. I purchased this data logger a few weeks ago to log pressure in my plant's fire water piping system. I have used many different data loggers in the past, but this one is by far the best and easiest I have ever used. My only complaint is that this data logger does not have a built-in power supply; however, considering how small this data logger is in comparison to others with an interactive visual display, how can I really complain.
Date published: 2019-03-06
Rated

4

out of

5
by
Grill Engineer
from
Temperature Testing
Overall impression is good! It is super easy to use, I did not even require the manual to get up and testing in 5 minutes. My only complaints are battery life for long data logging tests (you can leave plugged in to wall outlet just wish the battery lasted longer), the plug in connectors are a little difficult to install and remove, I wish I could view all channels at the same time on the graph, I wish I could adjust the scale of the graph and finally I wish it could record more channels.
Date published: 2020-07-29
Rated

4

out of

5
by
Gerald43
from
Field Engineer
I bought this about two months ago and overall have been happy with it. There were a few times I had an error with programming when turning it on but was able to quickly fix the issue by just resetting it and have been able to log several different parameters and get the results I needed to. It coupled well with some of the pressure and temperature sensor we had available and the data and time stamping seemed accurate and easy to export. I think that this is a good versatile data logger for monitoring industrial issues.
Date published: 2020-05-22
Rated

1

out of

5
by
Aaron K
from
Tons of promise wrecked by poor UI and a buggy OS
We needed a product to use on the road for some basic logging - some 4-wire RTD's and some analog channels. This seemed like a great way to avoid headaches for temporary setups. We've got a deep well of trust for Omega, having used Omega stuff for years and years. So this was a shoe-in. Out of the box, all was well. The interface draws a lot from modern smartphone conventions, which makes it super intuitive to figure out - I was logging 2 minutes after I opened it up. In the field though, things began to fall apart. During setup it would occasionally freeze up and need a power cycle. Fine, normal, but the power cycling takes a very long time (2-3 minutes at least) and the device doesn't tell you if it's turning off, turning on, if you've pressed the button long enough, etc. This was surprisingly frustrating. Many selections made on the touchscreen (such as reading interval) feature a "poke and pray" scrolling list, which would be too hard to use even on the newest phones. The screen itself has to be the poorest capacitive screen I've ever used. It almost feels like one of those old resisitive ones. Data cannot be removed during a logging session. Not a big deal, unless combined with the last and largest issue... Getting the thing to recognize a USB stick (including the one it comes with) is madness. Reboot, reboot with it plugged in, try a different stick, take it back to your PC and format it, reboot again, and MAYBE this time it will recognize it. It's an excellent toy if you want to mess around. But if data is equal to dollars, stay far away from this product.
Date published: 2020-01-24
Rated

1

out of

5
by
loon027
from
Completely broken after a few uses
the analog board blew out according to an error message on the display after using only a few times. It was measuring fine but ended up just stopping and I haven't bee able to start it back up since then. It appears to be a $1000 broken piece of equipment. I'll see what Omega does to help fix this situation.
Date published: 2021-04-21
Rated

1

out of

5
by
Andrew HTX
from
JUNK!
Great design, poor execution. Touch Screen Problems: The touch screen is very unresponsive and sluggish. Also, when typing you will have to touch a bit higher on the screen to get it to press the correct button. There's no way to calibrate the touch screen that I can find. Typing a six letter word will take about 15 seconds with the extremely slow response time. USB Problems To transfer the data files off the unit you will need a thumb drive or a USB-C cable to connect to a computer. The majority of the time the handheld doesn't recognize when you plug a thumb drive in. The only way I've found to get it to recognize it is to reboot the unit, usually several times. I tried to use the cable and connect to a PC with zero success. I updated the software on the PC to the latest version and still no luck. With the exception of these two critical flaws, when you can get it to work it does have some great features and would make an awesome data logger if the execution would've been better. Shame on Omega for releasing this garbage knowing full well of these issues.
Date published: 2021-04-06
Rated

3

out of

5
by
roy wood
from
Logger impressions after initial setup and use
This device is very simple and functional, but has several shortcomings. The touchscreen sometimes is very insensitive and other times double hits, but it is useable. The data graph is very basic with very limited scaling and only 2 channels displayed. This device is adequate, but was expecting amazing at this price point.
Date published: 2020-11-11
What are the power requirements to keep the unit continuously powered? The battery life is far too short for a semi-permanent installation.
Assuming that I don't have a 120 VAC plug in handy inside of the controller where I'd need to install the logger though, I'd need to provide power another way. I assume that it's expecting 5V on the USB circuit, but how much amperage will it draw? I can provide 5V more easily than 120V, but I'd still need to know the load.
Date published: 2021-01-16
What is the sample rate range?
Sampling rate for OM-CP-OCTPRO is 1 sec. Thanks for your question!
Date published: 2019-05-15
There is one issue that continually comes up, in that it doesn't recognize a USB stick when inserted, so it is difficult to transfer the data off of the unit. Is there a workaround or firmware update available?
Thank you for your question. Please note that the USB drive should not be inserted until the OM-CP-OCTPRO is fully booted. If the USB drive is inserted before the OM-CP-OCTPRO is started, the drive will not be recognized. Please wait until the device is running, and then insert the USB drive. If you have further issues please e-mail DAS Engr-DAS@OMEGA.COM.
Date published: 2020-08-08
Channel 9 details? The manual is not clear on how ch 9 is connected to the system, just says "Port 9 serves as an alarm output". Are there any other details available (voltage, current limits, etc.)? Need to determine what, if anything, can be connected.
Thank you for your question. Please e-mail this request to our Data Acquisition Engr Dept- DAS@OMEGA.COM
Date published: 2021-01-07
How often is calibration recommended? Aside from standards is there a manufacturer time frame for this?
Thank you for your question. With all of our loggers, we recommend calibrating every year. However, this is not any sort of official specification or requirement; this is just our general recommendation. How often a user has the device calibrated will depend on their specific accuracy needs, any regulatory requirements they need to conform to, etc. So, ultimately, how often they calibrate the device will be their decision.
Date published: 2021-03-11
I need a downloadable data sheet for this product. Where can this be found? Thanks!
Hello Please send request to das@omega.com Thank you!
Date published: 2020-02-12
Are the channels fully isolated from each other to prevent common mode voltage?
Hello Ronnie The channels are not isolated from each other, they share a common ground
Date published: 2019-12-18
I would like to use thermocouple(Fine Gage, Single Strand, Insulated Thermocouple Wire) type-T with this device, should I buy additional connector or adapter?
Thank you for your question. The logger accepts stripped leads attached to screw terminal adapter that is included.
Date published: 2020-09-15