Skip to main content
Skip to navigation
Linear Power Supply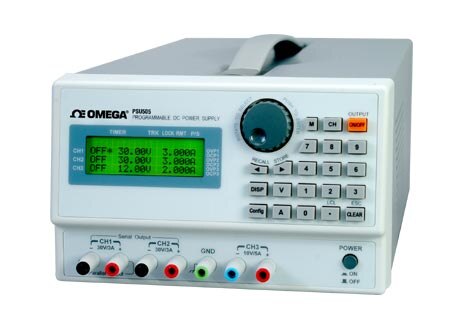 Liquid Crystal Display
Programmable Triple Outputs (Auto-Ranging Function on Channel 3)
Low Ripple, Low Noise
Number and Function Keys
The PSU505 is a DC power supply with 3 programmable outputs and 12-bit resolution. The total output power is 210 W: channels 1 and 2, 30 V/3 A, provide 90 W each; channel 3, 10 V/ 5 A, puts out 30 W at a constant rate. Channel 1 provides outputs in serial and parallel modes; channel 2, in serial mode only. On channel 3, the user can perform auto-ranging, a feature not found on traditional power supplies.

The user can monitor OVP (overvoltage protection) and OCP (overcurrent protection) on the front-panel LCD. Because of its 0.01% load-and-line regulation and 50 ms max response time, the PSU505 remains stable even when the voltage source and load change. The PSU505 is also highly efficient, with an average measurement time of 50 ms.

The PSU505 is easy to use, featuring an adjustable tracking function, a rotary selection dial, and an alphanumeric keypad. With the timer function, the user can control when each output is switched off (1 second to 100 hours); this feature is particularly useful in burn-in-room and electroplating applications. Up to 100 configurations can be stored in memory. A key-lock function prevents users from changing the original settings.


SPECIFICATIONS

Model
PSU505
Channel Number
CH1 and CH2
CH3
Output Voltage
0 to 30 V
0 to 15 V
Output Current
0 to 3 A
0 to 5 A
Output Power
(CH3 Auto-Ranging)
90W
30W
Line Regulation ±(% of output + offset)
Voltage
0.01% + 2 mV
Current
0.01% + 300 µa
Load Regulation ±(% of output + offset)
Voltage
≤3 mV
≤5 mV
Current
0.01% + 300 µA
Ripple and Noise (20Hz to 20Mhz)
Normal Mode Voltage
300µVrms/3 mVpp
1 mVrms/20 mVpp
Normal Mode Current
<1 mA
<5 mA
Resolution
Programming
10 mV/1 mA
10 mV/2 mA
Readback
10 mV/1 mA
3 mV/2 mA
Programming Accuracy ±(% of output + offset)
Voltage
0.05% + 20 mV
0.05% + 6 mV
Current
0.05% + 3 mA
0.05% + 4 mA
Readback Accuracy ±(% of output + offset)
Voltage
0.05% + 20 mV
0.05% + 6 mV
Current
0.05% + 3 mA
0.05% + 4 mA
Temperature Coeficient per ±(% of output + offset)
Voltage
<0.1% + 3 mV
Current
<0.2% + 2 mA
Tracking Accuracy ±(% of output + offset)
Voltage
<0.1% + 40 mV
Transient Responce Time
<50 µs
Stability, Constant Output and Temperature ±(% of output + offset), 8 hrs
Voltage
<0.2% + 2 mV
Current
<0.1% + 1 mA
Voltage Programming Speed
Rising time at full load
1 ms
Rising time at no load
1 ms
Falling time at full load
2.5 ms
Falling time at no load
250 ms
General
AC Line Input Voltage Ranges
115/220 Vac ±10% (47 to 63 Hz)
Temperature Ranges
Operating: 0 to 40°C (32 to 104°F); Storage: -10 to 70°C (14 to 158ºF)
Common-Mode Voltage
±240 Vdc
Dimensions (W x H x D)
216 x 135 x 432 mm (8.5 x 5.3 x 17")
Weight
6.5 kg (14 lb)
Communications
RS232/USB interface