The Challenge
A customer in the paper industry wanted to measure flow of paper stock pulp on a 250mm SS line with an average flow of 120-150 l/s and a pulp temperature of 45° but there is an unusual condition that it has 10.8% of solids and the rest is water. They need a flowmeter to check the performance and would prefer a portable/clamp-on device to measure the flow.

The customer regularly uses a PTFE lined electromagnetic flowmeter to measure the flow of paper stock, but when the plant is shut down for maintenance the thick stock 'falls' back down the pipe to the pump in the basement, about 5 meters deep, and causes a vacuum behind it. This eventually tears the PTFE lining from inside the meter and the solid contents get blocked within it. A simple and portable clamp-on device with repeatability was desired to check the performance.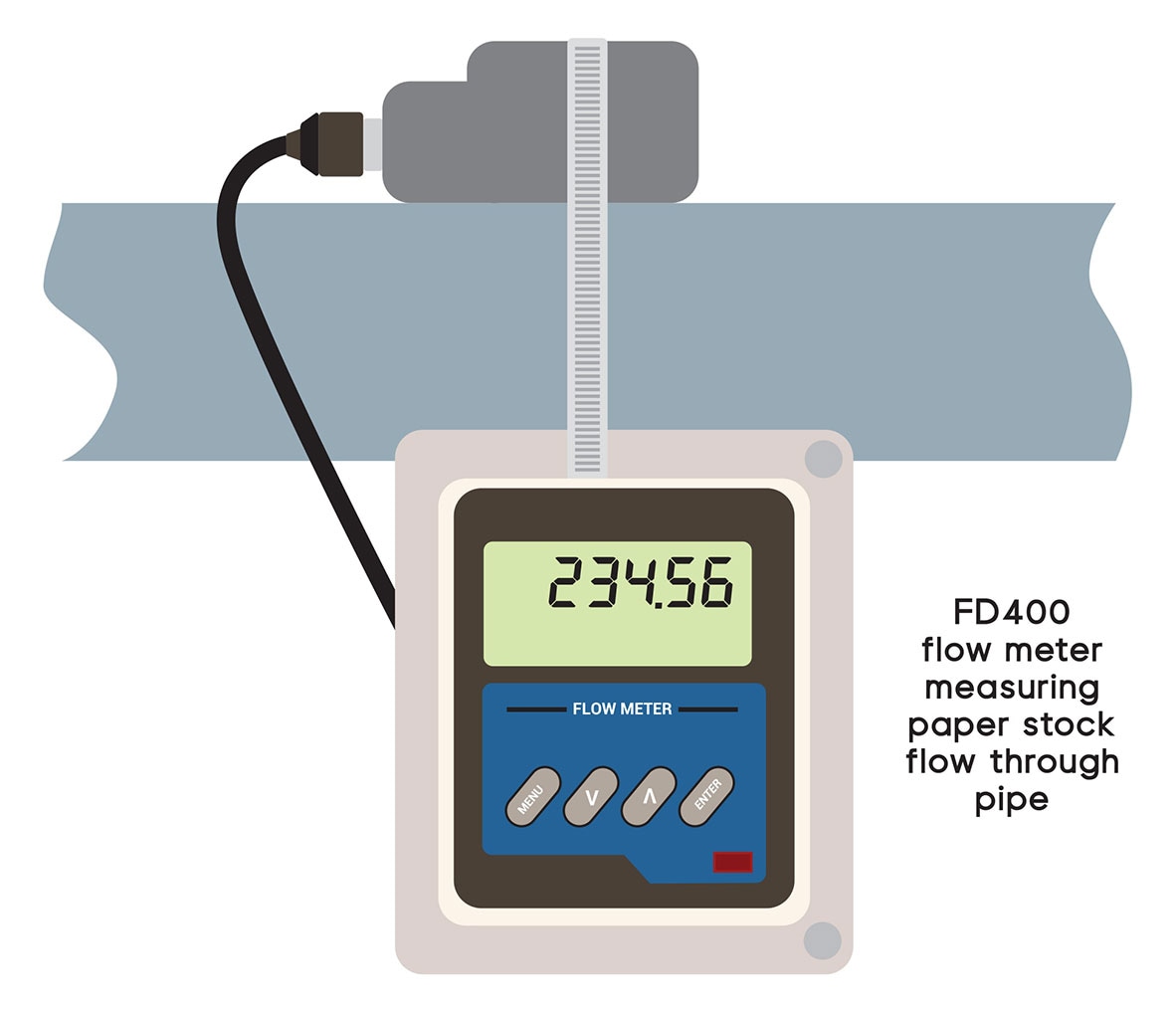 OMEGA products used in this application
Product Used
A Doppler ultrasonic flowmeter with a clamp-on option is suitable for such large pipes and flowrates. It features a 4-20 mA output and long cable length, which can be connected directly to the control room.
The Solution
The FD-400 flowmeter transmits ultrasonic sound through the pipe wall or from the probe tip into the flowing liquid by using piezoelectric crystals that are contained in the transducer and probe tip. The sound is then reflected by sonic reflectors suspended in the liquid and recorded by the receiver. If the sonic reflectors are moving within the sound transmission path, sound waves will be reflected at a frequency shifted (Doppler frequency) from the transmitted frequency. The difference between the 2 frequencies is directly proportional to the speed of the sonic reflectors, resulting in a liquid flow rate that is converted to various user-defined units.
Key Features
A clamp-on device suitable for liquids and solids of 100 micros or larger.
Non-intrusive device can be mounted directly on pipelines from 6 mm up to 3050 mm.
Wide flow velocity range of 0.05 to 9 meters per second.
2% calibrated span accuracy, with provision for outdoor enclosures.
Wall-mounted bracket included.
NIST calibration certificate.
Standard and high-temperature options available.
Cable lengths of up to 100'.
In conclusion, the FD400 will be a suitable choice for the paper stock industry. This clamp-on device works well on different pipe sizes, with a long cable length. The 10.8% solids in the paper stock will not be a problem and flowrates can be measured accurately and consistently.
Pro Tip
Doppler ultrasonic flowmeters work best when there are solid contents/air bubbles along with liquids.