text.skipToContent
text.skipToNavigation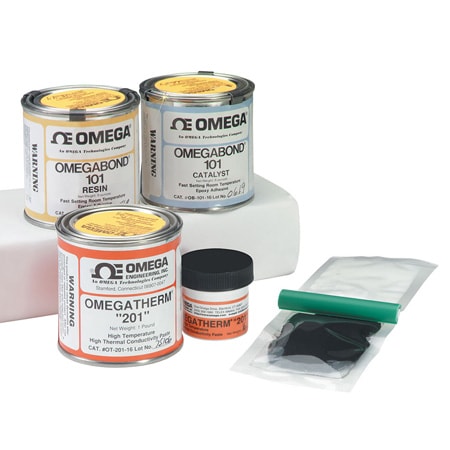 Thermally Conductive Epoxy
Thermally Conductive Epoxies and Thermally Conductive Grease

Item# OB-100-1
This item is available for quick shipping
Added to Your Shopping Cart
Configuration complete.
Please add to cart to keep it or exit the configuration
Failed to Save Configurations, Click on Configure Button Start Again
Lead Time ( If not in Stock):
3 weeks
---
Thermally Conductive
Electrical Insulator
Resist Oils, Solvents, Most Acids
OMEGABOND™ 100 Two Part Epoxy: Low Thermal Conductivity. Sets at Room Temp. Good to 130°C (265°F)
OMEGABOND™ 101Two Part Epoxy: High Thermal Conductivity. Sets at Room Temp. Good to 105°C(221°F)
OMEGABOND™ 200 Two Part Epoxy: Very High Thermal Conductivity. Sets in 2 Hrs at 205°C(400°F). Good to 260°C(500°F)
OMEGATHERM™ 201Silicone Paste: Extremely High Thermal Conductivity. Non-Adhesive. Does not Harden. Good from -40 to 200°C(-40 to 392°F
Edit Options
View all models
Not all combinations are valid. Options compatible with previous selections will be in bold.
*Highlighted options are not compatible. Please select a different combination.
Material
Volume
Max Temperature
Mix Ratio by Weight
Tensile Shear
Additional Option
OMEGABOND™ epoxy and OMEGATHERM™ thermal conducting paste are easy to use epoxies and silicone products. They are specially formulated for permanent bonding of thermocouples, thin film RTDs, thermistors and other temperature sensors, to most surfaces–metals, ceramics, glass, plastics, paper products. OMEGABOND™ and OMEGATHERM™ products are compounded and packaged for convenient, easy mixing and application. Each formulation exhibits important characteristics necessary for accurate, fast, reliable temperature measurement. These are: good adhesion and strength, high temperature rating, high thermal conduction, high electric insulation, thixotropic consistency, fast cure, and easy application.

OB-100 is available in 1/4 oz or 1 oz Twin Packs and 1 lb as 2 cans, 1 of resin and 1 of hardener.
OB-101 is available in 1/2 oz or 2 oz Twin Packs and 1 lb as 2 cans, 1 of resin and 1 of hardener.
OB-200 is available in a 2 oz Twin Packs or 1 lb as 2 cans, 1 of resin and 1 of hardener.
OT-201 is available in 1/2 oz or 2 oz Twin Packs or in cans as 1 lb or 2 lb (two 1 lb cans).

"Twin pak" packaging is supplied to ensure the user with accurate proportioning of resin and catalyst, as well as to provide a clean, fast means of mixing. The "Twin Pak" is a flexible, transparent plastic pouch, separated into two isolated compartments by means of a removable external divider. In one compartment is the resin, the other the pre-measured catalyst. To use, remove the divider, mix the two components by kneading the pouch, then snip off a corner to dispense. Each "Twin Pak" comes with an instruction sheet, enclosed in a clear, heat-sealed plastic envelope.

Please note that once mixed, the OB-100, OB-101 and OB-200 epoxies have the following "Working Times" (also referred to as "Pot Life"):
OB-100: Less Than 8 Minutes at Room Temperature
OB-101: Approximately 30 Minutes at Room Temperature
OB-200: Approximately 24 Hours at Room Temperature
Rated

5

out of

5
by
djg87
from
Just what I needed
This is a very thick thixotropic material, heat the pouch under a heat lamp for a bit to make it easier to mix and gently squeeze to dispense just where you want it. It must be heated to cure, even 48 hours at room temperature and its still pliable. A few hours at cure temperature its solid and bonds well to metals plastics and FR4.
Date published: 2017-07-12
Rated

5

out of

5
by
gturner
from
Great for thermal testing of equipment
Used to test the thermal conductivity internally in electronics. Works like a charm. Very easy to mix up on a paper plate with a spoon and then I just dip my cable tips in the mixture and then apply to the equipment. Very simple. Does have an odor but stay a well ventilated room during mixing. I even wear gloves from the local auto parts store that are disposable.
Date published: 2017-03-20
Rated

3

out of

5
by
Punisher
from
Hold up to thermal cycling well! But.....
I was looking for an amount to epoxy on 10-20 thermocouples but found this hard to proportion into seperate portions. Also the website refers to setting time to be a lot less than the paperwork says that came with the product. Overall I was able to still use the product and it has performed well
Date published: 2016-10-26
Rated

1

out of

5
by
Bart
from
Failed spectacularly
Tried to use this to bond copper to ceramic. Worked for 2 days, then failed spectacularly at temperatures of 240 degrees C. The part failure ended up costing us days of lost time fixing the machine. Might have been due to mismatched thermal expansion coefficients causing stress in the adhesive. So either the epoxy failed due to stress, or due to temperature. Probably temperature. Who knows. I guess the lesson is: don't use epoxy at elevated temperatures. Just because it says it can do it, doesn't mean it can.
Date published: 2016-09-29
Rated

4

out of

5
by
Calvin
from
Omega thermocouples
Glad to receive the high-quality of Omega thermocouples.
Date published: 2016-09-01
Rated

5

out of

5
by
ronenet
from
Excellent
I bought this Thermal grease epoxy and it's very good quality
Date published: 2016-03-27
Is Omegabond 101 UL Listed?
Thank you for your inquiry. This product is not UL listed.
Date published: 2020-05-01
What is the failure mode if the epoxy is used after the expiration date? What properties are compromised? OB-101, 1/2 oz twin pack in my case.
Hi WaionthaBill, Thank you for the inquiry. All characteristics are impacted. Most impacted are bonding, shear and flex strength. Best regards, OMEGA
Date published: 2021-01-19
For OB-101, the working life after mixing is 30 mins. What is the shelf life for a closed product? What is the shelf life after opening (not mixed)?
Thank you for your inquiry. The shelf-life is 6 months.
Date published: 2021-08-13
Can you recommend a filler / thickener for OB-200? I am looking to bond a stainless cooling tube to a stainless plate and the OB-200 is a bit too thin to get a nice fillet. Would Stainless steel powder be an acceptable filler for OB-200?
Hi, Omega does not sell nor have we tested any thickening agents with the OB-200. If you need a cement with a bit thicker consistency you might want to look at a cement like the OB-600 as a possible substitute.
Date published: 2020-01-29
Is OMEGABOND 101 Two Part Epoxy good for potting electronics? How well does it handle thick layers and or voids between adhered surfaces? How thick/viscus is the epoxy as you work with it?
OMEGABOND®100—a fast (8 to 12 minute setting time), room temperature, two-part epoxy. Recommended for easy temporary and permanent bonding of beaded wire and "cement-on" thermocouples. Adheres to metals, ceramics, epoxy laminates, glass, wood, concrete and many other materials—for temperature measurements up to 129°C (265°F). It is not recommended for those endeavoring to achieve the ultimate in precision and speed of response, since this unfilled system has a relatively low thermal conductivity.Temporary installation of beaded wire thermocouples can be achieved by using a very small amount of OMEGABOND® 100 to tack the bead to the surface and packing OMEGATHERM® 201 around the exposed surface to improve heat transfer. This clear syrup consistency—100% solid adhesive — contains no solvents and has good strength and electrical insulation characteristics. Note: The working time after mixing the 2-part system at room temperature is only 6 to 8 minutes. OMEGABOND 100 is available in "Twin Pak" packs and 1- and 2-pound kits. For larger gaps, up to 1/4", review the OB-400 High Temperature Air Set Cement.
Date published: 2021-02-16
What happens to grease if it is use at more than 500F?
The upper rating is 392F for OT-201 and Omega does not recommend using it above that temperature. The characteristics can be altered and the material will no longer perform as specified.
Date published: 2020-05-11
Is there a solvent that we can use safely to remove OB-101? thanks
Thank you for your inquiry. There are no solvents to remove this permanent epoxy. Material must be carefully scraped off surface.
Date published: 2020-05-18
Can the 200 cure at room temperature given enough time? Say a few days
Thank you for inquiry. Unfortunately OB-200 will never cure at room temperature.
Date published: 2021-04-07
for the mix ratio, what does it mean by 100 part of part A (hardener) ? If i am mixing 1 ml of Part B, how much part A i need to add?
Thank you for your inquiry Philip_DNA. If you are mixing 1 ml of Part B, you need to add 1 ml of Part A since the mixing ratio is 1:1.
Date published: 2021-07-02
What is a glass transition temperature of OB-200? It's not in the spec
Thank you for your inquiry! Unfortunately, we do not have this data for the OB-200.
Date published: 2021-07-15
What is the MINIMUM continuous temperature rating for cured OB-200? Can i use OB-200 for IC Encapsulation on Alumina substrate for MIL application (-65 degree C to +150 degree C)? Is it resistance to Solvent as per MIL-883, 2015?
Hi BALAGANGADHARAN, Thank you for the inquiry. For minimum curing temp please use lowest curing temperature given in manual. We do not have test data for IC encapsulation. We do not have test data to confirm rating MIL-883. Best regards OMEGA
Date published: 2021-04-19