Skip to main content
Skip to navigation
110 KS/s 12-Bit Low Cost A/D Boards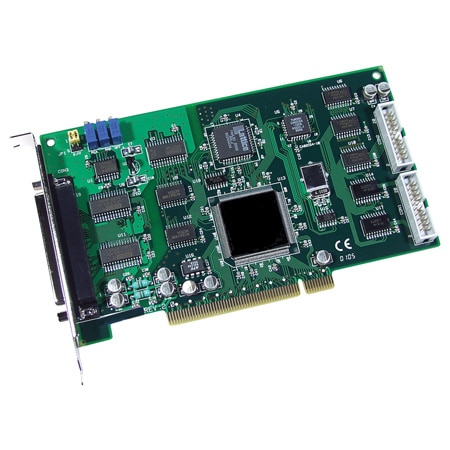 PCI Bus
12-Bit 110 KHz A/D Converter
32 Single-Ended/16 Differential Inputs
110 KS/s Sampling Rate: OME-PCI-1002L-110KS/s OME-PCI-1002H-40KS/s (Single Channel or Multiple Channels)
Impedance

10

Linearity

±1 bit

Maximum Ambient Temperature

50 {C} (122 {F})

Maximum Ambient Humidity

90% RH non-condensing

Maximum Storage Temperature

70 {C} (158 {F})

Minimum Ambient Humidity

0% RH

Minimum Ambient Temperature

0 {C} (32 {F}

Minimum Storage Temperature

-20 {C} (-4 {F})

Number of Inputs (Sku Variant)

32 Single-Ended/16 Differential Inputs

Other Features

Counter/Timers

Power

+5 V @ 350 mA (max)
The OME-PCI-1002 series is a family of PCI bus A/D boards. They feature a 110 KHz data acquisition under DOS and Windows. The boards provides 32 single-ended or 16 differential inputs, 16 digital input and 16 digital output channels. The -H means high gain model and the -L means low gain model. The OME-PCI-1002 series provides three flexible external trigger modes; post-trigger, pre-trigger, middle trigger.

Software Development Kit
All boards are supplied with a standard software development kit for Windows 98/NT/2000/XP. The software development kit includes DLL files for programming in C, C++ or other high level languages and OCX files for Visual Basic or Active X programming. LabView drivers are also included.

The OME-PCI-1002 includes 16-channels of digital input and 16-channels of digital output. A OME-DB-8025 screw terminal panel can be used to connect to the digital I/O lines. The OME-DB-16P isolated digital input board and OME-DB-16R relay board can be used to connect the digital I/O on the OME-PCI-1002 to real world signals.

Accessories
In order to connect to analog and digital signals a variety of terminal panels, digital input and relay boards are available for the OME-PCI-1002. See the Related Links section on this page for more details on these accessories.


OME-DB-1825 Screw Terminal Panel for Analog Input Channels.


OME-DB-8025 Screw Terminal Panel for Digital Input Channels



OME-ADP-20/PCI 20-pin Extender
OME-DB-16P 16 Channel Isolated Digital Input Board
OME-DB-16R 16 Channel SPDT Relay Output Board
Specifications

ANALOG INPUT SPECIFICATIONS
Channels: OME-PCI-1002H,
OME-PCI-1002L: 32 single-ended/ 16 differential
Resolution: 12 bits
Conversion Rate: 40 KS/s max.
Input Impedance: 10,000 M//6pF
Overvoltage Protection: ±35V
Accuracy: 0.01% of reading, ±1 bit
Linearity: ±1 bit

OME-PCI-1002H Input Ranges(High Gain)

| | | |
| --- | --- | --- |
| Gain | Range | Throughput |
| 1 | ±10 V | 44 K/s |
| 10 | ±1 V | 36 K/s |
| 100 | ±0.1 V | 7 K/s |
| 1000 | ±0.01 V | 0.8 K/s |


OME-PCI-1002L Input Ranges(Low Gain)

| | | |
| --- | --- | --- |
| Gain | Range | Throughput |
| 1 | ±10V | 110 K/s |
| 2 | ±5V | 110 K/s |
| 4 | ±2.5V | 110 K/s |
| 8 | ±1.25V | 110 K/s |



DIGITAL I/O
Inputs: 16 channels; TTL levels
Input Low: VIL = 0.8 V max, IIL = 4 mA
Input High: VIH = 2.0 V min, IIH = -20 µA max
Outputs: 16 channels; TTL levels
Output Low: 0.5 V max, IOL = 4 mA max
Output High: 2.7 V min, IOH = -400 µA max

TIMER COUNTER
Internal Pacer Timer: 16-bit, 8 MHz input
External Pacer Timer: 16-bit, 8 MHz input
Machine Independent Timer: 16-bit, 8 MHz input

GENERAL ENVIRONMENTAL
Operating Temperature:
0 to 50°C (32 to 122°F)
Storage Temperature:
-20 to 70°C (22 to 130°F)
Humidity: 0 to 90% RH non-condensing
Dimensions:
175 L x 105 mm H (6.9 x 4.1")
Power Requirements: +5 V @ 350 mA (max)