Skip to main content
Skip to navigation
48-Channel Digital I/O BoardFor IBM PC and Compatibles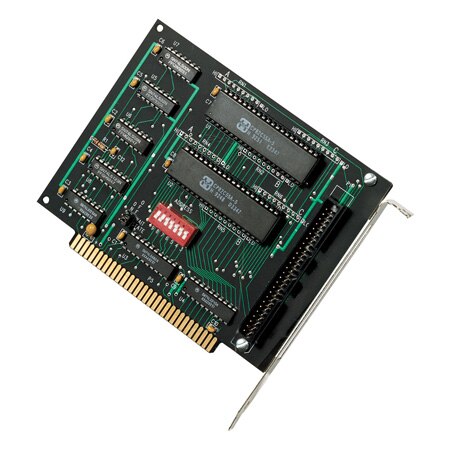 48 TTL Digital I/O Lines
Single 50-Pin Connector Carries All 48 Digital Lines plus Power
Maximum Ambient Temperature

70 {C} (159 {F})

Current Drive

CIO-DIO48 (source or sink): 2.5 mA CIO-DIO48H (source): 15 mA (sink): 64 mA

Minimum Ambient Temperature

-20 {C} (-4 {F})

Maximum Storage Temperature

70 {C} (159 {F})

Minimum Storage Temperature

-20 {C} (-4 {F})

TTL Input High

2.0 V min

TTL Input Low

-0.5 V min

TTL Output High

3.0 V min @ -2.5 mA
The CIO-DIO48 can control 48 devices or sense 48 contact closures from a single half-size card in a PC. The CIO-DIO48 employs two 8255 parallel peripheral interface chips which are programmable in three modes simple byte input or output or strobed I/O. The 8255 is simple to program. The CIO-DIO48 can provide 2.5 mA to activate other chips, but not enough for LED's or relays. The CIO-DIO48H can source 15 mA or source 64 mA, enough for switching most relays and SSR's.
Accessories
50 channel 4" x 4" screw terminal board, requires cable
0,6 m (2') cable, 50 pin header connectors
This item is discontinued. Please contact Technical Sales Team for assistance.
24 channel solid state relay mounting rack, requires cable and solid state relays (see section H)