Skip to main content
Skip to navigation
Signal Powered Fiber Optic Modem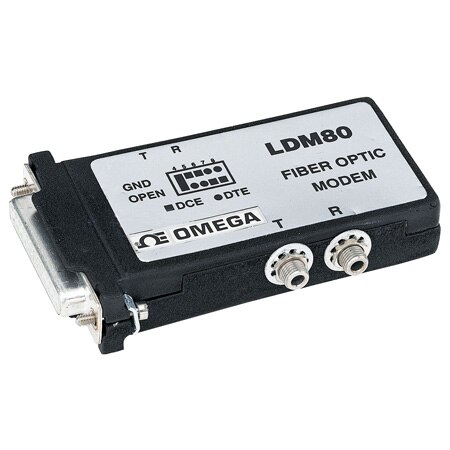 Data Rates to 19.2K Baud at 2.2 Miles (3.5KM)
17dB Optical Link Power Budget
Powered by RS-232 Host Port Signals
Full Duplex Asynchronous Operation
Baud Rate

0 – 19.2K

Maximum Ambient Humidity

95% RH

Maximum Ambient Temperature

70 {C}

Minimum Ambient Humidity

0% RH

Minimum Ambient Temperature

-20 {C}

MTBF

>100

Modes

Asynchronous 2-fiber full duplex
The LDM80 is a small, inexpensive fiber optic transmitter/receiver completely powered by the host RS-232 port. The enclosure for the LDM80 is a conductive shell which greatly reduces RF radiation and susceptibility. The rugged metal enclosure is small enough to mount on the back panel of typical computer equipment saving valuable desk and floor space.

A pair of these units allows most RS-232C cable links to be replaced and extended with a duplex fiber optic cable. The normal 50-foot RS-232 limit may be extended to 2.2 miles (3.5 km). Fiber optic data communications provide complete EMI/RFI rejection, isolation, elimination of ground loops, and reduced error rates. Data security is enhanced by almost nonexistent electromagnetic emissions. The RS-232 connection is through male or female EIA 25-pin connectors. The fiber optic connection is either through SMA (905) or ST connectors.

The LDM80 is equivalent to a 3-wire, full duplex, RS-232 circuit. Handshake signals are locally connected (see Figure 1. on PDF) Indicating LEDs come on during a "SPACE" on transmit or receive data. A TD/RD reversing DIP switch is provided for connection to DTE (Data Terminal Equipment) or DCE (Data Communication Equipment) ports. The LDM80 optical transmitter may be used with a wide range of fiber sizes. Specifications are for 100/140µm. Other fiber sizes may be used with a resulting different cable loss budget.