text.skipToContent
text.skipToNavigation
DIN Rail Mountable Universal Input Ramp and Soak PID Controller
DIN Rail Mountable Universal Temperature Process Controller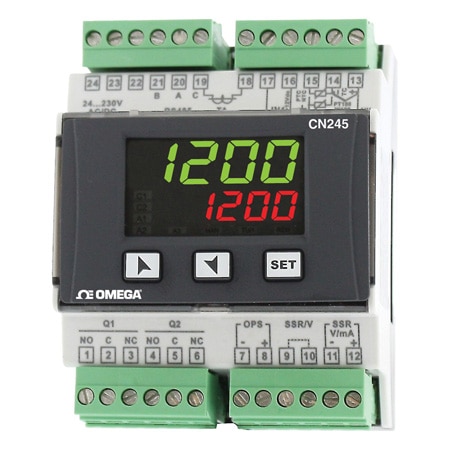 The CN245-Series has been discontinued. For a possible alternate, please see CN401-11445-C4 A DIN Rail mountable replacement controller will be available in Q4 2021.
DIN Rail Mountable
Dual Display
Type J, K, R and S Thermocouple Inputs
Process Inputs
RTD and Thermistor Inputs
Alarm Functions
On/Off or PID control
3 Step Ramp Soak Feature
Autotune
Digital Input
Heater Loop Break Alarm
24 to 230 Vac/Vdc
Password Protection
RS485 Standard
Optional Software with Configuration Module
Description
Monitor and control temperature orprocess applications with precisionusing the CN245 Series DIN railmountable controllers. The CN245Series provides dual LED displaysfor local indication of processvalue and setpoint value. Controlmethods include on/off, PID,auto-tune and manual-tune.Controller includes a 3 setpointramp/soak control feature, alarmfunctions, RS485 communicationsand heater loop break alarm.Beside operation as multi-setpointPID controller, the unit can beideally used as signal converterthanks to a universal input(selectable by parameter for upto 18 different signals) and theanalog output which is galvanicallyisolated and programmable forrescalable retransmission ofprocess/setpoint value.An optional software packageCN-SW-HW-KIT includes cableand configuration module for quickconfiguration of units, as well ascopying configuration parametersfrom one unit to another. Theconfiguration module can alsobe purchased separately andwith a built-in battery feature,configuration settings can bedownloaded and copied to modulewithout power applied to controller.Module can then be plugged intoa new unit without power appliedand the configuration setting canbe transferred for easy set up formultiple units.
Rated

5

out of

5
by
trailfan83
from
versatile and a good value
This racy Italian-made controller is exactly what we needed for running tube furnaces in a research lab. Adaptable to an amazing variety of sensors, including all common thermocouples, and lots of output options as well. I found some challenge interpreting the commands needed to choose these settings, but a bit of breadboard tinkering and booklet scrutiny got us where we needed to be soon enough.
Date published: 2016-06-03
Rated

5

out of

5
by
Drag
from
Easily reconfigurable with analog out
I stuck rubber feet to the bottom of this controller and will rewire it as needed for different test configurations, no enclosure necessary. Output 2 can be configured for analog retransmit of the process value (voltage) for DAQ purposes. I put a 1 mfd cap across the analog out as it was a bit noisy. Easy to program.
Date published: 2017-06-07
Rated

4

out of

5
by
BMCM
from
Skip to Section 10 to set up controller
Not bad once you figure out how to operate. Skip to section 10 for setting configuration.
Date published: 2018-07-24
Rated

4

out of

5
by
TimMc
from
Good features
It is pretty easy to work with, although like many Modbus devices, it deviates from the standard. It comes with fairly complete documentation although some of the specifications are a little vague.
Date published: 2018-02-23
Rated

5

out of

5
by
jennifer54
from
Enigneering
We like the product and was a good fit for our application
Date published: 2017-02-13