Skip to main content
Skip to navigation
Intrinsically Safe Transient Pressure Data Logger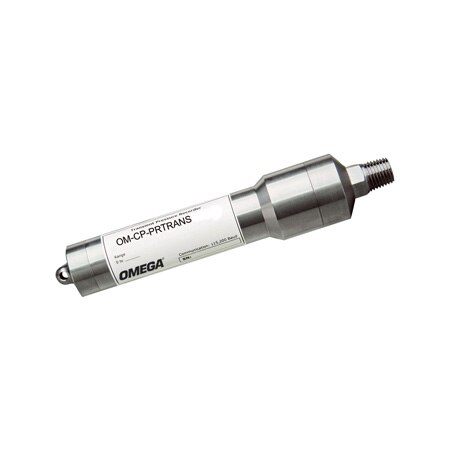 Item# OM-CP-PRTRANSIS-1-1000A
Intrinsically Safe
Rugged
100 Hz Operation
Software-Selectable Trigger Modes and Threshold Levels
It is an all too common paradox: you need to capture transient events at a high sample rate but the events of interest are erratically spread over a long period. The OM-CP-PRTRANSIS is the pressure recorder to solve your problems. It samples up to 100 Hz (10 ms), but it will only trigger on pressure limits that you set beforehand. You can start the trigger on high and/or low thresholds and end it after either a chosen number of samples, or when the signal crosses over your stop threshold. The device can record up to 255 events and take as many as 262,143 pressure samples. The recorder also shows up to 32 samples of 'pre-trigger' data so that you can learn what caused the trigger in the first place.

The OM-CP-PRTRANSIS has been Factory Mutual certified as intrinsically safe for Class I, Division 1, Groups A, B, C and D and nonincendive for Class I, Division 2, Groups A, B, C and D. This certification makes the device ideal for use in hostile environments.

The OM-CP-PRTRANSIS is a battery-operated unit with a standard 1/4 NPT for easy coupling to your pressure systems, and the stainless steel sensor can measure the pressure of most common fluids and gases. The non-volatile memory will retain valuable data even if the user-replaceable battery becomes discharged. The software converts your PC into a real-time strip chart recorder. Data can be printed in a graphic or tabular format and can be exported to a text or Microsoft file. The OM-CP-PRTRANSIS is your solution to the transient pressure problem.

Specifications
Pressure Sensor: Semiconductor strain gauge
Calibrated Accuracy: 2% FSR, 0.25% @ 25ºC, (77ºF) typical
Pressure Response Time: 0.1 ms (10 to 90% FSR)
Repeatability: ±0.5% FSR; ± 0.2% typical
Adaptor: 1/4 MNPT
Trigger Modes: Software programmable window size or bi-level start/stop triggers
Start Time: Software programmable start time and date, up to seven days in advance
Real-Time Recording: May be used with PC to monitor and record data in real time
Memory: Up to 262,143 samples Number of Events: Up to 255 triggered events
Pre-Trigger Size: Up to 32 samples
Reading Interval: 1 reading every 10 ms to 1 every second
Calibration: Digital calibration through software
Calibration Date: Automatically recorded within device
Power: 3.6 V lithium battery (included); user replaceable
Battery Life: 3 days continuous @ 10 ms sample rate
Battery Shelf Life: Up to 1 year when not in use
Data Format: Date and time stamped PSIA, PSIG, inches, feet, mmHg, bar, torr, kPa
Computer Interface: PC serial, RS-232C COM
or USB (interface cable required); 115,200 baud
Communications: 115,200 baud
Software: XP SP3/Vista/7 and 8 (32-bit and 64-bit)
Operating Environment: -40 to 80°C (-40 to 176°F), 0 to 100% RH
Dimensions: 1.25 x 6.4' (32 mm x 163 mm)
Weight: 340 g (12 oz)
Material: Stainless Steel
Approvals: FM Certified Intrinsically Safe for Class I,
Division 1 Groups A, B, C and D and non-incendive for Class I,
Division 2, Groups A, B, C and D.