Skip to main content
Skip to navigation
Metric, Hermetically Sealed, Platform Load Cell
25 kgf, ±0.02%, Linearity, 2 mV/V Output, Cable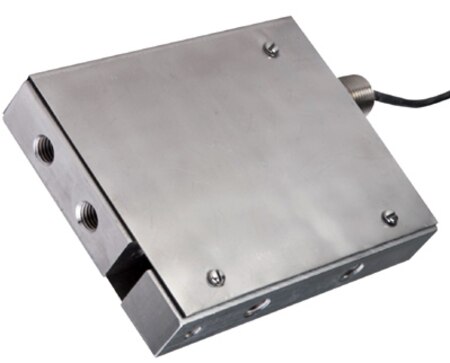 5 Point NIST Traceable Calibration with 59 kOhm Shunt Cal Data Provided
Sealed for Washdown Applications
All Stainless Steel Construction
Built-in Overload Stops
Hysteresis

±0.02% FSO

Input Resistance

370 Ω minimum

Linearity

±0.02% FSO

Load Cell Material

17-4 PH stainless steel

Maximum Ambient Temperature

93 {C} (200 {F})

Maximum Compensation Temperature

71 {C} (160 {F})

Measurement Type

Load

Output Resistance

350 ±3.5 Ω

Minimum Compensation Temperature

16 {C} (60 {F})

Number of Conductors

4

Repeatability

±0.02% FSO

Output Voltage

2.1 mV/V ±0.1mV/V

Ultimate Overload

500% of Capacity (compression only)

Temperature Effects

Zero: ±0.0015% FSO/°F

Zero Balance

±2.0% FSO

Style

Single Point
The LCMAD Series platform load cells are hermetically sealed and designed for applications such as industrial food processing and weighing and automated weighing stations, where high accuracy and watertightness are important. The all stainless steel construction and rugged design make the LCMAD load cells accurate and reliable even in washdown areas.
The LCMAD is also available in standard configurations, with 0-50 to 0-1,000 lb ranges. Please see the LCAD for complete details, or contact our Pressure department for more information.
SPECIFICATIONS
Output:
2.1 mV/V ±0.1mV/V
Excitation:
10 Vdc (15V max)
Linearity:
±0.02% FSO
Hysteresis:
±0.02% FSO
Repeatability:
±0.02% FSO
Creep:
±0.03% FSO (20 min)
Zero Balance:
±2.0% FSO
Operating Temp Range:
-51 to 93°C (-60 to 200°F)
Compensated Temp Range:
16 to 71°C (60 to 160°F)
Thermal Effects:
Zero:
±0.0015% FSO/°F
Span:
±0.0008% rdg/°F
Overload to Stops:
225% of capacity (compression only)
Ultimate Overload:
500% of capacity (compression only)
Input Resistance:
370 ? minimum
Output Resistance:
350 ±3.5 ?
Construction:
17-4 PH stainless steel
Electrical:
4.6 m (15') 4-conductor shielded PVC cable
Protection Class:
IP68