text.skipToContent
text.skipToNavigation
Configure Product
Saved Configuration
View Configuration
Terms and Conditions
Saved Addresses
Something went wrong
Your card information was not accepted. Please contact the issuing bank for details.
Payment submission timed out. The server might be busy.
There was an error processing your request.
Please verify there are no missing or invalid fields.
Please enter a card number
Please select a card type
Please enter a value for this field
Please enter an expiry month
Please enter an expiry year
Please enter an issue number
Please enter a start month
Please enter a start year
The card number is not valid
The card type is not supported
The card verification code is not valid
The expiry month is not valid
The expiry year is not valid
The issue number is not valid
The start month is not valid
The start year is not valid
This field is required
Errors were found with the address you provided. Please verify your address.
Date should be in MM/DD/YYYY format
Please enter valid values
Please enter future date
Please enter the shipping date
Shipment date is updated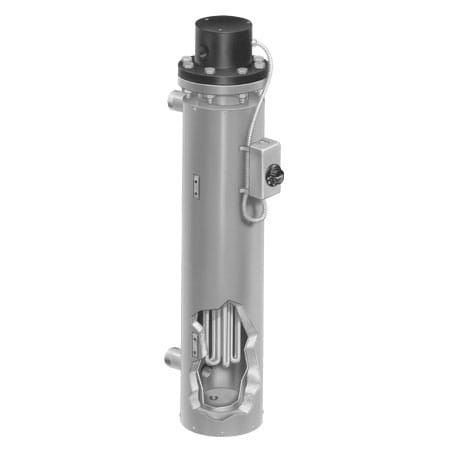 Circulation Heaters for Process Water
Item# CHF01703
Standard Element Sheath Materials
Incoloy® 800 — A Nickel (30 to 35%), Chromium (19 to 23%), Iron alloy. The high nickel content of this alloy contributes to its resistance to scaling and corrosion. Used in air heating (also see Incoloy® 840) and immersion heating of potable water and other liquids that are not corrosive to an Incoloy® 800 sheath.
Low Carbon Steel — Applications include fluid heat transfer media, tar, high to low viscosity petroleum oils, asphalt, wax, molten salt, and other solutions not corrosive to a steel sheath.
316 Stainless Steel — A Chromium (16 to 18%), Nickel (11 to 14%), Iron Alloy with Molybdenum (2 to 3%) added to improve corrosion resistance in certain environments, especially those that would tend to cause pitting due to the presence of chlorides. Applications include deionized water.
Copper — Mainly used in clean water heating for washrooms, showers, rinse tanks and freeze protection of storage tanks.
Power
Power Density
Sheath Material
Number of Elements
Supply Voltage
Added to Your Shopping Cart
Configuration complete.
Please add to cart to keep it or exit the configuration
Failed to Save Configurations, Click on Configure Button Start Again
Lead Time ( If not in Stock):
5 weeks
Product Specs
Heated Medium

Process Water
Surface Treatments for Stainless Steel and Incoloy® Elements and Other Wetted Parts to Improve Corrosion Resistance Flanged immersion heater surfaces in contact with the material being heated can be passivated or electro-polished to improve their resistance to corrosion. Passivation removes surface contamination, usually iron, so that the optimum corrosion resistance of the stainless steel is maintained. Surface contamination would come from the small amount of steel that may be worn off a tool during the manufacturing process. Passivating is accomplished by dipping the heater in a warm solution of nitric acid. Electro-Polishing is an electrochemical process that removes surface imperfections and contaminants, enhancing the corrosion resisting ability of the stainless steels. The resultant surface is clean, smooth and bright. Many medical and food applications require this finish.
8 watts/in2 (1.3 watts/cm2) — Typical Applications: Fuel Oils (Bunker C and Number 6)
Note: 3-Phase only. Cannot be rewired for single phase.
Nominal Pipe Size
Dimensional Drawing Number
KW
Model Number
Approx Weight
120V
240V-1Ph (C*)
240V-3Ph (C*)
480V-1Ph (C*)
480V-3Ph (C*)
lb
kg
21⁄2 NPT 3 elements
2.2
2
—
—
CHF01100(1)
—
CHF01101(1)
37
17
2.3
3
—
—
CHF01102(1)
—
CHF01101(1)
46
21
3"—150 lb 3 elements
3.2
2
—
—
CHF01104(1)
—
CHF01105(1)
62
28
3.3
3
—
—
CHF01106(1)
—
CHF01107(1)
76
34
(C*) = Number of Branch Circuits per heater
48 watts/in2 (7.5 watts/cm2)—Typical Applications: Process Water
Nominal Pipe Size
Model Number
Dim Drawing Number
KW
Approx Weight
120V
240V-1Ph (C*)
240V-3Ph (C*)
480V-1Ph (C*)
480V-3Ph (C*)
lb
kg
21⁄2 NPT 3 elements
—
CHF01694(1)
CHF01695(1)
CHF01696(1)
CHF01697(1)
2.1
6
28
13
—
CHF01698(1)
CHF01699(1)
CHF01700(1)
CHF01701(1)
2.1
7.5
29
13
—
CHF01702(1)
CHF01703(1)
CHF01704(1)
CHF01705(1)
2.1
9
30
14
—
—
CHF01706(1)
CHF01707(1)
CHF01708(1)
2.2
12
37
17
—
—
CHF01709(1)
CHF01710(1)
CHF01711(1)
2.3
15
45
20
—
—
CHF01712(1)
CHF01713(1)
CHF01714(1)
2.3
18
46
21
3"—150 lb 3 elements
—
CHF01715(1)
CHF01716(1)
CHF01717(1)
CHF01718(1)
3.1
6
53
24
—
CHF01719(1)
CHF01720(1)
CHF01721(1)
CHF01722(1)
3.1
7.5
53
24
—
CHF01723(1)
CHF01724(1)
CHF01725(1)
CHF01726(1)
3.2
9
61
28
—
—
CHF01727(1)
CHF01728(1)
CHF01729(1)
3.2
12
62
28
—
—
CHF01730(1)
CHF01731(1)
CHF01732(1)
3.3
15
74
34
—
—
CHF01733(1)
CHF01734(1)
CHF01735(1)
3.3
18
76
34
Ordering Example: CHF01708, 12 KW, 480 Vac, 3 phase circulation heater.
(C*) = Number of Branch Circuits per heater
Nominal Pipe Size
Model Number
Dim Drawing Number
KW
Approx Weight
120V
240V-1Ph (C*)
240V-3Ph (C*)
480V-1Ph (C*)
480V-3Ph (C*)
lb
kg
4"—150 lb 6 elements
—
CHF01736(1)
CHF01737(1)
CHF01738(1)
CHF01739(1)
4.1
9
76
34
—
CHF01740(2)
CHF01741(1)
CHF01742(1)
CHF01743(1)
4.1
12
78
35
—
CHF01744(2)
CHF01745(1)
CHF01746(1)
CHF01747(1)
4.1
15
79
36
—
CHF01748(2)
CHF01749(1)
CHF01750(1)
CHF01751(1)
4.2
18
91
41
—
CHF01752(2)
CHF01753(2)
CHF01754(2)
CHF01755(1)
4.2
24
94
43
—
—
CHF01756(2)
CHF01757(2)
CHF01758(1)
4.3
30
117
53
—
—
CHF01759(2)
CHF01760(2)
CHF01761(1)
4.3
36
120
54
5"—150 lb 6 elements
—
CHF01762(2)
CHF01763(2)
CHF01764(2)
CHF01765(1)
5.1
24
117
53
—
—
CHF01766(2)
CHF01767(2)
CHF01768(1)
5.2
30
128
58
—
—
CHF01769(2)
CHF01770(2)
CHF01771(1)
5.3
36
146
66
5"—150 lb 9 elements
—
—
CHF01772(3)
CHF01773(3)
CHF01774(1)
5.1
36
123
56
—
—
CHF01775(3)
CHF01776(3)
CHF01777(3)
5.2
45
135
61
—
—
CHF01778(3)
CHF01779(3)
CHF01780(3)
5.3
54
154
70
6"—150 lb 12 elements
—
CHF01781(2)
CHF01782(1)
CHF01783(1)
CHF01784(1)
6.1
18
124
56
—
CHF01785(2)
CHF01786(2)
CHF01787(2)
CHF01788(1)
6.1
24
127
58
—
CHF01789(3)
CHF01790(2)
CHF01791(2)
CHF01792(1)
6.1
30
129
59
—
CHF01793(3)
CHF01794(2)
CHF01795(2)
CHF01796(1)
6.2
36
152
69
—
—
CHF01797(4)
CHF01798(3)
CHF01799(2)
6.2
48
157
71
—
—
CHF01800(4)
CHF01801(3)
CHF01802(2)
6.3
60
197
89
—
—
CHF01803(4)
—
CHF01804(2)
6.3
72
202
92
6"—150 lb 15 elements
—
CHF01805(3)
CHF01806(5)
CHF01807(1)
CHF01808(1)
6.1
23
126
57
—
CHF01809(3)
CHF01810(5)
CHF01811(3)
CHF01812(1)
6.1
30
130
59
—
CHF01813(5)
CHF01814(5)
CHF01815(3)
CHF01816(1)
6.1
38
132
60
—
CHF01817(5)
CHF01818(5)
CHF01819(3)
CHF01820(5)
6.2
45
156
71
—
—
CHF01821(5)
CHF01822(3)
CHF01823(5)
6.2
60
163
74
—
—
CHF01824(5)
CHF01825(5)
CHF01826(5)
6.3
75
204
93
—
—
CHF01827(5)
—
CHF01828(5)
6.3
90
211
96
8"—150 lb 18 elements
—
—
CHF01829(3)
CHF01830(3)
CHF01831(2)
8.2
50
234
106
—
—
CHF01832(6)
—
CHF01833(2)
8.3
75
264
120
—
—
CHF01834(6)
—
CHF01835(3)
8.4
100
293
133
—
—
CHF01836(6)
—
CHF01837(6)
8.5
125
327
148
—
—
—
—
CHF01838(6)
8.6
150
360
163
—
—
—
—
CHF01839(6)
8.7
175
395
179
—
—
—
—
CHF01840(6)
8.7
200
405
184
8"—150 lb 24 elements
—
—
CHF01841(4)
CHF01842(3)
CHF01843(2)
8.2
67
243
110
—
—
CHF01844(8)
—
CHF01845(4)
8.3
100
277
126
—
—
CHF01846(8)
—
CHF01847(4)
8.4
133
308
140
—
—
CHF01848(8)
—
CHF01849(8)
8.5
167
346
157
—
—
—
—
CHF01850(8)
8.6
200
382
173
—
—
—
—
CHF01851(8)
8.7
233
420
191
—
—
—
—
CHF01852(8)
8.7
267
433
196  
10"—150 lb 27 elements
—
—
—
—
CHF01853(9)
10.3
225
539
244
—
—
—
—
CHF01854(9)
10.5
262
615
279
12"—150 lb 36 elements
—
—
—
—
CHF01855(12)
12.3
300
694
315
—
—
—
—
CHF01856(12)
12.5
350
782
355
14"—150 lb 45 elements
—
—
—
—
CHF01857(15)
14.2
315
771
350
—
—
—
—
CHF01858(15)
14.3
375
827
375
Ordering Example: CHF01788, 24 KW, 480 Vac, 3 phase circulation heater.
(C*) = Number of Branch Circuits per heater