text.skipToContent
text.skipToNavigation
Configure Product
Saved Configuration
View Configuration
Terms and Conditions
Saved Addresses
Something went wrong
Your card information was not accepted. Please contact the issuing bank for details.
Payment submission timed out. The server might be busy.
There was an error processing your request.
Please verify there are no missing or invalid fields.
Please enter a card number
Please select a card type
Please enter a value for this field
Please enter an expiry month
Please enter an expiry year
Please enter an issue number
Please enter a start month
Please enter a start year
The card number is not valid
The card type is not supported
The card verification code is not valid
The expiry month is not valid
The expiry year is not valid
The issue number is not valid
The start month is not valid
The start year is not valid
This field is required
Errors were found with the address you provided. Please verify your address.
Date should be in MM/DD/YYYY format
Please enter valid values
Please enter future date
Please enter the shipping date
Shipment date is updated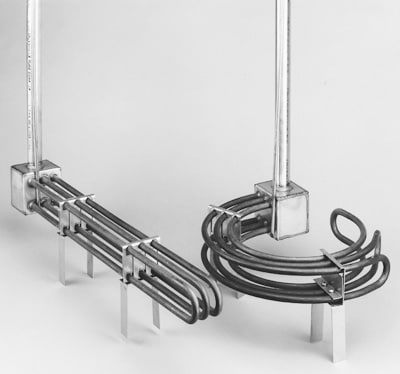 Heavy Duty Over-the-side Immersion Heaters
Item# TLC-210A-048/240V
Copper Sheath and Riser (40 W/In2)
Steel Sheath and Riser (20 W/In2)
Stainless Steel Sheath and Riser (40 W/In2)
Incoloy Sheath and Riser (40 W/In2)
36 and 48" Riser Heights
Moisture Resistant Terminal Enclosure
Thermowell
4" Sludge Legs. Increases A dimension 3 1/2". Keeps Heated Section off Bottom of Tank.
Power
Sheath Material
Number of Heating Elements
Heated Medium
Power Density
Supply Voltage
Form Factor
Supply Voltage Type
Added to Your Shopping Cart
Configuration complete.
Please add to cart to keep it or exit the configuration
Failed to Save Configurations, Click on Configure Button Start Again
Lead Time ( If not in Stock):
6 weeks
TLC & KTLC Series
: Copper sheath heating elements for clean water.
TLS & KTLS Series
: Stainless steel sheath heating elements for mild corrosive solutions.
TLI & KTLI Series
: Incoloy sheath heating elements for corrosive fluids.
TLO & KTLO Series
: Steel sheath heating elements for medium weight oils.
Optional Thermostat Kits
: Containing OMEGALUX™ AR-type thermostat and mounting hardware are available to fit in heater terminal box.
Lightweight, portable, easy to install L-shape construction, puts the heat at the bottom of the tank and the terminal enclosure at the top of the tank. These heaters are convenient answers for many immersion heating applications. Capacities, dimensions and sheaths fit a wide range of heating applications. Easy to install and remove for cleaning with straight or circular element designs to fit many tank configurations.
Construction
: All wetted parts of these immersions heaters are made of the same metal or ally for optimum corrosion resistance. All gasketed terminal boxes are steel, coated with acid resistant paint finish.
Corrosion Resistance
: Wide choice of sheath materials should provide corrosion resistance in heating liquids. Check chemical composition of solution before selecting sheath material. Consult the Material selection Guide on pages Z-44 through Z-48.
Sludge legs, or compatible metals, keep heated section off bottom of vessel, 4" standard height. Included with each heater (increases A Dimension by 31.2"). Sludge legs are standard on all heaters.
Straight Elements - Dimensions inches (cm)
Circular Elements - Dimensions inches (cm)
kW
Riser (A)
in (cm)
Straight Elements
Curved Elements
Wt.
Ib (kg)
Min. Tank
Clearance (B)
in (cm)
Model No.
Min. Tank
Clearance (B)
in (cm)
Model No.
Two Elements — Copper, 40 W/in.2
2
36 (91)
12 1/4 (31)
TLC-220A-036/120
10 5/8 (27)
KTLC-220A-036/120
7 (3)
2
36 (91)
12 1/4 (31)
TLC-220A-036/*
10 5/8 (27)
KTLC-220A-036/*
7 (3)
4
36 (91)
22 1/4 (57)
TLC-240A-036/120
13 3/4 (35)
KTLC-240A-036/120
9 (4)
4
36 (91)
22 1/4 (57)
TLC-240A-036/*
13 3/4 (35)
KTLC-240A-036/*
9 (4)
6
36 (91)
29 1/2 (75)
TLC-260A-036/*
16 1/8 (41)
KTLC-260A-036/*
9 (4)
6
48 (121)
29 1/2 (75)
TLC-260TI-048/240
–
–
11 (5)
8
36 (91)
37 3/8 (95)
TLC-280A-036/*
18 5/8 (47)
KTLC-280A-036/*
11 (5)
10
48 (121)
45 (103)
TLC-210A-048/*
21 1/4 (54)
KTLC-210A-048/*
14 (6)
12
48 (121)
52 1/2 (133)
TLC-212A-048/*
23 1/2 (59)
KTLC-212A-048/*
16 (7)
Three Elements — Copper, 40 W/in2
3
36 (91)
12 1/4 (31)
TLC-330A-036/120
10 5/8 (27)
KTLC-330A-036/120
12 (5)
3
36 (91)
12 1/4 (31)
TLC-330A-036/240/**
10 5/8 (27)
KTLC-330A-036/240/**
12 (5)
3
36 (91)
12 1/4 (31)
TLC-330A-036/480/**
10 5/8 (27)
KTLC-330A-036/480/**
12 (5)
6
36 (91)
22 1/4 (57)
TLC-360A-036/120
13 3/4 (35)
KTLC-360A-036/120
12 (5)
6
36 (91)
22 1/4 (57)
TLC-360A-036/240/**
13 3/4 (35)
KTLC-360A-036/240/**
12 (5)
6
36 (91)
22 1/4 (57)
TLC-360A-036/480/**
13 34 (35)
KTLC-360A-036/480/**
12 (5)
9
36 (91)
29 1/2 (75)
TLC-390A-036/240/**
16 1/8 (41)
KTLC-390A-036/240/**
13 (6)
9
36 (91)
29 1/2 (75)
TLC-390A-036/480/**
16 1/8 (41)
KTLC-390A-036/480/**
13 (6)
12
48 (121)
37 3/8 (95)
TLC-312A-048/240/**
18 5/8 (47)
KTLC-312A-048/240/**
16 (8)
12
48 (121)
37 3/8 (95)
TLC-312A-048/480/**
18 5/8 (47)
KTLC-312A-048/480/**
16 (8)
15
48 (121)
45 (103)
TLC-315A-048/240/**
21 1/4 (54)
KTLC-315A-048/240/**
17 (8)
15
48 (121)
45 (103)
TLC-315A-048/480/**
21 1/4 (54)
KTLC-315A-048/480/**
17 (8)
18
48 (121)
52 1/2 (133)
TLC-318A-048/240/**
23 1/2 (60)
KTLC-318A-048/240/**
18 (8)
18
48 (121)
52 1/2 (133)
TLC-318A-048/480/**
23 1/2 (60)
KTLC-318A-048/480/**
18 (8)
* Designate voltage, i.e. insert 240 for 240 for 480 for 480 V.
** Add the suffix "3P" to the model number for 3 phase power. Optional thermostat kits are available to fit into heater terminal box. See page F-73