Skip to main content
Skip to navigation
Very High Accuracy Pressure Transmitter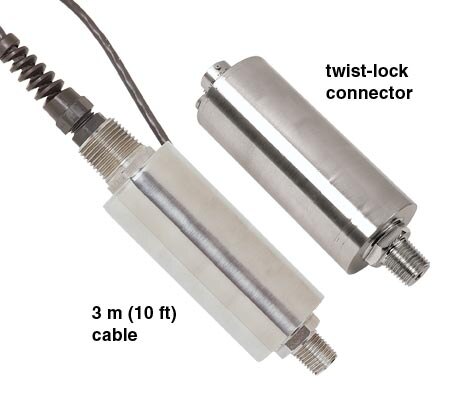 0.05% Linearity
5-Point NIST Traceable Calibration with
59 kOhm Shund Data Provided
All Stainless Steel Construction
Excitation

10 - 40 Vdc

Accuracy Value

4 to 20 mA ±0.06 mA

Repeatability

±0.05% FSO

Zero Balance

+4 mA ±0.02 mA
OMEGA's PXM01 Series transducer is a very high accuracy, low noise 4-20 mA output, industrial pressure transmitter. Its all stainless steel construction makes it suitable for harsh industrial environments. A broad temperature compensated range of 60 to 160°F and excellent temperature compensation make this transmitter very stable with fluctuating temperatures. The PXM01 is available in gauge, absolute or sealed models as well as metric or psi ranges. G 1/4 and G 1/8, male or female fittings are available for industrial and hydraulic applications.

The PXM01 is also available in standard/Imperial configurations, with NPT or UNF ports, and models from 0-2 to 0-30,000 psi pressure ranges. Please see the PX01 for complete details, or contact our Pressure department for more information..
SPECIFICATIONS
Excitation: 10 - 40 Vdc
Output: 4-20 mA ±10% adj
Linearity: 0.05% FSO
Hysteresis: 0.05% FSO
Repeatability: ±0.05% FSO
Zero Balance: 0 V ±10% adj
Sensing Element:4 active-arm bridge, using thick film strain gauges in a hermetically sealed chamber
Operational Temp Range: -46 to 121°C (-50 to 250°F)
Compensated Temp Range: 16 to 71°C (60 to 160°F)
Thermal Span Effects: 0.0054% of Rdg/°C
Thermal Zero Effects: 0.0054% of FSO/°C
Proof Pressure: 150% of rated pressure
Burst Pressure: 300% of rated pressure
Wetted Parts: 17-4PH Stainless Steel
Pressure Port: G 1/4 Female Std
Optional; G 1/4 Male, G 1/8 Male/Female
Electrical Connections:
Style '0' = 3 m cable
Style '1' = PTIH-10-6P connector
Style '6' = micro DIN
See Custom Configurations
Mating Connector:
Style '1' = PT06F-10-6S (not included)
Style '6' = micro DIN (included)
Weight: 170 g (6 oz))

For special options consult Sales or Pressure Engineering.

Examples of pricing for popular models is referenced in the 'To Order' box. Use the 'Part Number Builder' below to get pricing for all available models.