text.skipToContent
text.skipToNavigation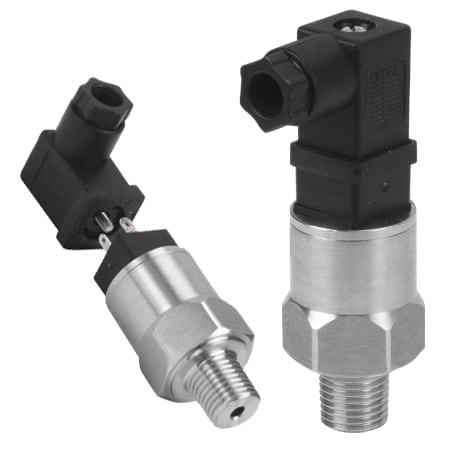 OEM Style, Compact Pressure Transmitters with Mini DIN
0 to 150 psi, Gauge Pressure

Item# PX119-150GI

Added to Your Shopping Cart

Configuration complete.
Please add to cart to keep it or exit the configuration

Failed to Save Configurations, Click on Configure Button Start Again

Lead Time ( If not in Stock):

4 weeks
---
0 to 150 psi, Gauge Pressure
is rated out of
5
by
6
.
Designed to integrate with a variety of industrial and OEM applications with its compact, rugged, and SS body
Piezo-resistive ceramic diaphragm provides premium thermal compensation for minimal thermal drift
Comes with 20mm Mating DIN Connector
Perfect for applications where a 0.5% accuracy is desired
No minimum purchase required
Edit Options
View all models
Not all combinations are valid. Options compatible with previous selections will be in bold.
*Highlighted options are not compatible. Please select a different combination.
Pressure Range
Pressure Type
Accuracy Class
Accuracy Value (compensated range)
Output Signal
Electrical Output
Pressure Port Size
Pressure Port Type
Connection/Termination
Operating Temperature Range
Product Specs
Accuracy Value

0.50% BFSL Accuracy

Maximum Compensation Temperature

0°C (32°F)

Minimum Compensation Temperature

0°C (32°F)

Vibration

10 g (20 to 2000 Hz) for <58 psi (4 bar)

Wetted Materials

304 SS and Ceramic Al2O3
Description
Pressure Without the Pain
Ideally suited for material handling, industrial and mobile equipment applications where a small, yet rugged SS body size is desired at a reasonable price point. The body is machined from a single piece of stainless steel to provide added protection for the internal electronics as well as prevent corrosion from most applications. A piezoresistive ceramic sensor along with ASIC signal conditioning provides an excellent thermally compensated output.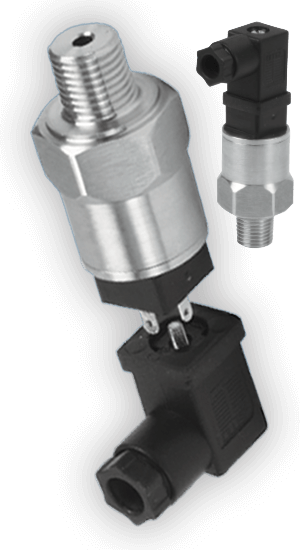 SIMPLE
MULTIPURPOSE
COMPACT

Monitor air brake pressure
Monitor pressure/height in vehicle suspension
Regulate pneumatic door operation
Monitor excessive load
Monitor lift operation
Monitor compact pressure

Great cost: performance ratio
Accuracy: 0.5% BFSL
Large pressure range
15 to 5000 psi (absolute or gauge)
Piezoresistive ceramic diaphragm
Excellent thermally compensated output
Operating temp: -40 to 135°C (32 to 185°F)
Reliable output with signal conditioning
Output: 4 to 20 mA / Input: 8 to 30 Vdc
Response time: 1 ms
Rugged form factor
Shock and vibration resistant
10g for <58 psi/20g for >58 psi
Resists corrosion and water
304 SS body
Wetted materials: Ceramic AI2O3, NBR
Rated

4

out of

5
by
dlyman
from
Awesome
I needed a pressure transmitter and looked everywhere. I found very cheap to very expensive and long ship times. I ordered the Omega. I got it in 2 days and it has worked very well
Date published: 2018-05-14
Rated

5

out of

5
by
Accidental Gardener
from
The Little Transmitter that could...
I collect rain water in a 1000 L tote tank to use for my Greenhouse & several raised-beds. A small pump is used to recirculate the water not only to prevent stagnation but also for pH treatment to make it ready for use. The pump is then used for water delivery to the Greenhouse & raised-beds to reduce domestic water usage. This transmitter is great to monitor how well the pumping system performs. From bench testing before installation, I was very impressed with the response, repeatability & accuracy of this little unit. This is great as it does not have any zero/span adjustments. The pump has a low pressure, moderate flow delivery & I'm using a 15 psig transmitter (PX119-015GI). The Mini-DIN connector is great for easy disconnection as I will be bringing the pump & transmitter inside for the winter after the grow season is over.
Date published: 2020-08-29
Rated

4

out of

5
by
Chris at FTS
from
Easy to Install and Use
We purchased several of these in three different ranges. The first item is the ease of wiring the connector. Previous transducers used required soldering the wires to the connector terminals. There units have a simple screw lug that you simply insert the lead and screw tight in place. The time involved was less than half to complete connections. The transducers themselves work very well. My only minor concern is that the terminals on the transducer are exposed and can be bent easily. However, since there should be minimal need to remove the transducer connector, this is not a big concern.
Date published: 2019-03-06
Rated

5

out of

5
by
Flaco
from
Pressure Transmitter
This is a rugged little piece of equipment. I'ts accurate enough for what I'm doing, has held up to sub-optimal conditions and the price is unbeatable.
Date published: 2019-02-05
Rated

5

out of

5
by
Anonymous
from
Great, simple transmitter
Great pressure transmitter for the price, included DIN connector makes wiring very straightforward. Has a good resolution and is very compact.
Date published: 2020-04-02
Rated

4

out of

5
by
kriss
from
good
value for money: they are good, practical and low cost
Date published: 2018-08-08
Does the PX119 come with a calibration certificate?
No, however, one can be provided upon request for an additional cost, or we recommend looking into our PX309 series. https://www.omega.com/pptst/PX309.html
Date published: 2017-10-09
What is the minimum purchase quantity?
There is no minimum purchase quantity for this product.
Date published: 2017-10-09
Where can I order the terminal connector?
Hello, the PX119 comes with a 20 mm mating DIN connector. Additional options can be found here: https://www.omega.com/pptst/CX5300.html - If you have any additional questions please do not hesitate to contact our customer service. Thanks!
Date published: 2017-11-02
Will this sensor work for measuring steam pressure. Expect a maximum pressure of 10 psig (240F). Is a syphon required? Are installation instructions available?
The maximum Operating Temperature of the PX119 is 257F. The maximum Compensated Temperature is 185F. We suggest using a stand-off between the sensor and the pressure source to drop the temperature below 185F
Date published: 2020-12-02
Is the product CE compliant?
Yes, this product meets the CE requirements.
Date published: 2018-02-26
How do I read the pressure? Which accessory do I need and how do I install?
Hi, thanks for contacting us. To read the pressure transmitter you can hook it up to the DPPT digital panel meter. Please contact our Technical Support team if you need any assistance with hook-up. https://www.omega.com/pptst/DPPT_SERIES.html
Date published: 2018-07-31
I am using this pressure transducer in conjunction with water, can water flow into the mini DIN connector ? If not, how can I prevent water from flowing into this space and get a pressure reading?
Unfortunately, the unit PX119 is not a waterproof unit so the application that you have mentioned (water flowing into the connector) will not work. We do sell submersible units that are great for that application like the PX709 series. All those would be a bigger investment. You could try and RTV the entire PX119 to see of you would give you a waterproof seal? The main issue is trying to keep an electrical connection dry! Thanks for connecting with us, let us know if you have any further questions.
Date published: 2019-05-15
Is this UL listed or recognized?
Thank you for your question? This is regarding your question about UL approval. it is CE approval not UL . A linc has been sent. hope this was helpful.
Date published: 2020-07-13
Can these be submerged in water for cleaning?
Thanks for contacting Omega. We would not recommend submerging the PX119 in water for cleaning. The connector is only IP65 rated. Please contact our Tech Support if we can be of any further assistance.
Date published: 2018-06-14
I was wondering what the SK number references on the part (SK#####). I ordered two transducers at two different times - same pressure (PX119-3KGI), but with different SK numbers. Is this your equivalent of a SKU? If so, why would they be different?
Thank you for inquiry. Yes the SK# is our internal SKU#. We have no idea why a the number was changed.
Date published: 2020-08-27
Is the conversion/curve between current output and pressure linear for all regions? I.e. 4 mA output corresponds to 0 and 20 mA corresponds to the maximum (15 Psi Gauge for mine). Does 12 mA correspond to 7.5 Psi Gauge?
Thanks for your question. Yes, the output should change linearly from 4 to 20 mA, through the range of the device 0-15 psi, meaning the 12 mA corresponds to 1/2 of the range of the device, or 7.5 psi G in this case. Feel free to contact our Tech Support if you have any further questions.
Date published: 2019-01-17
Can the 1/4 NPT male port be connected into a tee fitting, to which it would measure the pressure of water directly? The rest of the transducer would not be exposed to water or submerged in water, but water will be free to flow into the male port.
Thank you for reaching out to us with your question. Yes, it can. The wetted parts are Ceramic, NBR 304 SS - all are compatible with water.
Date published: 2020-07-24
How is the zero/span adjusted for this transducer?
Thank you for contacting Omega. This transducer does not have any capability to adjust the outputs. The PX509 or PX51 are products that offer trim pots to make these sort of adjustments. Please contact our Tech Support if you need any further assistance. https://www.omega.com/pptst/px51-pxm51-series.html
Date published: 2019-02-19
Hello! Please help me with the wiring connection to hook the PX119 - 150GI to my LabVIEW NI- 9485 DAQ. Thanks!
This is a 2-wire current transducer. Please use the link below to view our Tech Note for the wiring shown in Figure 3 - use this as a reference and confirm with National Instruments for the wiring to your device. https://www.omega.com/techref/press-trans.html
Date published: 2019-05-10
Are any other cables compatible with this transducer than the ones listed above? I need one rated for <1000psi and in a shorter time than 6 weeks.
Sorry, due to our error, the cable specs were updated from 1000 to 100 psig. Now the vented cable that's in stock may work for your application. Please do not hesitate to call our Tech Support if you need further assistance.
Date published: 2017-11-07
Is there somewhere I can find a Wiring diagram for this?
Thanks for contacting us, please refer to the user manual, plus this link has some added detail that may be helpful (Figure 3): https://www.omega.com/techref/press-trans.html If you need any further assistance, please feel free to reach out to our Technical Support team.
Date published: 2019-07-25
Will the 0 - 15 psia version be able to accurately read 0.001 PSIA?
The base accuracy for the PX119 is ±0.50% of full scale, for a 15 psi device this would translate to 15 psi * ±0.005 = ±0.075 psi. This means that for any measurement, like one that indicates 0.001 psi, we must include the uncertainty - meaning we cannot say its value is exact - so we would say that the measurement is 0.001 ±0.075 psi. Additional uncertainty comes from other effects like temperature or the device reporting the output of the device.
Date published: 2019-01-17
What is the frequency response of this transducer? I need to accurately resolve pressure cycles (200 to 1200 kPa) at roughly 60 Hz. If I can sample the output signal quickly enough, will the output signal accurately reflect these pressure fluctuations?
Hello, thank you for contacting Omega. The response time of the device is 1 MS; meaning it can resolve or output a step change in input in one-thousandth of a second. This is more than 10x faster than 60 Hz, and it should effectively capture the event.
Date published: 2019-11-01
Can this be use for oil?
The wetted parts for the PX119 are 316 SS, ceramic, and Nitrile rubber (NBR). The wetted parts are the surfaces that will come in contact with the process fluid. While we cannot speak for all oils or fuels. The wetted materials of the PX119 are generally resistant to oil, fuel, and other chemicals. We recommend that users investigate material compatibility for their specific application if they have any concerns.
Date published: 2019-05-02
Can NIST traceable calibration documentation be shipped with this product?
Thank you for your inquiry? This part doesn't come with a cert. We do have many other like the px309 series and px409 series that do. hope this was helpful?
Date published: 2020-02-12
What is the maximum pressure that the PX119-600AI can withstand without damage to the transducer?
Hello, this data can be found on the product spec sheet. Please note, to understand the table there are 2 values overload and burst. Proof is the safe pressure limit for when below the sensors output will not permanently change. Burst is the safe pressure limit, above which the sensor may break-open under pressure. For the PX119-600AI: Proof is 241.7% so 600*2.417= 1450 psi Burst is 2901% so 600*2.417= 1740 psi
Date published: 2019-04-24