An accelerometer is a device that measures the vibration, or acceleration of motion of a structure. The force caused by vibration or a change in motion (acceleration) causes the mass to "squeeze" the piezoelectric material which produces an electrical charge that is proportional to the force exerted upon it. Since the charge is proportional to the force, and the mass is a constant, then the charge is also proportional to the acceleration. These sensors are used in a variety of ways from space stations to handheld devices, and there's a good chance you already own a device with an accelerometer in it. For example, almost all smartphones today house an accelerometer. They help the phone know whether it undergoes acceleration in any direction, and it's the reason why your phone's display switches on when you flip it. In an industry setting, accelerometers help engineers understand a machine's stability and enable them to monitor for any unwanted forces/vibrations.
Learn more about accelerometers
How does an accelerometer work?
An accelerometer works using an electromechanical sensor that is designed to measure either static or dynamic acceleration. Static acceleration is the constant force acting on a body, like gravity or friction. These forces are predictable and uniform to a large extend. For example, the acceleration due to gravity is constant at 9.8m/s, and the gravitation force is almost the same at every point on earth.

Dynamic acceleration forces are non-uniform, and the best example is vibration or shock. A car crash is an excellent example of dynamic acceleration. Here, the acceleration change is sudden when compared to its previous state. The theory behind accelerometers is that they can detect acceleration and convert it into measurable quantities like electrical signals.
Accelerometers Types
There are two types of piezoelectric accelerometers (vibration sensors). The first type is a "high impedance" charge output accelerometer. In this type of accelerometer the piezoelectric crystal produces an electrical charge which is connected directly to the measurement instruments. The charge output requires special accommodations and instrumentation most commonly found in research facilities. This type of accelerometer is also used in high temperature applications (>120C) where low impedance models can not be used.

The second type of accelerometer is a low impedance output accelerometer. A low impedance accelerometer has a charge accelerometer as its front end but has a tiny built-in micro-circuit and FET transistor that converts that charge into a low impedance voltage that can easily interface with standard instrumentation. This type of accelerometer is commonly used in industry. An accelerometer power supply like the ACC-PS1, provides the proper power to the microcircuit 18 to 24 V @ 2 mA constant current and removes the DC bias level, they typically produces a zero based output signal up to +/- 5V depending upon the mV/g rating of the accelerometer. All OMEGA(R) accelerometers are this low impedance type.
Key Applications of Accelerometers
Accelerometers find many applications in industries. As already discussed, you can find them in the most complex machines to your handheld devices. Let's look at some of the real-world applications of accelerometers. Digital Devices: Accelerometers in smartphones and digital cameras are responsible for rotating the display based on the orientation you hold it.

Vehicles: The invention of airbags have saved millions of lives over the years. Accelerometers are used to trigger the airbags as the sensor would send a signal when it experiences a sudden shock. Drones: Accelerometers help drones to stabilize their orientation midflight. Rotating Machinery: Accelerometers used in rotating machines detect undulating vibrations. Industrial Platforms: To measure platform stability or tilt. Vibration Monitoring: Machines that move generate vibrations, and these vibrations can be harmful to the machines if left to amplify without supervision. Accelerometers are useful in monitoring vibrations and are increasingly used in industrial plants, turbines, etc.
Choose the right accelerometer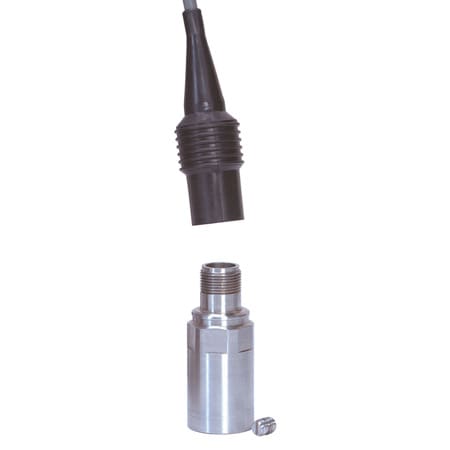 Premium Grade Accelerometer
These accelerometers are made from premium selected crystals and use low noise circuitry to product a premium, low noise, accelerometer. Their 316L Stainless steel case is hermetically sealed against the environment so they can survive harsh industrial environments. They also have FM and CSA Intrinsically safe options available. The ACC793 is a standard top cable configuration and the ACC797 is a low-profile side cable configuration.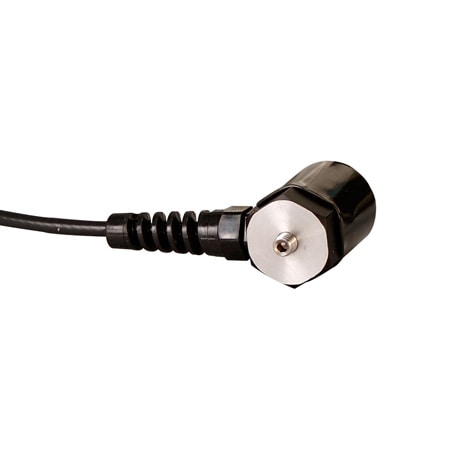 Industrial Grade Accelerometer
Industrial grade accelerometers are the workhorses of industry. The are used on everything from machine tools to paint shakers. OMEGA has four models to choose from. ACC101 (shown) is a high quality low cost accelerometer for general purpose applications. ACC 102A is hermetically sealed for harsh environments, has a fixed cable and weighs only 50 grams. The ACC786A, top cable, and ACC787A, side cable, are hermetically sealed and have detachable cables sealed against the weather.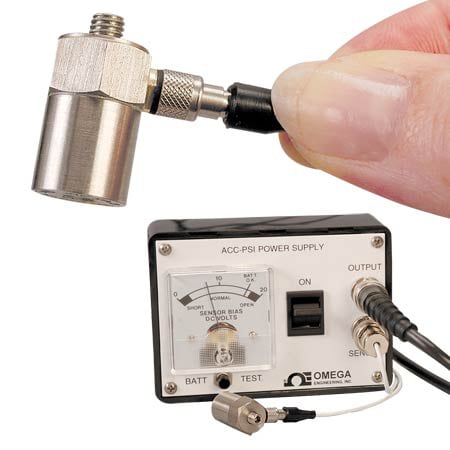 High Vibration Accelerometer
Accelerometers used to monitor high vibration levels have a lower output (10 mV/g) and lower mass than industrial accelerometers. The ACC103 weighs 15 gms and can monitor vibration levels up to 500 g's. It is a stud mount design and is designed for use on shaker tables, vibration labs and heavy industrial machine tools. The ACC104 weighs only 1.5 gms and is designed for adhesive mounting. Both models have a Frequency range of 3 to 10 kHz and a dynamic range of +/- 500 g's.
Frequently Asked Questions
Mounting an Accelerometer
The sensor must be mounted directly to the machine surface to correctly measure the vibrations. This can be accomplished by several types of mounts:

- Flat Magnet Mount
- 2-pole Magnet Mount
- Adhesives (Epoxy/Cyanoacrylate)
- Mounting Stud
- Isolating Stud
Magnet Mounts are generally temporary mountings.
Magnetic mounts are used to mount accelerometers to ferromagnetic materials commonly found in machine tools, structures and motors. They allow the sensor to be easily relocated from site to site for multiple location readings. Two-pole magnetic mounts are used to mount an accelerometer to a curved ferromagnetic surface.
Adhesives, and threaded studs are considered permanent mountings.
Adhesives such as epoxy or cyanoacrylate have proven to provide satisfactory bonding for most applications. Keep the film as thin as possible to avoid any unwanted dampening of the vibrations due to the flexibility of the film. To remove an adhesive mounted accelerometer, use a wrench on the case's wrench flats and twist to break the adhesive bond. DO NOT USE A HAMMER. Striking the accelerometer will damage it.
Mounting studs are the preferred mounting technique.
They require the structure to be drilled and tapped but provide solid reliable mountings. Be sure to follow the specified torque settings to avoid damaging the sensor or stripping the threads.
Vibration Sensor Vs. Accelerometer
The device that you see as a vibration sensor is nothing but an accelerometer. Since accelerometers are extremely good at measuring the velocity change, this trait is best used to measure vibrations as the velocity is always constantly changing.