HANI Temperature Sensor Chosen as Finalist in Best of Sensors Awards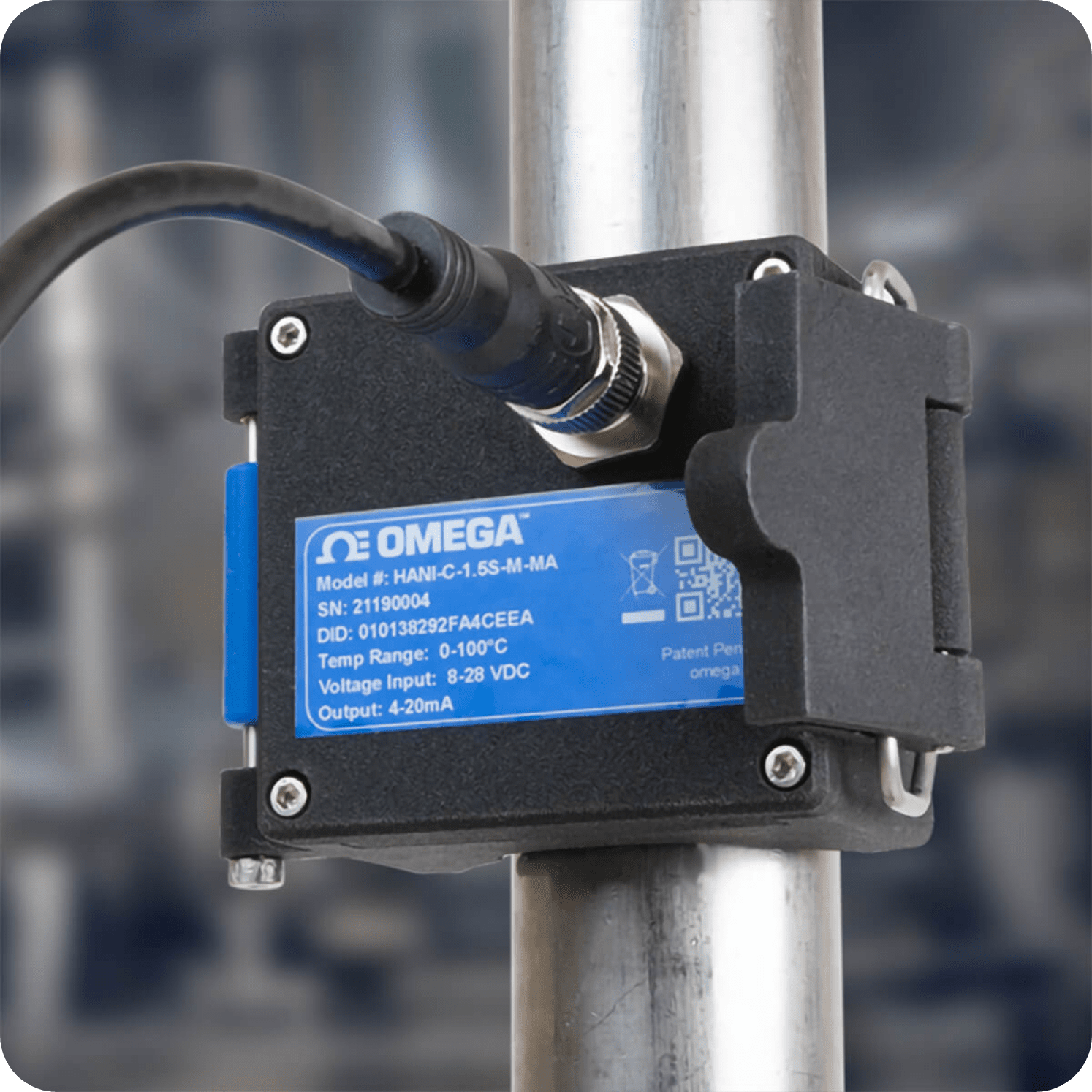 Sensors Converge is almost here! Sensors Converge began as a show focused solely on sensor technology, and has evolved over the years to a large event focusing on not only sensors, but also the complex systems that work with them. The 2023 show will be held June 20-22 in Santa Clara, CA at the Santa Clara Convention Center.
The industry will be recognizing its best innovations and individuals at the Best of Sensors Awards on June 21 as part of the event. Omega Engineering is proud to be one of the finalists with its new HANI temperature sensor.
There are a lot of things to love about HANI:
Easy installation
Non-contact technology
High accuracy
Fast response time
Easy Installation
The HANI sensor clamps onto the outside of a horizontal pipe, which means there's no process downtime while the sensor gets installed. There's also no cutting or welding needed: just place the sensor where you want it, wrap the strap around the pipe, and snap the lever in place to fasten it. In less than 30 seconds, the sensor will be installed and ready to perform.
Non-Contact Technology
Because the HANI sensor doesn't need to come in direct contact with the process fluid, there's no risk of sensor damage from the process fluid, and there's no risk of process contamination from the sensor.
High Accuracy
The HANI sensor has accuracy comparable to a traditional invasive sensor, without the installation hassle. It features ± 0.50 °C to ± 1.0 °C accuracy for use with metal pipes and ± 1.5 °C for use with plastic pipes. The new metal tank version of the HANI sensor is also accurate to ± 0.5 °C.
Fast Response Time
With response times as low as 5 seconds for specific models, the HANI sensor is quick and easy to use.
It's no wonder that HANI has made it so far in the rankings with all of these benefits and high performance. Moreover, this isn't the first time that HANI has stood apart from the competition. At the 2021 Process Expo event, HANI took home two awards: People's Choice and the Cheese, Dairy, Ice Cream, Milk, and Yogurt category of the Innovations Showcase.
Typically used in manufacturing industries like food and beverage, dairy processing, pharmaceutical, personal care products, as well as paints and pet foods, the HANI sensor doesn't interfere with cleaning processes which recover product left in the pipes (PIGGING). Since it is mounted on the outside of the pipe (or tank), it doesn't need to be removed before the cleaning cycle begins – thus reducing application maintenance time and costs.
Watch our social media channels for more coverage of the Sensors Converge show. We hope to see you there this June!
For more information about HANI sensors, please visit our website.