text.skipToContent
text.skipToNavigation
Configure Product
Saved Configuration
View Configuration
Terms and Conditions
Saved Addresses
Something went wrong
Your card information was not accepted. Please contact the issuing bank for details.
Payment submission timed out. The server might be busy.
There was an error processing your request.
Please verify there are no missing or invalid fields.
Please enter a card number
Please select a card type
Please enter a value for this field
Please enter an expiry month
Please enter an expiry year
Please enter an issue number
Please enter a start month
Please enter a start year
The card number is not valid
The card type is not supported
The card verification code is not valid
The expiry month is not valid
The expiry year is not valid
The issue number is not valid
The start month is not valid
The start year is not valid
This field is required
Errors were found with the address you provided. Please verify your address.
Date should be in MM/DD/YYYY format
Please enter valid values
Please enter future date
Please enter the shipping date
Shipment date is updated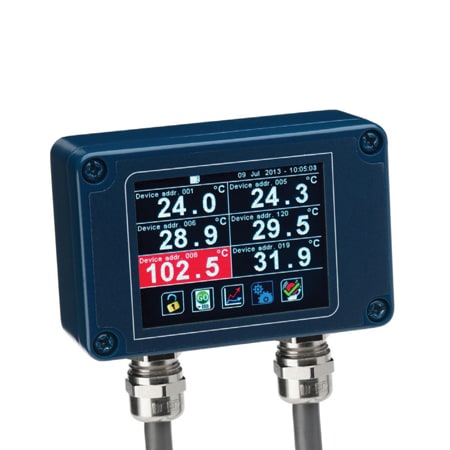 Multi-Channel Infrared Temperature Monitoring System RS485/Modbus
Item# OS-MINIHUB-SN201
Miniature Non-Contact Temperature Sensors with RS485 Modbus Communications
Touch Screen Display Optional for Configuration, Display, Alarms and Data Logging
Low-Cost Standalone 6-Channel System
Build Larger Systems Using the TSD600's Separate Modbus Master and Slave Interfaces
Analog and Alarm Relay Outputs via Optional Modules
Conforms to Industrial EMC Standards
Field of View
Minimum Temperature Measurement
Maximum Temperature Measurement
Laser Output
Cable Length
Input Current
Supply Voltage
Spectral Response
Response Time
Added to Your Shopping Cart
Configuration complete.
Please add to cart to keep it or exit the configuration
Failed to Save Configurations, Click on Configure Button Start Again
Lead Time ( If not in Stock):
6 weeks
Product Specs
Form Factor

Fixed Mount

Emissivity

0.20 to 1.00

Compatible Media

EN61326-1

Maximum Ambient Humidity

95% non-condensing

Maximum Ambient Temperature

120°C (248°F)

Repeatability

±0.5% of reading or ±0.5°C whichever is greater

Measurement Type

Temperature

Sensor Diameter

45 mm

Measurement Units

RH

Sensor Length

18 mm

Thread Size

1 mm

Temperature Accuracy

±1% of reading or ±1°C whichever is greater
The OS-MINIHUB is an industrial infrared temperature monitoring system, with miniature sensing heads and optional display modules.
OS-MINIHUB sensors are designed to measure the surface temperature of non-reflective materials in industrial applications, from -20 to 1000°C (-4 to 1832°F). They are sealed to NEMA 4 (IP65), built from 316 stainless steel, and fully tested to industrial EMC standards.
They can measure food, paper, thick plastics, asphalt, paint, bulk materials and organic materials, as well as most dirty, rusty or oily surfaces.

Robust
OS-MINIHUB sensors have an operating temperature rating of up to 120°C (248°F) with no need for cooling.
Compact
The sensors measure just 45 mm (1.7") long (plus cable gland), so they can fit into the smallest of spaces.
Configurable
Up to 6 sensors can be connected to the optional TSD600 interface module, which provides temperature display, configuration, and high-capacity data logging to a MicroSD Card. Analog and relay outputs are available via separate DIN rail mounted modules.
Low Cost
With up to 6 sensors connected to one TSD600, the OS-MINIHUB is an ideal low-cost non-contact temperature measurement system.
Networkable
To measure more than 6 locations, OS-MiniHUB sensors and TSD600 sub-networks may be connected to an RS485 Modbus SCADA system or PLC. It is possible to measure the temperature of hundreds or thousands of locations on the same network.
Applications
The OS-MINIHUB may be installed as a new temperature monitoring system, or integrated into an existing Modbus network. With two Modbus interfaces, the TSD600 makes an ideal local display for a group of sensors as part of a larger system. The OS-MINIHUB-JB6 junction box makes it easy to connect the system together. Never miss a critical temperature event. In condition monitoring applications, the OS-MiniHUB system is an always-on solution that can replace manual checks with a handheld thermometer or expensive thermal imager.
Typical Applications
Curing Ovens Fiberglass impregnated with epoxy is cured in an oven to increase strength. OS-MiniHUB sensors are placed inside the oven at up to 120°C (248°F), to build-up a temperature profile at many points on the entire surface of the workpiece, and to communicate the measured temperature to the heating system that controls the hot air blowers in the oven. Industries include boatbuilding and aerospace as well as many others.
Industrial Bakeries
Check the temperature profile of bakery products at multiple points along a conveyor oven.
Corrugated Board Manufacturing
Monitor the web temperature along an entire corrugator, with local displays for each section of the production line, and centralized monitoring in the control room. Sensors withstand 120°C (248°F), and can be used in hightemperature areas such as single facers without cooling.
Power Distribution
Monitor the temperature of bulbar joints in switchgear cabinets. Hundreds or even thousands of points can be monitored on the same network using the OS-MiniHUB system.
Automotive
A large system of OS-MiniHUB sensors can monitor the paint curing process at several points. Monitor temperatures around the entire vehicle in environmental test chambers.
Condition Monitoring
A network of OS-MiniHUB sensors can monitor all the bearing temperatures on a machine, a runout table, or the whole factory. The OS-MiniHUB is ideal for measuring the temperature of all painted metal surfaces.
Infrared Curing
Arrays of sensors fitted on a rig of infrared curing lamps ensure an even temperature profile along the part being cured. Surface coatings, paint and epoxy are ideal target materials, among many others.
Gas Cylinder Filling
Monitor temperatures to improve repeatability in the filled volume and improve filling efficiency. The temperature of every cylinder on a filling rig is easily monitored with no need to manually move contact probes.
CE