text.skipToContent
text.skipToNavigation
Fixed Infrared Temperature Transmitter with Configurable Setting via USB connection to a PC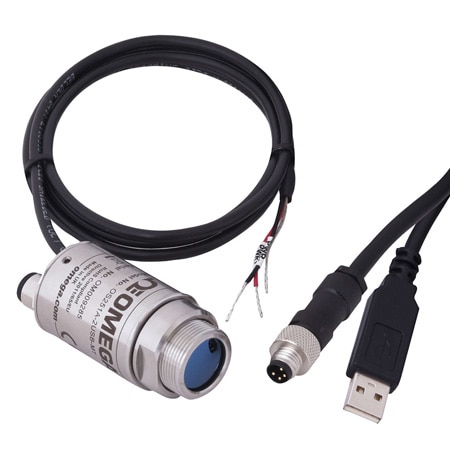 '
This series is no longer available, please refer to the OS-TX-USB-Series for replacements.
'
Emissivity

0.10 to 1.00

Maximum Ambient Temperature

0 to 70°C (32 to 158°F)

Repeatability

±0.5% of reading or ±0.5°C whichever is greater

Thread Size

M20 x 1 mm (0.04") pitch
The OS301A-USB Series measures temperatures from -40 to 1000°C (-40 to 1832ºF) accurately and consistently, with an outstanding response time of 200 mS. The 4 to 20 mA output is compatible with almost any indicator, controller, recorder, data logger etc. without the need for special interfacing or signal conditioning.

OS301A-USB has 30:1 optics making it suitable for most applications. OS801A-USB is designed for small targets and measures a spot size of 5 mm (0.20") diameter at 100 mm (3.9") distance. These sensors are fully configurable from a PC using the software and USB cable supplied. This user-friendly software enables the user to set the range and emissivity, compensate for reflected energy; apply filtering; select max, min, average or instantaneous readings; and peak or valley hold processing. These features can also be monitored and adjusted via MODBUS for use with 3rd-party software. Other features include data acquisition, alarms, and a scrolling graphical display. The sensor will operate with the 4 to 20 mA cable connected, the USB cable connected or both. The USB cable has an IP65 connector at the sensor end. An IP65 cap protects the sensor when the USB cable is not connected.


Specifications
Temperature Range: -40 to 1000°C (-40 to 1832ºF)
Field-of-View:
OS301A-USB: 30:1
OS801A-USB: 5 at 100 mm diameter
Output: 4 to 20 mA (linear with temperature)
Configuration: Via PC port conforming to USB 2.0
Accuracy: ±1% of reading or ±1°C whichever is greater
Repeatability: ±0.5% of reading or ±0.5°C whichever is greater
Emissivity: 0.1 to 1.0
Response Time t90: 200 mS (90% response)
Spectral Range: 8 to 14 µm
Supply Voltage: 24 Vdc (28 Vdc maximum)
Sensor Voltage: 6 Vdc minimum
Maximum Loop Impedance: 900 Ω @ 24 Vdc
Maximum Span: 1000°C (1832ºF)
Minimum Span: 100°C (212ºF)
Mechanical
Construction: Stainless steel
Dimensions: 61 L x 27.6 mm D (2.4 x 1.1")
Thread Mounting: M20 x 1 mm (0.04") pitch
Weight with Output Cable: 155 g (5.47 oz)
Output Cable Length: 1 m (3.3')
USB Cable Length: 1.8 m (5.9')
Environmental
Environmental Rating: IP65
Ambient Temperature Range: 0 to 70°C (32 to 158ºF)
Relative Humidity: 95% maximum non-condensing