text.skipToContent
text.skipToNavigation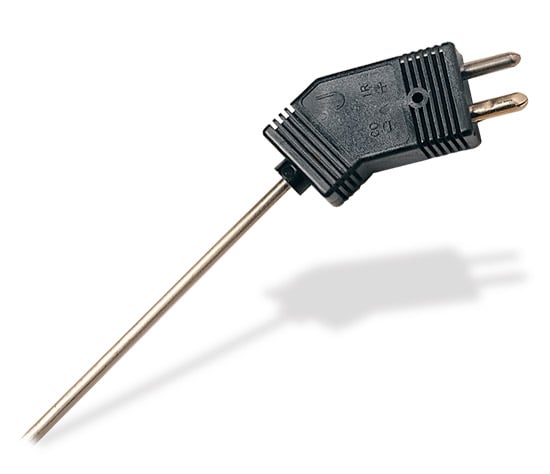 Low Noise TC Probes with High Temp Standard Size Connectors
Thermocouple Probes with Low Noise High Temperature Standard Size Connectors, Model numbers HGJQIN, HGKQIN, HGTQIN, HGEQIN, HGJQSS, HGKQSS, HGTQSS, HGEQSS

Item# HGJQIN-316U-12

Added to Your Shopping Cart

Configuration complete.
Please add to cart to keep it or exit the configuration

Failed to Save Configurations, Click on Configure Button Start Again

Lead Time ( If not in Stock):

3 weeks
---
Made with Special Limits of Error Material
Connector Temperature Ratings: 260°C (500°F)
Environmentally Friendly Cadmium-Free Liquid Crystal Polymer Material
Mating Connector, Cable Clamp, Write-On Windows and Ground Strap sold separately
Ground Strap Connection Provides Protection Against Electrical Noise
Ground Strap Provides Additional Mechanical Rigidity
Write-on Area for Easy Identification
Compatible with Standard Style Probes and Connectors
Edit Options
View all models
Not all combinations are valid. Options compatible with previous selections will be in bold.
*Highlighted options are not compatible. Please select a different combination or click the CONFIGURE button to build your own.
Sensor Type
Thermocouple Type
Process Temperature Range
Sensor Application
Sheath Material
Junction Type
Probe Diameter
Probe Length
Connector Style
Connector Color Code Standard
Additional Feature
The OMEGA ® low noise thermocouple probes and connectors maintain an electrical connection from the sheath of the probe, through the connectors, all the way to your instrumentation. This system assures high accuracy measurements, providing protection against electrical noise.
The external strap maintains the electrical connection of the ground wire, and also strengthens the mechanical connection between the two connectors. The female connector features a handy write-on area, for easy identification.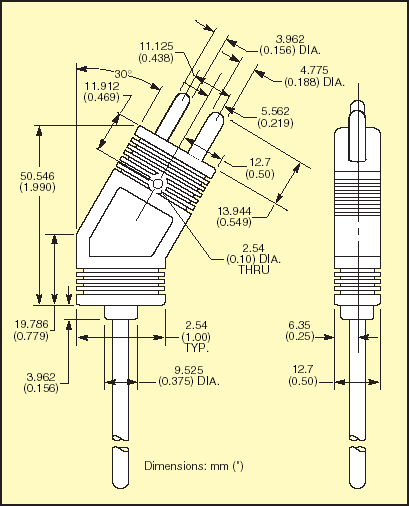 Standard Dimension
Thermocouple
Alloy
Sheath Dia.
inches
Model No.
12" Length
Model No.
18" Length
Model No.
24" Length
J
IRON-CONSTANTAN
Inconel Sheath
1/16"
1/8"
3/16"
1/4"
HGJQIN-116(*)-12
HGJQIN-18(*)-12
HGJQIN-316(*)-12
HGJQIN-14(*)-12
HGJQIN-116(*)-18
HGJQIN-18(*)-18
HGJQIN-316(*)-18
HGJQIN-14(*)-18
HGJQIN-116(*)-24
HGJQIN-18(*)-24
HGJQIN-316(*)-24
HGJQIN-14(*)-24
J
IRON-CONSTANTAN
304 SS Sheath
1/16"
1/8"
3/16"
1/4"
HGJQSS-116(*)-12
HGJQSS-18(*)-12
HGJQSS-316(*)-12
HGJQSS-14(*)-12
HGJQSS-116(*)-18
HGJQSS-18(*)-18
HGJQSS-316(*)-18
HGJQSS-14(*)-18
HGJQSS-116(*)-24
HGJQSS-18(*)-24
HGJQSS-316(*)-24
HGJQSS-14(*)-24
K
CHROMEGA™-ALOMEGA™
Inconel Sheath
1/16"
1/8"
3/16"
1/4"
HGKQIN-116(*)-12
HGKQIN-18(*)-12
HGKQIN-316(*)-12
HGKQIN-14(*)-12
HGKQIN-116(*)-18
HGKQIN-18(*)-18
HGKQIN-316(*)-18
HGKQIN-14(*)-18
HGKQIN-116(*)-24
HGKQIN-18(*)-24
HGKQIN-316(*)-24
HGKQIN-14(*)-24
K
CHROMEGA™-ALOMEGA™
304 SS Sheath
1/16"
1/8"
3/16"
1/4"
HGKQSS-116(*)-12
HGKQSS-18(*)-12
HGKQSS-316(*)-12
HGKQSS-14(*)-12
HGKQSS-116(*)-18
HGKQSS-18(*)-18
HGKQSS-316(*)-18
HGKQSS-14(*)-18
HGKQSS-116(*)-24
HGKQSS-18(*)-24
HGKQSS-316(*)-24
HGKQSS-14(*)-24
E
CHROMEGA™-CONSTANTAN
Inconel Sheath
1/16"
1/8"
3/16"
1/4"
HGEQIN-116(*)-12
HGEQIN-18(*)-12
HGEQIN-316(*)-12
HGEQIN-14(*)-12
HGEQIN-116(*)-18
HGEQIN-18(*)-18
HGEQIN-316(*)-18
HGEQIN-14(*)-18
HGEQIN-116(*)-24
HGEQIN-18(*)-24
HGEQIN-316(*)-24
HGEQIN-14(*)-24
E
CHROMEGA™-CONSTANTAN
304 SS Sheath
1/16"
1/8"
3/16"
1/4"
HGEQSS-116(*)-12
HGEQSS-18(*)-12
HGEQSS-316(*)-12
HGEQSS-14(*)-12
HGEQSS-116(*)-18
HGEQSS-18(*)-18
HGEQSS-316(*)-18
HGEQSS-14(*)-18
HGEQSS-116(*)-24
HGEQSS-18(*)-24
HGEQSS-316(*)-24
HGEQSS-14(*)-24
T
COPPER-CONSTANTAN
Inconel Sheath
1/16"
1/8"
3/16"
1/4"
HGTQIN-116(*)-12
HGTQIN-18(*)-12
HGTQIN-316(*)-12
HGTQIN-14(*)-12
HGTQIN-116(*)-18
HGTQIN-18(*)-18
HGTQIN-316(*)-18
HGTQIN-14(*)-18
HGTQIN-116(*)-24
HGTQIN-18(*)-24
HGTQIN-316(*)-24
HGTQIN-14(*)-24
T
COPPER-CONSTANTAN
304 SS Sheath
1/16"
1/8"
3/16"
1/4"
HGTQSS-116(*)-12
HGTQSS-18(*)-12
HGTQSS-316(*)-12
HGTQSS-14(*)-12
HGTQSS-116(*)-18
HGTQSS-18(*)-18
HGTQSS-316(*)-18
HGTQSS-14(*)-18
HGTQSS-116(*)-24
HGTQSS-18(*)-24
HGTQSS-316(*)-24
HGTQSS-14(*)-24
*Specify junction type: G (Grounded), E (Exposed), or U (Ungrounded). No add'l charge for lengths from 2 to 12".

Click here for help in selecting the thermocouple junction.



View the Thermocouple Accuracy and Color Code charts