Skip to main content
Skip to navigation
Handheld Thermometer/ Hygrometer Data Logger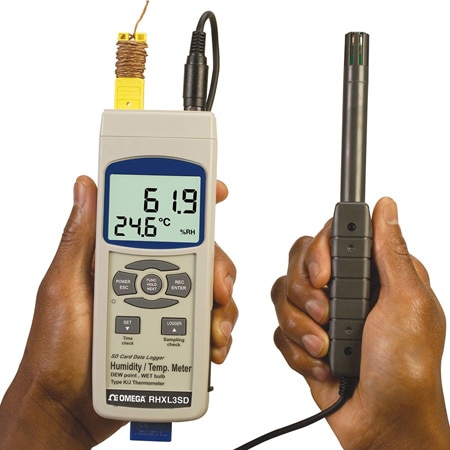 Item# RHXL3SD
Please contact Technical Sales Team for assistance.
Discontinued. Replaced by RHXL5SD.

2 GB SD Card Included
Temperature/Humidity Probe
SD Card, Real Time Data Logger (Temperature/Humidity Only)
Large Backlit Dual LCD Display
MAX/MIN/HOLD Function
Dew Point Measurement (Display Only)
Wet Bulb Temperature (Display Only)
J/K Thermocouple Input
Auto Power Off Feature
USB Cable or RS232 Cable (Optional)
Windows Software (Optional)
RHXL3SD Model Options
View all models
Edit these specs to order a different model. Not all combinations are valid. Options compatible with previous selections will be in bold.
*Highlighted options are not compatible. Please select a different combination.
Minimum Temperature Measurement
Maximum Temperature Measurement
The RHXL3SD comes with a temperature-humidity probe that is used to make the first three types of measurement. Surface temperature measurements are made using an optional Type K or J thermocouple.
Several features and capabilities enhance the RHXL3SD's versatility. Among them are automatic temperature compensation for dew point, wet-bulb and thermocouple measurements; the ability to hold readings and display maximum and minimum readings; and an automatic power off function that extends battery life. Because it is microprocessor-based, the RHXL3SD can make full use of the portability, reliability and large storage capacities that SD memory cards offer. Measurements can be made automatically at any sampling rate between one second and one hour. After the instrument time-stamps and stores the measurements (Temperature and Humidity only) on an SD card plugged into it, the user can remove the card and plug it into a laptop or desktop computer either directly or via a USB card reader. The logged data is stored on the card as files that can be opened by Microsoft's Excel application. Unit accepts SD memory cards as large as 16 GB. The RHXL3SD has a backlit 2½" diagonal display and is powered by 6 "AA" alkaline batteries or an optional AC adaptor.

SPECIFICATIONS
Display Type: LCD with green backlight
Display Size: 52 x 38 mm (2.05 x 1.5")
Parameters Measured: Temperature, relative humidity (RH), dew point, wet-bulb temperature
Measurement Range:
Temperature (Probe): 0 to 50°C (32 to 122°F)
RH (probe): 5 to 95%
RH 5 to 95% for Dew Point: -25.3 to 48.9°C (-13.5 to 120.1°F)
Wet-Bulb Temperature: -21.6 to 50°C (-6.9 to 122°F)
Measurement Accuracy: ±0.8°C (±1.5°F) for temperature;>/= 70% RH: +/- (3% rdg + 1% RH), < 70% RH: +/- 3% RH; sum of temperature and humidity accuracies for dew point and wet bulb temperature
Measurement Resolution: 0.1° (°F or °C) for temperature and humidity
Thermocouple Input Ranges and Accuracy:
Type K:
-50 to 1300°C (±0.4% + 0.5°C)
-50.1 to -100°C (±0.4% + 1°C)
-58 to 2372°F (±0.4% + 1°F)
-58.1 to -148°F (±0.4% + 1.8°F)
Type J:
-50 to 1200°C (±0.4% + 0.5°C)
-50.1 to -100°C (±0.4% + 1°C)
-58 to 2192°F (±0.4% + 1°F)
-58.1 to -148°F (±0.4% + 1.8°F)
Display Update: 1 second
Sampling Time Options: 0, 1, 2, 5, 10, 30, 60, 120, 300, 600, 1800 or 3600 seconds (0 seconds to 1 hour)
Storable/Recallable Readings: Max, min SD card capacity 1 to 16 GB
Operating Temperature: 0 to 50°C (32 to 122&176;F)
Operating Relative Humidity: 0 to 85%
Power Supply: 6 alkaline "AA" batteries (included) or optional 9 Vdc AC adaptor
Power Consumption: 3.5 mA DC (normal operation, with backlight off and SD card not saving data); 28 mA DC with backlight on and card saving data; 40 mA DC with backlight on and card saving data
Dimensions: 177 H x 68 W x 45 mm D (7.0 x 2.7 x 1.9")
Weight: 489 g (1.08 lb)
If i put this device into a duct with low air temeprature (-15 degrees), could it measure the humidity in the duct even if it can't measure this low temperature because it is not in the range temperature of the probe.
The operating and measuring range for the RHXL3SD is 0 to 50C so it is not meant to collect data outside these Temperature conditions.
Date published: 2021-01-02
how do you check the humidity
Thank you for your inquiry. To check humidity place probe in the desired location where you want to check humidity level, providing it meets the range parameters in our product specifications. Please refer to the operator's manual that shows the proper settings. Please see https://www.omega.com/en-us/sensors-and-sensing-equipment/temperature/hygrothermometers/p/RHXL3SD-Series
Date published: 2019-07-18