text.skipToContent
text.skipToNavigation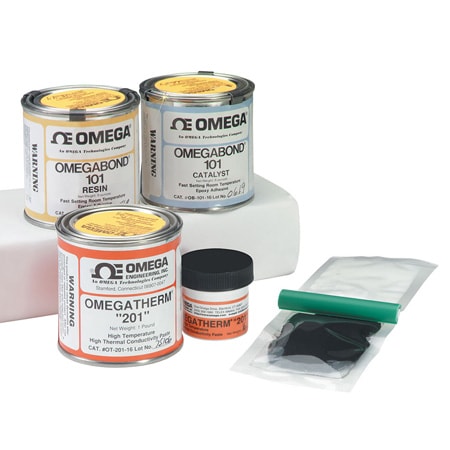 Thermally Conductive Epoxy
Thermally Conductive Epoxies and Thermally Conductive Grease

Item# OB-100-1

Added to Your Shopping Cart

Configuration complete.
Please add to cart to keep it or exit the configuration

Failed to Save Configurations, Click on Configure Button Start Again

Lead Time ( If not in Stock):

3 weeks
---
Thermally Conductive
Electrical Insulator
Resist Oils, Solvents, Most Acids
OMEGABOND™ 100 Two Part Epoxy: Low Thermal Conductivity. Sets at Room Temp. Good to 130°C (265°F)
OMEGABOND™ 101Two Part Epoxy: High Thermal Conductivity. Sets at Room Temp. Good to 105°C(221°F)
OMEGABOND™ 200 Two Part Epoxy: Very High Thermal Conductivity. Sets in 2 Hrs at 205°C(400°F). Good to 260°C(500°F)
OMEGATHERM™ 201Silicone Paste: Extremely High Thermal Conductivity. Non-Adhesive. Does not Harden. Good from -40 to 200°C(-40 to 392°F
Edit Options
View all models
Not all combinations are valid. Options compatible with previous selections will be in bold.
*Highlighted options are not compatible. Please select a different combination.
Material
Volume
Max Temperature
Mix Ratio by Weight
Tensile Shear
Additional Option
OMEGABOND™ epoxy and OMEGATHERM™ thermal conducting paste are easy to use epoxies and silicone products. They are specially formulated for permanent bonding of thermocouples, thin film RTDs, thermistors and other temperature sensors, to most surfaces–metals, ceramics, glass, plastics, paper products. OMEGABOND™ and OMEGATHERM™ products are compounded and packaged for convenient, easy mixing and application. Each formulation exhibits important characteristics necessary for accurate, fast, reliable temperature measurement. These are: good adhesion and strength, high temperature rating, high thermal conduction, high electric insulation, thixotropic consistency, fast cure, and easy application.

OB-100 is available in 1/4 oz or 1 oz Twin Packs and 1 lb as 2 cans, 1 of resin and 1 of hardener.
OB-101 is available in 1/2 oz or 2 oz Twin Packs and 1 lb as 2 cans, 1 of resin and 1 of hardener.
OB-200 is available in a 2 oz Twin Packs or 1 lb as 2 cans, 1 of resin and 1 of hardener.
OT-201 is available in 1/2 oz or 2 oz Twin Packs or in cans as 1 lb or 2 lb (two 1 lb cans).

"Twin pak" packaging is supplied to ensure the user with accurate proportioning of resin and catalyst, as well as to provide a clean, fast means of mixing. The "Twin Pak" is a flexible, transparent plastic pouch, separated into two isolated compartments by means of a removable external divider. In one compartment is the resin, the other the pre-measured catalyst. To use, remove the divider, mix the two components by kneading the pouch, then snip off a corner to dispense. Each "Twin Pak" comes with an instruction sheet, enclosed in a clear, heat-sealed plastic envelope.

Please note that once mixed, the OB-100, OB-101 and OB-200 epoxies have the following "Working Times" (also referred to as "Pot Life"):
OB-100: Less Than 8 Minutes at Room Temperature
OB-101: Approximately 30 Minutes at Room Temperature
OB-200: Approximately 24 Hours at Room Temperature
Rated

4

out of

5
by
Anonymous
from
Formula changed!
We use this epoxy weekly and have been buying it for many years. However, the last batch we purchased was a gel formula instead of the liquid we have become accustom to. Do no like it very much as it is difficult to fill a syringe and use it in the field.
Date published: 2015-12-04
Rated

5

out of

5
by
Diesel Tech Chattanooga
from
Omegabond 101
I have been using OB-101 in the small packs for several years now to bond the printed circuit board to the frame/case, which as also the heat sink, on automotive Engine Control Modules manufactured with surface mount components. It withstands thermal expansion and contraction, and vibration, while also being a good thermal conductor and yet a good electrical insulator. Shelf life is substantially longer that what is marked on the packets.
Date published: 2019-04-15
Rated

5

out of

5
by
Anonymous
from
Used on automotive ECM's.
I have used this for several years on automotive ECM's where SMD power transistors and switches are soldered to the PCB, which is then attached to an aluminum case for heat dissipation. This a requires a product with good thermal conductivity with a high dielectric rating. It has a very smooth and easy to spread consistency, and a good balance of pot life v.s. cure time.
Date published: 2020-07-14
Rated

5

out of

5
by
Brad R
from
OmegaBond 101 is an excellent thermal epoxy
OmegaBond 101 is our go-to thermal epoxy. It bonds well and hard. Excellent when we need to thermocouple a tiny component. Once it is on it stays on.
Date published: 2020-04-09
Rated

1

out of

5
by
Chris Bc
from
Continusliy receiveing expired material
Out of the last three orders placed and received, there is always epoxy packs that have expired material sent to us as noted by the expiration date on each pack. This I repeadily happening.
Date published: 2020-03-29
Rated

3

out of

5
by
Casey
from
Great Product - Difficult to Apply
We have been using this product for several years to fasten temperature sensors to the back of solar panels. It works great for the application, but it's difficult and extremely messy to apply. Because we are typically working upside down and in cramped spaces, it's extremely difficult to get the product in place without having it drip or get all over your hands. A better applicator for the smaller packages would be really helpful.
Date published: 2018-12-31
Rated

5

out of

5
by
Aiping
from
Great product! Fast shipment!
Great product! Fast shipment! Easy to use. I knew this product from other Engineer. I'd recommend this product to other Engineers too.
Date published: 2018-11-26
Rated

5

out of

5
by
djg87
from
Just what I needed
This is a very thick thixotropic material, heat the pouch under a heat lamp for a bit to make it easier to mix and gently squeeze to dispense just where you want it. It must be heated to cure, even 48 hours at room temperature and its still pliable. A few hours at cure temperature its solid and bonds well to metals plastics and FR4.
Date published: 2017-07-12
What is the shelf life and optimal storage conditions for OB-101-1/2 packs? The standard 101 manual says 70F and one-year shelf life if container remains sealed. Just looking for clarity for the art packs.
The environmental storage and shelf life is the same regardless of the amount being stored.
Date published: 2019-12-21
What is the MINIMUM continuous temperature rating for cured OB-101?
Hi Matt, Thank you for the inquiry. Minimum temperature -55 deg C. Best regards OMEGA
Date published: 2020-12-15
Can any of the omega bond thermal epoxies cure at room temperature?
Thank you for your inquiry Apz24. The OB-100 and OB-101 cure at room temperature. The OB-100 has a cure time of 8 to 12 minutes set at room temperature. The OB-200 has to cure at elevated temperatures. The OT-201 does not have a required cure time.
Date published: 2021-03-08
Is there a way to remove OB-200 epoxy with a solvent? If so, which solvent should be used (acetone?).
Hi, the OB-200 cannot be removed with a solvent. The epoxy cures hard and can only be chiseled off. Please contact us at temp@omega.com if you need any further assistance.
Date published: 2019-08-05
What is the average thermal conductivity value for the OB-100? I can not find it in the data sheets.
Thank you for your inquiry! There is no listed value for the OB-100 as it is the only OB product that is not designed to be thermally conductive. If improved thermal conductivity is desired the OB-100 should be paired with the OT-201
Date published: 2021-05-03
Can you provide outgassing data for OB-101? Specifically TML and CVCM per ASTM E595? Thank you
Thank you for contacting Omega. We do not have specific information regarding outgassing other than it has the potential of outgassing. Level amount have not been tested and no data to provide.
Date published: 2021-02-03
Is OMEGABOND 201 Epoxy and OMEGATHERM 201 Silicone Paste safe for use in a vacuum? What about exposure to Oxygen?
The OmegaBond epoxy should be fine in a vacuum as long as it has been properly cured. The silicone paste OmegaTherm 201 however, does not harden and would not be the best choice to be used in a vacuum. Below I have attached a link that might help. https://br.omega.com/omegaFiles/temperature/pdf/OB-100_OB-200_OT-200.pdf In terms of its exposure to oxygen there is, unfortunately, no data available that can help me answer that. If you have any more questions please email us at temp@omega.com
Date published: 2019-06-25
I'm using OB-200. It really bonds well to any materials. It's also good at high T. But, my new application requires an epoxy having a low thermal conductivty. Do you have a product that has similar properties to OB-200, except for the high thermal conduc
Hi jskim Please review OB-300. It is designed to be a potting , sealing compound where thermal conductivity is not needed. Best regards OMEGA
Date published: 2020-06-26