text.skipToContent
text.skipToNavigation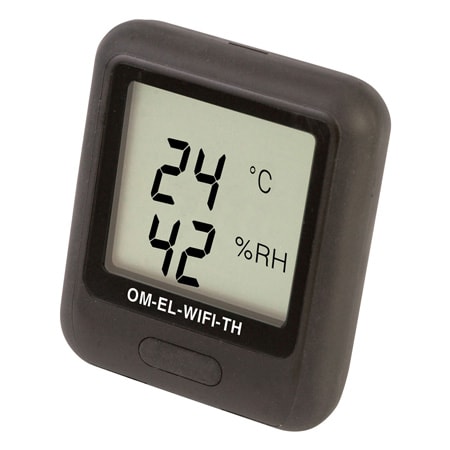 High accuracy Wireless Temperature and Humidity Data Loggers
Item# OM-EL-WIFI-TH
This item is available for quick shipping
Added to Your Shopping Cart
Configuration complete.
Please add to cart to keep it or exit the configuration
Failed to Save Configurations, Click on Configure Button Start Again
Lead Time ( If not in Stock):
7 Days
---
High accuracy Wireless Temperature and Humidity Data Loggers
is rated out of
5
by
10
.
OM-EL-WIFI-T Wireless Temperature Data Logger with Internal Temperature Sensor
OM-EL-WIFI-TH Wireless Temperature/Humidity Data Logger
OM-EL-WIFI-TP Single Channel and OM-EL-WIFI-DTP-PLUS Dual Channel Wireless Temperature Data Logger with Removeable Thermistor Probes
OM-EL-WIFI-TC Single Channel and OM-EL-WIFI-DTC Dual Channel Thermocouple Input Temperature Data Loggers
High Accuracy Models (OM-EL-WIFI-T-PLUS,
OM-EL-WIFI-TH-PLUS, OM-EL-WIFI-TP-PLUS,
OM-EL-WIFI-DTP-PLUS)
WiFi Capability and Integrated Display
Wireless Connectivity to PC Via WiFi
WiFi Connection Indicator
802.11b Compliant
Easy Set-Up Using Free PC Software Download from omega.com
View and Analyze Multiple Data Loggers Using the PC Application, Including Immediate Graphing of Historic Data
Large Memory–Stores All Data Even if WiFi is Temporarily Disconnected
Rechargeable Internal Lithium Polymer Battery
USB Port Used for Recharging
Low Battery Indicator
Configurable High and Low Alarms with Indicator
Maximum and Minimum Readings
Edit Options
View all models
Not all combinations are valid. Options compatible with previous selections will be in bold.
*Highlighted options are not compatible. Please select a different combination.
Measurement Type
Number of Measurements
Input Type
Maximum Samples
Display
Power
Data Interface
Max Sampling Rate
Additional Feature
Description
The OM-EL-WIFI-TH wireless temperature/humidity data logger measures the temperature and humidity of the environment in which it is situated via internal sensors. The OM-EL-WIFI-TP (single channel) and OM-EL-WIFI-DTP-PLUS (dual channel) wireless temperature data loggers measures temperature via the included removable thermistor temperature probes. The OM-EL-WIFI-T wireless temperature data logger measures temperature via an internal sensor. The OM-EL-WIFI-TC (single channel) and OM-EL-WIFI-DTC (dual channel) wireless thermocouple input temperature data loggers accept a type J, K, T or N thermocouples. Data is transmitted wirelessly via a WiFi network to a PC and viewed using a free software package.

During configuration the data logger will search for an existing wireless network while physically connected to the PC. It can then be placed anywhere within range of the network. If the data logger temporarily loses connectivity with the network, it will log readings until it is able to communicate again with the PC application (max 60 days at 10 second sample interval for OM-EL-WIFI-TH) (max 120 days at 10 second simple interval OM-EL-WIFI-TP, OM-EL-WIFI-T and OM-EL-WIFI-TC (max 30 days at 10 second sample interval for OM-EL-WIFI-DTC and OM-EL-WIFI-DTP-PLUS). The range of the data logger can be increased by using WiFi extenders. The probe on the OM-EL-WIFI-TP and OM-EL-WIFI-DTP-PLUS can be used in a wide range of temperature situations e.g. manufacturing processes, cold storage and hot storage.

The OM-EL-WIFI Series are low powered battery devices. When configured using typical sampling periods (e.g. once every 60 seconds) the data logger will operate for over one year. The battery can then be recharged via a PC or USB 5V wall adaptor using the USB lead provided. The battery is safely charged when the unit is operating between 0 to 40°C (32 to 104°F). It is protected against charging outside this temperature range. Data logger readings may be inaccurate during battery charging.

With the OM-EL-WIFI Series the software installed on the PC will allow set-up, data logging and data review. Set-up features will include data logger name, °C/°F, sample rate, and high/low alarms. Once configured, historic data can be viewed via the graphing tool or exported into Excel. This software is available for free from OMEGA. The OM-EL-WIFI-TP (single channel) and OM-EL-WIFI-DTP-PLUS (dual channel) wireless temperature data loggers are supplied with removable thermistor temperature probes. The probe can be attached to a wall or other flat surface using the included mounting bracket (probe clips into the bracket).
Rated

4

out of

5
by
NickC
from
Does the job
Bought this to remotely monitor temperature in a residence. Does essentially what I need it to. Would really like to see an API so I can integrate it into my network more fully. Don't really like to have this information in the cloud.
Date published: 2016-02-12
Rated

4

out of

5
by
Veggie Trail
from
Troublesome but Great
We had to purchase a new, used computer as our existing ones operated on windows 10, and this product is only compatible with windows 7. This caused quite a bit of frustration, but after spending more money on a computer we did get your monitor working and it is doing the job we wanted it to do. So, having said all that, please let us know when you have a windows 10 version of the product, Thanks, Steven Baker
Date published: 2016-04-01
Rated

2

out of

5
by
ak000
from
Wi-Fi Functionality misleading
This unit is supposedly designed for use on a Wi-Fi network, but it doesn't work with the most up to date WiFi encryption (WPA2). Omega happily handled the return, but this is obviously a significant design limitation of this device that should be stated upfront.
Date published: 2018-06-11
Rated

2

out of

5
by
Lab Manager in Texas
from
Troublesome, Not Trustworthy, Fails Calibration
I've had two of these units, the OM-EL-WIFI-TH and the TH+. They're easy to use and have a nice display. You have to pay $8/mo to monitor them, but the software is nice and has great features. However, if you need a unit that's calibrated this isn't for you. Initial calibration was great. Year 2: failed calibration until they charged it all the way and then it passed. Year 3: failed calibration regardless if it was fully charged or not. Don't buy this if calibration accuracy is important to you.
Date published: 2018-10-19
Rated

1

out of

5
by
Flustrated WiFi
from
Excellent Device for Loggin Data, bad connection
I bought this data logger to record the temperatures of the freezer and refrigerator at my company. The set up is easy and the logger pages are great but the device does not stay synced with the PC and would never set up on the cloud. The customer support was great, which attempted to assist me with the issues through a couple of weeks of trouble shooting. Unfortunately I could not resolve these issues. The set up on the PC go through the setup great and the device connects to the network as well as sets up the computer but after a few data downloads by the device it looses connection and cannot reestablish the connection to the network. I get the blinking antenna of death. As for the cloud, I do get through the connection to the Newark but the device continues to fail in the final setup so I never did get the device linked to the cloud. Bottom line, the logging portion of the device is great but the connection side needs work. I will set my calendar reminder to download the data by way of USB every month to retain for records. So do not purchase this device if you would like a wireless data logger because it flat out does not operate properly, which I'm sure there are cheaper data loggers out there that just record with no WiFi or just network wired connection.
Date published: 2016-04-06
Rated

5

out of

5
by
Llorens Pharmaceutical
from
CEO
Excellent for control temperature and humidity in my pharmaceutical facility .
Date published: 2020-11-19
Rated

4

out of

5
by
Anonymous
from
Accurate, great data
This is a great unit - we checked it against a two different test kits and it reads within posted limits. The wifi does drop out sometimes, so if you insist on 100% realtime data that will bug you, but it will eventually pick up and post all measurements. I love the graphs and statistics that the software shows.
Date published: 2020-04-15
Rated

4

out of

5
by
Real
from
Good hardware, latest software has issues
This is my 2nd OM-EL-WIFI unit and I love the accuracy and wifi capabilities of the unit. I updated to the latest software release and could not get either unit (one's a Plus) to save the data. I called tech support and they sent me a document outlining specifics steps to take, but still no go. I went back to the previous software release (1.30.xxx) and they work fine now.
Date published: 2018-04-11
My WiFi network has many VLANs w/ different subnet. Devices are randomly placed in VLAN pools. Do the devices it have to all be on the same VLAN/Subnet in order to function?
Hello The devices do need to be on the same VLAN/Subnet with the computer you want to communicate with in order to function.
Date published: 2020-10-07
do you provide certificate of calibration for Item# OM-EL-WIFI-TH? if yes, is there any additional fee?
Thank you for your question. You can order a unit with calibration certificate. Please see link to our website for OM-EL-WIFI-TH-NIST. https://www.omega.com/en-us//p/OM-EL-WIFI-TH-NIST
Date published: 2021-04-09
A previous question asked about the amount of time needed to acclimate or get to full accuracy. After these sensors have "acclimated", will they be sensitive enough to monitor small changes(0-2%) over a period of seconds/minutes?
Hello Zach The unit runs via a WiFi connection, it is limited to the speed of the network. Reading intervals are as fast as one every ten minutes, as slow as one every ten hours, the resolution for humidity is 1% and for temperature is 0.1
Date published: 2020-01-09
How to switch units from °F to °C
Hi, to advise on your question, please see section 7.4 of the manual at the following link to change the units on your logger: https://assets.omega.com/manuals/M5381.pdf Thank you!
Date published: 2019-06-25
Which thermometer would respond more quickly, the OM-EL-WiFi-TP or the OM-EL-WiFi-TC, and how long would it take to get a stable reading?
Hello Allan, response time is at least 60 minutes before your readings are at full accuracy.
Date published: 2019-11-16
Is there a labview driver for this instrument?
Hello, thank you for your inquiry. Unfortunately LabView drivers are not available for this series.Omega do have other options that include such drivers and we would love to discuss your application to help you find a suitable solution. Please give us call or send us your requirements to sales@omega.com.
Date published: 2020-05-14
is there a calibration certificate coming with instrument, and If so, is it traceable to ILAC-MRA standards?
Hi, thanks for connecting with us. The calibration certificate is an additional purchase. If you order this at the time of purchase, it would come with the logger. Yes, our certificates are NIST traceable as well as traceable to ILAC-MRA standards. MDQ Calibration Laboratory is accredited to ISO 17025:2005 by PJLA which is an MRA Signatory of ILAC. The insignia for both ILAC-MRA and PJLA are included on our calibration certificates. Please contact us if you have any further questions.
Date published: 2019-05-01
Are there temp/humidity sensor options that allow for a real-time export of the data or a configurable XML output to a local port?
The logged data from the OM-EL-WIFI unit can be imported to EXCEL after it is displayed on PC. You cannot import real-time. Thank you.
Date published: 2019-07-11