text.skipToContent
text.skipToNavigation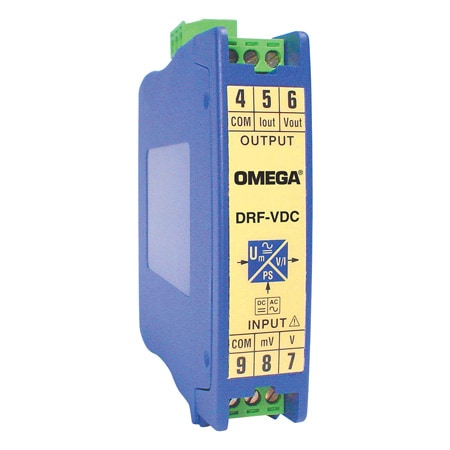 DIN Rail DC or AC Voltage Input Signal Conditioners
DC and AC Voltage Input Signal Conditioners

Item# DRF-VAC-115VAC-65V-4/20
---
This product has been discontinued. For a potential replacement, please see DR-I3P.

AC/DC Voltage Input Ranges
from 60 mV to 650 V
Accuracy 0.3%
Response Time for DC Signals, 70 mS
Response Time for AC Signals, 250 mS
Over Range Protection for Voltage Inputs
High Impedance Voltage Inputs
Galvanic Isolation Between Input, Output and Power
The DRF series DIN rail signal conditioners are designed to accept a broad range of input signals, such as ac and dc voltage and current, frequency, temperature (thermocouple and RTD), and process transducers, and provide standard process outputs of either 4 to 20 mA, or 0 to 10 Vdc. The DRF series feature a modern housing design, that is easily mounted on standard 35 mm DIN rails. Connections are safely and securely made through pluggable screw terminal connectors, with input and output connections on the opposite sides of the module.

The DRF-VDC and the DRF-VAC voltage signal conditioners accept dc and ac voltages respectively and provide an isolated 0 to 10 Vdc or 4 to 20 mA output. Models are available with three different power options, 24 Vdc, 120 Vac and 240 Vac.

The DRF-VDC and DRF-VAC are ideally suited for industrial applications. All models mount on a standard 35mm DIN rail and provide galvanic isolation between input, output and power up to 3500 Veff (model specific).

Range Code Table for DRF-VDC and DRF-VAC

| | | |
| --- | --- | --- |
| Range Code | DRF-VDC Range | DRF-VAC Range |
| 75MV | 0 to 75 mVdc | 0 to 75 mVac |
| 150MV | 0 to 150 mVdc | 0 to 150 mVac |
| 300MV | 0 to 300 mVdc | 0 to 300 mVac |
| 650MV | 0 to 650 mVdc | 0 to 650 mVac |
| 1V | 0 to 1 Vdc | 0 to 1 Vac |
| 7.5V | 0 to 7.5 Vdc | 0 to 7.5 Vac |
| 15V | 0 to 15 Vdc | 0 to 15 Vac |
| 65V | 0 to 65 Vdc | 0 to 65 Vac |
| 300V | 0 to 300 Vdc | 0 to 300 Vac |
| 650V | 0 to 650 Vdc | 0 to 650 Vac |
SPECIFICATIONS

Accuracy: <0.2% full scale
Linearity: <0.1% full scale
Thermal Drift: 250 ppm/°C typical
Thermocouple CJC Drift: 0.1°C/°C
Response Time
DC Signal Input Models:< 70 mS (90% of signal)
AC Signal Input Models: <250 mS (90% of signal)
Input Impedance: 1 MΩ for ranges < 1 V, 10 M Ω for ranges > 1 V
Over Range Protection: 1000 V for ranges greater than 100 V, 500 V for ranges less than or equal to 100 V
Max AC Frequency: 1 KHz

Power: 24 Vdc ±10%, 230 Vac ±10% 50/60 Hz, 115 Vac ±10% 50/60 Hz
Power Consumption: <3.8 VA


Output: 4 to 20 mA and 0 to 10 Vdc
Maximum Voltage Output: 11 Vdc approx.
Minimum Voltage Output: -1 Vdc approx.
Minimum Load Resistance (Voltage): >1 KΩ Maximum Current Output: 22 mA approx.
Maximum Current Output: -1.5 mA approx.
Maximum Load Resistance (current): >400 Ω

Electrical Connections: Plug-in screw terminals
Protection: IP-30

MECHANICAL DIMENSIONS
Weight:
(DC Powered Models): 120 g (4.2 oz)
(AC Powered Models): 200 g (7 oz)
Dimensions:
(DC Powered models):
110 H x 22.5 W x 93 mm D (4.3 x 0.9 x 3.7")
(AC Powered models):
110 H x 37 W x 93 mm D (4.3 x 1.46 x 3.7")
Operating Temperature: 0 to 60°C (32 to 140°F)
Storage Temperature: -20 to 70°C (-4 to 158°F)
Rated

1

out of

5
by
Logic1
from
10% failure out of the box. LONG lead times.
My machine is a tester for AC motorized units. Originally bought 10 pieces for voltage isolation. Six week lead time. One unit bad out of box (replaced after 5 week wait). I needed 10 more to add current measurements. Again, one of ten bad out of box. That's 2 bad out of 21. Bought for price but not worth it.
Date published: 2016-07-19
Rated

5

out of

5
by
dhh488
from
Pretty reliable
We had eighteen of these installed on a system upgrade in 2010. We had one fail now in 2019, so I feel that these are pretty reliable.
Date published: 2019-02-22
According the the manual, the DRF sensors can be set, using DIP switches, to different input ranges. Can the DRF-VDC-24VDC-65V-0/10 bet set for a 650 Vdc input>
Yes, as long as you have a stable calibrated source you can change range and adjust per procedure in the manual.
Date published: 2020-05-14