Pressure transducers and load cells play a critical role in ensuring the safety, reliability, and accuracy of products and processes across a wide variety of industries—including aerospace, mining, manufacturing, technology, and more. Because of the demand for reliability, repeatability, and high accuracy that pressure transducers and load cells must provide in a rigorous testing environment, it is essential that system manufacturers use load cells and pressure transducers that meet the requirements of the application.
To find the right pressure transducer or load cell for your requirements, begin by looking at standardized options. For most measurement and control applications, an off-the-shelf product will fit the requirements. However, on some occasions, simple customizations to a standardized pressure transducer or load cell will provide a better fit, saving you time and helping you achieve greater process performance.
Customization or Standardization
To determine the right path forward—customization or standardization—first ask these important questions:

Is there a standardized product that fits my application?
In most instances, you can easily select the appropriate product for your measurement requirements. But when extreme pressures or forces are involved or when it's not clear what product will best meet the requirements, it's time to discuss your options. Added expertise in sensing and control can guide you to a product you weren't aware would work or confirm that customization is the best solution.

What type of customization do I need done to fit my application?
If you determine that there isn't a standardized pressure transducer or load cell that will fit your application, the next step is to determine what standardized product comes closest to meeting those needs and what type of modifications must be made to that product. Determining which standardized product most closely aligns with your specifications is critical. This will reduce the amount of customization required, saving you money and speeding the completion of the modifications.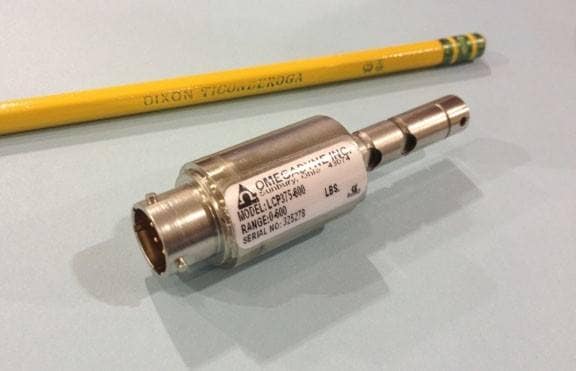 Reduced Mini Load Pin shaft diameter to 0.375, for a better than 0.5% FS performance (general spec is 2%).
Does my project size or complexity warrant the investment in a customized product?
While a customized solution may be the ideal option, it may still not be the best option for meeting all your business and budgetary goals. For example, on a pressure transducer, the pressure port is the mechanical connection that is provided to allow a pressure-tight connection to the system the transducer is to be integrated into. Sometime during the development of a system, it is discovered that the standard pressure ports available are not compatible with the equipment being used. If this is the case, it's important to calculate your return on investment (ROI). If you only need one pressure transducer with a custom pressure port and a standardized product can work with the addition of an adaptor, you may determine that the time-to-market and budgetary costs of customization exceed the additional convenience you would gain by making modifications. However, for large projects where you will be using dozens to hundreds of pressure transducers or load cells over time or complex projects where there is no other solution than modification, investing in a customized solution may deliver the highest ROI by offering the most cost-effective and fastest solution while also meeting necessary performance requirements.
Best practices for simple customization
Once you determine that making simple modifications to a standardized product is the best investment for your application, it's time to conduct the necessary modifications.

Here's a look at 5 best practices that will make this process go more smoothly for you and the supplier.

Prioritize flexibility and customization capabilities
Not all suppliers will have the flexibility or in-house engineering capability to customize a product. As a best practice, select a supplier that makes most of its own components, controls its supply chain, owns the intellectual property of their products, and has its own engineering staff on hand to help design and develop customized products when necessary.

Determine the correct specifications
To ensure that the customized product will meet your application needs it is important to define what you are trying to achieve in your application. Here again, by knowing precisely what you are trying to measure or control and what challenges you are encountering, can help better identify what standardized product will work the best with the least amount of customization. In some cases, an onsite meeting may be necessary to better understand the application and custom specifications required. Another best practice is to work directly with a sales team that has application experience in pressure and force implementation and can easily understand your requirements, quickly identify the right off-the-shelf product to customize, and work as a go-between you and their own engineering team.

Develop engineering drawings
Once the specifications for a customized pressure transducer or load cell have been defined, the engineering drawings will address and formalize the proposed modifications. These drawings should then be approved by your own engineering team. Depending on the complexity of the modifications, this process may involve some back and forth between the supplier's engineers and your engineers. Expect to build in extra time for this process, depending on the complexity of the modifications.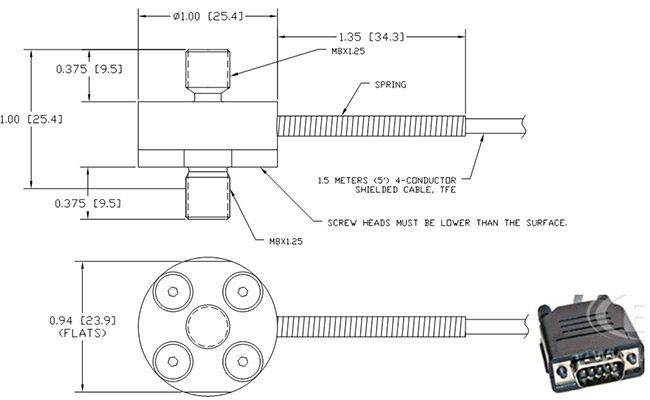 Engineering drawings for OMEGA's standard LCM202 that needed special dimensions for the application and a nine-pin electrical connection for interfacing with the customer's data collection system.
Test the prototype
Once a final engineering design is approved, a best practice is to have a prototype of the modified product developed. This allows you to test the prototype in its application environment. Full-scale production can begin after test data is analyzed and it is confirmed that the prototype is working as anticipated.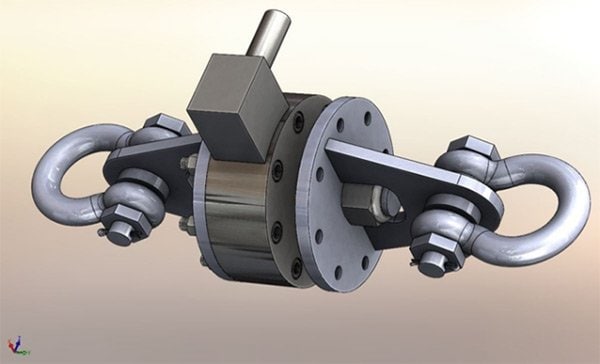 Prototype for a customized submersible load cell.
Start production and secure product availability
Time for manufacturing and shipping the product will depend on the number of units required and the complexity of the modifications. Here again, suppliers who have the capability and machinery to manufacture the modified products in-house will be able to provide faster turn-around times.
An additional benefit of customization is the ability to have a unique part number for your customized product. With other customers unable to order the part, you have assurance that you will always have product available on demand.
Conclusion
Looking for standardized products that can fit your requirements is always the best and first step you should take when approaching how to measure the pressure or force in an application. However, when a standardized product cannot meet your needs, simple modifications can significantly speed time-to-market, improve process performance, and even reduce costs. At Omega, we continue to put our customers first—whether that's with a standardized solution or a custom solution. We have the in-house capabilities and expertise to meet all your measurement and control needs.