text.skipToContent
text.skipToNavigation
RTD Probes with Transitions, Strain Relief Springs and Fiberglass Insulated and Jacketed Cables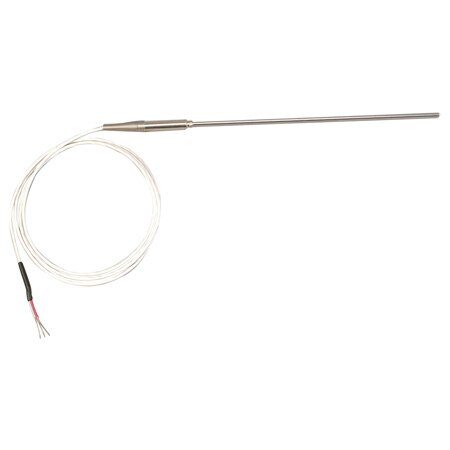 Item# PRTF-11-1-100-1/8-6-E-GG
Please refer to PR-10 series configurator to build replacement part
These thin film platinum RTD probes are similar to our PRTF-10 sensors except for the addition of a transition fitting and strain relief spring. Manufactured with 100 ohm, Class B DIN Platinum thin film RTD elements and fiberglass insulated and jacketed cables, these sensors provide a lower cost option to our 'PR' line of RTD sensors and can be used in a wide variety of applications. The use of fiberglass insulated, fiberglass jacketed cables increases the maximum temperature rating of the sensor to 500C. .

For this product with a PFA insulated and jacketed cable click this link.
For this product with a stainless steel braided fiberglass insulated cable click this link.
For this product with a fiberglass insulated cable and square locked hose click this link.
Please advise maximum pressure for 1/8" sheathed rtd probe
We do not list a maximum pressure rating for our sheathed probes. We recommend a thermowell be used in an application needing a pressure rating.
Date published: 2020-02-13
Most Popular Accessories
Precision Handheld Thermometer
4-Channel Temperature Data Logger
This item is no longer available to purchase. For questions contact sales
Popular Options and Accessories
1/16 DIN On-Off LCD Temperature Controller