text.skipToContent
text.skipToNavigation
1/32, 1/16, and 1/8 DIN Universal High Performance Controllers
Platinum Series Versatile High Performance PID Controllers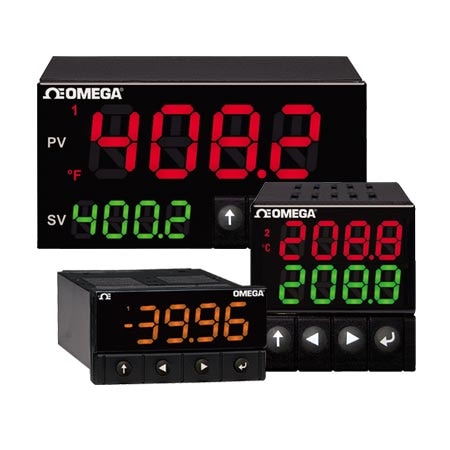 Item# CN8DPT-330
Added to Your Shopping Cart
Configuration complete.
Please add to cart to keep it or exit the configuration
Failed to Save Configurations, Click on Configure Button Start Again
Lead Time (If not in stock):
4 weeks
Strain & Bridge Inputs, 6 Digit Display and Upgraded Platinum Software Now Available
Industry Leading Performance (20 Samples / Sec), High Accuracy
Up to 6 Programmable Control/Alarm/Re-transmission/Relay Outputs
Full Autotune PID with Fuzzy Logic Adaptive Control
CN8DPT-330 Model Options
View all models
Edit these specs to order a different model. Not all combinations are valid. Options compatible with previous selections will be in bold.
*Highlighted options are not compatible. Please select a different combination.
The Platinum Series family of microprocessor-based PID controllers offer unparalleled flexibility in process measurement. While extremely powerful and versatile, great care has gone into designing a product that is very easy to set-up and use. The automatic hardware configuration recognition eliminates the need for jumpers and allows the firmware to automatically simplify itself, eliminating all menu options that do not apply to a specific configuration. Offered in 1⁄32, 1⁄16, and 1⁄8 DIN sizes, the 1⁄16 and 1⁄8 DIN models can be configured with dual displays.

Each unit allows the user to select the input type from 9 thermocouple types, PRT/RTD sensors, thermistors, DC voltage, DC current, and Strain & Bridge inputs. The full bidirectional voltage or current inputs are fully scalable to virtually all engineering units, with a selectable decimal point that is perfect for use with pressure, flow, or other process input.
Up to 6 programmable outputs including the isolated analogue and additional features make this the most powerful product in its class. Standard features include: remote set-point for cascaded control, high-high/low-low alarms, external latch reset, external ramp and soak initiation, combination heat/cool control mode and configuration save and transfer.
Free Downloadable Software
Free Downloadable Configurator Windows® Application Software
Fully Configure all PLATINUM Functions/Parameters
Auto-Connect Through USB Channel
Load/Save PLATINUM Configuration Files
Performance Tracking (Charting) with Data Capture
An advanced multi-stage ramp and soak sequencer supports up to 99 profiles of 8 segment ramp/soak sequences. Profiles may be linked to provide extended sequences and auxiliary outputs may be triggered based on individual Ramp or Soak states to provide external control over blowers, mixers or other auxiliary control functions.
Embedded Ethernet and Serial Communications
Optional "embedded ethernet" on the 1⁄16 and 1⁄8 DIN models allow the units to connect directly to an Ethernet network and transmit data in standard TCP/IP packets, or serve Web pages over a LAN or the Internet. Optional serial communications are also available configurable as RS232 or RS485, with straightforward ASCII commands or MODBUS®. All three types of communications interfaces can be installed and active simultaneously.
LabVIEW™ Driver
The Platinum LabVIEW™ driver is the National Instrument device driver for communicating with Omega Platinum Controllers via Modbus RTU/ASCII and Modbus TCP protocols. The driver allows easy access to the internal data, configuration settings, and operating functions of the Platinum product family.
The LabVIEW™ instrument driver reduces the application development time and simplifies instrument control. With the Platinum LabVIEW driver, customers can quickly communicate with the instrument and develop robust test applications and software.
DasyLab
Support for the easy-to-use
DasyLab software
solves complex data acquisition and control problems by allowing you to work with flowcharts directly on your PC screen. The high input accuracy, advanced process control, extended sequencing capability and flexible output options of a Platinum controller may be easily integrated with the rich set of function modules provide by the DasyLab software. The DasyLab software may be integrated thru the Platinum serial, Ethernet or USB connections.
Comparison Chart
Pt Series Features—PerformanceVs CompetitionBenefitsUp to 20 Input Samples per Second with 24-bit ADCBest in classImproved control for responsive systems such as flow or weight control in factory automation and process industries.Up to 99 Programs with 16 Ramps and Soaks Including Ramp/Soak Events and Remote Start. Chainable for unmatched programmability.Best in classCombines with the measurement accuracy feature to provide precise control in menu-driven applications such as plastics, food, and ceramics processing.
SPECIFICATIONS
INPUTS
Input Types:
Thermocouple, RTD, Thermistor, analogue Voltage, analogue Current, Strain
Current Input:
4 to 20 mA, 0 to 24 mA scalable
Voltage Input:
±100 mV, ±1 V, ±10 Vdc single-ended, scalable; ±50 and ±100 mV differential and ratiometric inputs, scalable
Thermocouple Input (ITS 90):
K, J, T, E, R, S, B, C, N
RTD Input (ITS 90):
100/500/1000 Ω Pt sensor, 2-, 3- or 4-wire; 0.00385, 0.00392 (100Ω only), or 0.003916 (100 Ω only) curves
Thermistor Input:
2252 Ω, 5K Ω, 10K Ω
Strain Input:
±100 mV, ±50 mV
Configuration:
Differential
Polarity:
Bipolar
Accuracy:
See full table below
Resolution:
0.1° temperature; 10 µV process
Input Impedances:
Process Voltage:
10M Ω for ±100 mV, 1M Ω for other voltage ranges
Process Current:
5 Ω
Thermocouple:
10K Ω max
Auxiliary Input (Remote Setpoint):
3.5K Ω for 0-10 V, 50K Ω for 0-1 V, 50 Ω for Current
Temperature Stability:
RTD:
0.04°C/°C
Thermocouple @ 25°C (77°F):
0.05°C/°C (cold junction compensation)
Process/Strain:
50 ppm/°C
A/D Conversion:
24-bit sigma delta
Reading Rate:
20 samples per second
Digital Filter:
Programmable from 0.05 seconds (filter = 1) to 6.4 seconds (filter = 128)
CMRR:
120 dB
Excitation:
Menu selectable (no jumpers to set) 5, 10, 12, and 24 Vdc @ 25 mA (12 V max for DC powered units).
Setpoint Adjustment:
4 Digit -9999 to +9999 counts; 6 Digit -99999 to +999999
Warm-Up to Rated Accuracy:
30 mins
CONTROL MODES
Action:
Reverse (heat), direct (cool), or heat/cool
Auto-Tune:
Operator initiated from front panel
Adaptive Tune:
User selectable;
fuzzy logic continuous PID tuning optimization
Control Modes:
ON/OFF or the following time/amplitude proportional control modes; selectable manual or auto PID, proportional, proportional with integral, proportional with derivative
Cycle Time:
0.1 to 199 seconds
Ramp and Soak:
Up to 99 saved ramp and soak programs, up to 8 ramp and 8 soak segments with individually selectable events per program
Ramp and Soak Segment Times:
00.00 to 99.59 (HH:MM) or 00.00 to 99.59 (MM:SS)
CONTROL OUTPUTS
Analogue Output:
Non-isolated, programmable for control or retransmission; Voltage Output 0-10V output. 500Ohms Min. Accuracy 0.1%(1); Current Output 0-20mA output. 500Ohms Max. Accuracy 0.1%(1)(2); Step response time 100ms(3)
DC Pulse:
Non-isolated; 10 Vdc at 20 mA
SPST Relay:
Single pole, single throw mechanical relay, 250 Vac or 30 Vdc at 3 A (resistive load)
SPDT Relay:
Single pole, double throw mechanical relay, 250 Vac or 30 Vdc at 3 A (resistive load)
SSR:
20 to 265 Vac at 0.05 to 0.5 A (resistive load)
Isolated analogue:
1.5kV Isolation(4), programmable for control or retransmission; Voltage Output 0-10V output. 500Ohms Min. Accuracy 0.1%(1); Current Output 0-20mA output. 500Ohms Max. Accuracy 0.1%(1)(2); Step response time 100ms(3)
Isolated DC Pulse:
1.5kV Isolation(4); 10Vdc at 20mA
(1) At 25C.
(2) Output scaling required for stated accuracy. Refer to Platinum Current Output Application Note.
(3) Filter setting of 1.
(4) Isolated outputs not individually isolated.
COMMUNICATIONS (USB STANDARD, OPTIONAL SERIAL AND ETHERNET)
Connection:
USB:
Female micro-USB
Ethernet:
Standard RJ45
Serial:
Screw terminals
USB:
USB 2.0 host or device
Ethernet Standards Compliance:
IEEE 802.3 10/100 Base-T autoswitching, TCP/IP, ARP
Serial:
Software selectable RS232 or RS485; programmable 1200 to 115.2 K baud
Protocols:
Omega ASCII, Modbus® ASCII/RTU
ISOLATION
Approvals:
UL, cUL, CE
Power to Input/Output:
2300 Vac per 1 min test; 1500 Vac per 1 min test (low voltage/power option)
Power to Relays/SSR Outputs:
2300 Vac per 1 min test
Relays/SSR to Relay/SSR Outputs:
2300 Vac per 1 min test
RS232/RS485 to Inputs/Outputs:
500 Vac per 1 min test
Thermocouple Input TypeDescriptionRangeAccuracyProcessProcess Voltage±100 mV, ±1, ±10 Vdc0.03% FSProcessProcess CurrentScalable within 0 to 24 mA0.03% FSJIron-Constantan-210 to 1200°C (-346 to 2192°F)0.4°C (0.7°F)KChromel-Alumel-270 to -160°C (-454 to -256°F)
-160 to 1372°C (-256 to 2502°F)1.0°C (1.8°F)
0.4°C (0.7°F)TCopper-Constantan-270 to -190°C (-454 to -310°F)
-190 to 400°C (-310 to 752°F)1.0°C (1.8°F)
0.4°C (0.7°F)EChromel-Constantan-270 to -220°C (-454 to -364°F)
-220 to 1000°C (-364 to 1832°F)1.0°C (1.8°F)
0.4°C (0.7°F)RPt/13%Rh-Pt-50 to 40°C (-58 to 104°F)
40 to 1788°C (104 to 3250°F)1.0°C (1.8°F)
0.5°C (0.9°F)SPt/10%Rh-Pt-50 to 100°C (-58 to 212°F)
100 to 1768°C (212 to 3214°F)1.0°C (1.8°F)
0.5°C (0.9°F)B30%Rh-Pt/6%Rh-Pt100 to 640°C (212 to 1184°F)
640 to 1820°C (1184 to 3308°F)1.0°C (1.8°F)
0.5°C (0.9°F)C5%Re-W/26%Re-W0 to 2320°C (32 to 4208°F)0.4°C (0.7°F)NNicrosil-Nisil-250 to -100°C (-418 to -148°F)
-100 to 1300°C (-148 to 2372°F)1.0°C (1.8°F)
0.4°C (0.7°F)RTDPt, 0.00385, 100 Ω, 500 Ω, 1000 Ω-200 to 850°C (-328 to 1562°F)0.3°C (0.7°F)RTDPt, 0.003916, 100 Ω-200 to 660°C (-328 to 1220°F)0.3°C (0.7°F)RTDPt, 0.00392, 100 Ω-200 to 660°C (-328 to 1220°F)0.3°C (0.7°F)Thermistor2252 Ω-40 to 120°C (-40 to 248°F)0.2°C (0.35°F)Thermistor5K Ω-30 to 140°C (-22 to 284°F)0.2°C (0.35°F)Thermistor10K Ω-20 to 150°C (-4 to 302°F)0.2°C (0.35°F)
Accessories
Use the optional PT-USB-CABLE for an IP65 rated panel mount USB connector. A 300 mm length cable connects from USB port of Platinum controller to your control panel. This accessory includes a protective end cap when not in use.
The PT-USB-ADAPTER, which is supplied with each unit, can be plugged into the controller and be used with a standard USB 2.0 memory stick.
This 1 GB USB thumbdrive has a standard USB connector on one end and a micro-USB connector on the other end. It is convenient for transferring files between your PC and your PLATINUM unit.
Optional PT-USB-CABLE Optional 1 GB USB thumbdrive
The part numbers listed below are only examples. Many more configurations are offered and can be constructed using the part number builder at the bottom of this page.
Rated

5

out of

5
by
NDPIII
from
Solid Bright Display
Works great in our Dyno, bright and visible among other instrumentation
Date published: 2022-01-16
Rated

2

out of

5
by
UriB
from
Support support support...
We have bought a few of them to control temperature in vacuum chambers. All for ATE systems, meaning they need to be remotely controlled by a computer. The documentation with these PID is ridiculously inadequate, and I am being nice! We spent all our time trying to configure, control, configure, control... etc. The technical support is practically non existent. These are not new products. I would have assumed Omega would invest a little in all those years, just a little, to make working with them easier. Be aware that if you want to use these PID, you need to put aside a very long time just to understand how they work, as the manuals are useless in most cases.
Date published: 2021-08-18
Rated

3

out of

5
by
Sensor guy
from
Good
Very easy to setup and get working. Does a great job with the heat treat oven it is being used on. Unfortunately the USB board connection poped off the unit when i tried to insert the micro usb cable, so I can no longer use it in conjunction with my PC for data logging setup etc (maybe i don't know my own strength or maybe it was a bad solder connection not sure, it was a clean break on the soldier joint though). First time this has ever happened to me on any deice I have ever owned so it goes down a few stars for loosing so much functionality within the first week of ownership. Otherwise great unit.
Date published: 2020-04-10
Rated

4

out of

5
by
Priyanka
from
Good Product
I bought this last week and its feature are amazing
Date published: 2019-04-01
Rated

5

out of

5
by
OlehW
from
Love it, except one annoying little thing . . .
Replaced a CNiS32 (where 4-button programming was driving me crazy) with a CN32Pt. Got it working OnOff (all I need for now) using Platinum Configurator 1.5.2.0 software in a few hours; BIG improvement over the buttons ! Using a PX309-300AV P-transducer, set scaling to give 20.7 bar at 100mV, set-point 11.0 bar. Great so far. However, cannot set deadband value smaller than 0.1; would prefer 0.05. Any way around this ? Maybe software update ?
Date published: 2018-07-11
Rated

5

out of

5
by
Thomas50
from
Excellent instruments !
We are laboratory of scientific institute and we already purchased 4 Omega Platinum controllers currently working perfectly in 4 new scientific instruments built in our lab giving millions of measurement cycles. We are going now a bit further into development and we need some more purely technical information, for instance can auto-tune be initiated over RS-232 serial protocol (which I currently could not figure out from serial protocol manual and I find command for same thing in modbus manual) and few similar questions. If we want, can we contact someone for such info ? Thank you and good job making instruments. Thomas
Date published: 2018-07-06
Rated

4

out of

5
by
David
from
Great features in controller, lousy documentation
Purchased controller to receive 0-10V input and 0-10 Analog output. Set up documentation is very lacking. Controller now works very well, but we lost weeks trying to sort out the issues.
Date published: 2016-12-09
I need a controller to handle two SSRs, with a degrees/minute programmable temperature ramp rate, RS-232 communication to understand a visual basic macro from MSExcel.
Hi Polymer John, Thank you for the inquiry.This controller does not have ramp/rate function. You'll need to use a target temp and calculate time to target to achieve the ramp/rate. We do not have drivers to work with Windows Excel. Our free software may cover your requirements. Best regards OMEGA
Date published: 2022-05-24
What is the equation that calculates the temperature from mV
Hi, if you are using a thermocouple then here are some reference pages on how this is done. This all goes into detail on the Seebeck voltage. Please contact us if you need anything further. Thanks! https://www.omega.co.uk/prodinfo/thermocouples.html https://www.omega.co.uk/techref/
Date published: 2019-05-15
Do these controllers have zero-point detection for switching AC-powered resistive loads?
Thank for your inquiry. This control does not have Zero-Crossing Detection.
Date published: 2021-06-10
Why does my new CN32PT-224-C24-DC initially display a TC temperature on the Platinum Monitor software, then flashes "oPEN" as soon as I start a run? The TC is fine and works on an older CN32PT controller I bought 3 years ago.
Hi JackTA Thank you for the inquiry. You might try a jumper wire in place of the TC. The instrument should see this as room temperature if it is set for TC input. If you have more questions please forward to TEMP@OMEGA.COM. Best regards OMEGA
Date published: 2022-02-21
Could you suggest a model of Platinum Series Versatile High Performance PID Controllers with which we could set up linearization values with RTD ? We are using the CN32PT-444-C24-DC model right now but can't use the linearization process with RTD.
Hi Line, We have 1 or 2 point calibration under "t.cal" in manual. Please refer to section 6.8 of the manual. https://assets.omega.com/manuals/M5451.pdf Best regards OMEGA
Date published: 2020-11-25
CN16DPT-145. There is limited info on the retransmit function. I'd like to retransmit measured temperature from a thermocouple. How does the scaling work for retransmit?
To set the Analog output range on the Platinum Controllers you need to select the RNGE in the PROG menu then scale it in the RtRN parameter in the PROG menu in your case for ANG1 as well. Please call the temperature department if you need detailed assistance.
Date published: 2022-03-10
When I turn the power on to the Omega USB Platinum Temperature controller, the Omega display reads "oPER". What does this mean?
Thank you for your inquiry! The "oPER" text on the display stands for Operating Mode and is found in the Level 1 Menu. For more information on how to navigate through various menus, please see page 16 of the Platinum Series Controller User Guide Manual (M5451).
Date published: 2021-05-28
All the controller have 2 or 3 outputs, but we can only control one load at a time due to having only one input. Then what is the purpose of having three different or same outputs?
Hi Maria, Thank you for the inquiry. Second output is often used for cooling. It can also be used for second heater ( or other load) to act as back up to a primary heater. There is a second PID group and control offset to provide for these options. Best regards OMEGA
Date published: 2022-08-18
I had bought the Item# CN16DPT-224-C24. I didn't notice the output for SSR is AC power and bought the SSR with DC input. Could you recommond a AC input SSR for me? Thank you!
Thank you for your inquiry! The SSRL series (https://www.omega.com/en-us/control-monitoring/relays/solid-state-relays/ssrl240-660/p/SSRL240AC10) are available with either an AC or DC control input
Date published: 2021-03-04
Where can I find an error list for CN16DPT-145-DC? One is displaying F011 and another F714 with just 24 VDC input power connected.
Hi SlimSC Sorry to hear of the error messages coming up on display. There is possibility of excessive noise from the DC source. Please forward more details to us at TEMP@OMEGA.COM. Best regards OMEGA
Date published: 2021-09-28
Hi there, I am interested in the CN32PT-440. Are the isolated DC pulse outputs isolated from the AC power input or the sensor input or both? I am assuming isolated means the grounds are floating compared to each other?
Hi Madt, Thank you for the inquiry. On this model the DC pulse output signals are isolated from the AC line not the input signal. Isolation spec is detailed in section 9.5 on the manual; https://assets.omega.com/manuals/M5451.pdf Best regards Omega
Date published: 2021-01-24
I want to but a controller for heating only from 100 to 500 degree Celsius. Which option is better for this? Output with Mechanical relay or Solid State Relay?
Hi Maxy- If maintaining temp for long duration is your end goal then SSR will be best. Not only will the control around the set point be more precise but SSR also has extended life cycle over mechanical relay. Be sure to check the specs of the heater on power required as solid state relays and mechanical relays outputs vary.
Date published: 2022-08-23
I want to drive a 24Vdc 3port/2way solenoid air valve. What output option do I select? I see there is a DC power supply option will that be needed?
Hi Julie, Thank you for the inquiry. For your device the best option to use is the mechanical relay. You will need a power source suitable for your relay coil. The internal excitation is limited to 25 mA @ 24 VDC. Best regards Omega
Date published: 2019-11-13
Does this series support daisy chained communication on a single RS232 port?
Thank you for your inquiry. You can daisy chain RS-485 Communication.
Date published: 2021-05-17
Hi, I installed a CN32PT-305-DC in an aluminium case and the thermocouple reading is very sensible to the internal controller's temperature ans doesn't represent the true temperature at the sensor. How can I fix this problem ? Thanks
Hi Sylvain, Thank you for the inquiry. Suggest to ensure that you have thermocouple connectors and thermocouple extension wire inside the enclosure. Double check the thermocouple wire polarity inside the enclosure. Best regards OMEGA
Date published: 2021-08-16
How do I change the output on a CN32PT-224-C24 to analog 0-5VDC. The Platinum GUI seems to resisto me making the change is there some king of unlock that needs to be done?
Hi Mark, Thank you for the inquiry. Unfortunately this controller does not have analog output. Similar controller with analog output is CN32PT-145-C24 Best regards OMEGA
Date published: 2020-04-02
I'm looking at the CN32PT-145-C24. Need to put out around 2 amps from a DC power supply to a resistive load when a certain temperature low point, then cut off current at higher temp. Is this doable? It looks like it, but I'm new to PID controllers.
Thank you for your inquiry. Yes with this controller that is possible. You will need to use an SSRDC150VDC12 Solid State Relay to switch the DC Signal. See link below. https://www.omega.com/en-us/control-and-monitoring-devices/relays/solid-state-relays/p/SSRDC150VDC12
Date published: 2020-08-15
When running my CN32PT-224 controller (oPER -> Run) the word 'oPEN' flashes on the screen. Why is this happening?
Thank you for your inquiry Aero12. The message 'oPEN' usually comes up either because the temperature sensor is not connected properly to the controller or there is a break in the wire of the sensor. For any further questions, please contact us directly at 1-800-622-2378, ask for Temperature Engineering or temp@omega.com
Date published: 2021-08-18
What is the specifications for a USB thumb drive? I'm trying 2-16GB and I did format one to FAT and the unit will not recognize (getting a red F100 error that requires a power cycle). If the drive is missing or unformatted, I get normal error messages.
Hi Gerald, Please try FAT32. If you still receive error message contact our temperature technical support. Best regards OMEGA
Date published: 2022-10-24
We have been using the CN16Pt-330 unit for LN2 cooling. While it does work, the only way to control cooling is to use reverse action on the outputs, which is simple on/off, not PID control. Is there another controller that will control cooling with PID?
The CNPT series is capable of utilizing PID control for cooling applications. The action should be set for direct and the mode selected for PID. If there are questions contact the Temperature group at temp@omega.com.
Date published: 2022-01-27
I have a new CN8DPT-220 my computer dose not see it when I plug it in with a usb cable (phone charging cable) why not? I have never been able to make this controller work The plug is sensitive in the side of And its very frustrating
Thank you for your inquiry. It can be one of two things. It could be your PC Firewall blocking communication or the USB Cable quality issue. Try using a different PC/Cable.
Date published: 2021-09-01
What is the correct procedure to use the RST button on the back of the unit to reset the Ethernet connection back to factory defaults. Or is there another way to reset the IP address back to factory? Model I am using is: CN8DPT-305-006-C24-EIP
Thank you for your inquiry. With the 'power ON', hold it down (gently) for 10-15 seconds to reset it.
Date published: 2021-07-08
How many thermal couples can be used as inputs for the CN16DPt model?
Thank you for your inquiry. This is a single-input device (1 sensor).
Date published: 2021-01-25
Can I use this controller to maintain a heater to a variable set point temperature? The goal is to always have a sample an offset temperature from the ambient air.
Yes, if you have mA or voltage signal as input for our platinum series controller. Use the remote setpoint input feature. Then use the control offset "Ofst" function.
Date published: 2019-11-19
I read a review said it can be controlled by python code. I checked the user manual but cannot find related information. I am wondering if you will provide command references or serial communication so that I can follow the guide.
Hi Nancy, Following is link to serial command ref; https://assets.omega.com/manuals/M5452.pdf Best regards OMEGA
Date published: 2020-10-29
Does the excitation current introduced by a CN32PT change depending on the installed probe's nominal resistance? (eg would a 100 ohm RTD have a different excitation current than a 1000 ohm RTD or a 2252 ohm thermistor)
The excitation Voltages are all Controlled by the processor's program and will vary dependent on the type of input selected.
Date published: 2022-05-16
What is the range of Heating Control Cycle Settings? We need a controller with a faster relay switching time than the CND3, 5 seconds. It is not specified on the webpage or in the manual what the minimum setting for the Heating Control Cycle is. 1sec?
Hi JPVance, Thank you for the inquiry. Fastest cycle time is 0.1 sec. Best regards OMEGA
Date published: 2021-12-16
I have CN32PT-440-C24 units controlled by Modbus. I want to set a manual output level. On the front panel I can go to oPER > MANL > M.CNt, but can this be done over Modbus/serial communication? If so, what registers? The manual doesn't say.
Hi melectron, Thank you for the inquiry. Please forward this question to temp@omega.com. https://assets.omega.com/manuals/M5458.pdf Best regards OMEGA
Date published: 2022-03-18
I finally got my CN8DPT-220-220-C24-EIP communicating via ethernet to my laptop. I was able to open up the webpage, but its asking me for a password? I didn't think there was a password? Do you happen to know what that is ? or did I somehow manage to set
Hi DCain, Thank you for the inquiry. Please use passwords 00000000 or 12345678 to log in to admin or user areas. Best regards OMEGA
Date published: 2020-08-01
What are the full complete electrical specifications (on-board termination resistor, voltage swing, common mode, slew rate, biasing requirements, overvoltage protections and so much more) of the RS-485 interface?
Thank you for your inquiry. Our RS-485 Interface is a standard circuit. Further specifications are proprietary information.
Date published: 2021-01-29
Accessories
Standard USB to Micro USB Adapter
USB Micro to Standard Cable with Panel Mount Connector
1 GB Double-Ended USB Stick (Male Micro and Male Standard)
More Related Items
Related Categories