In the meat and poultry industries, many, if not all, products are temperature sensitive – and maintaining optimal freezer temperatures is absolutely essential in protecting quality, ensuring food safety, and minimizing waste. Since employee interaction with temperature-sensitive products is almost always necessary during processing operations, walk-in freezers are widely used within the industry. Employees entering and exiting a freezer, however, can have an impact on the temperature inside: sporadic opening and closing of the freezer door can cause an increase in temperature over the course of normal operating hours. Unmonitored, this temperature increase can create serious risks to temperature-sensitive products.

To achieve the ongoing, accurate monitoring needed to mitigate these risks, systems operators and managers in the meat and poultry industries turn to cloud-based IIoT temperature monitoring systems – which, when in place, allow for optimized efficiency and improved freezer space utilization, as well.
Cloud-Based IIoT Temperature Monitoring System
An IIoT temperature monitoring system can be utilized to consistently monitor the temperature of the inside of a walk-in freezer with high accuracy. IIoT – or the industrial internet of things – is the network of interconnected sensors, instruments, other devices and pieces of equipment, and computers' industrial applications, including manufacturing and energy management. Cloud computing allows IT services and resources to be uploaded to and retrieved from the internet as opposed to direct connection to a server. As such, files can be kept on cloud-based storage systems rather than on local storage devices – allowing for access to data from anywhere. With a properly executed IIoT temperature monitoring system, systems operators and managers can, remotely, monitor the temperature inside the freezer – at a constant rate.
Products Used
EWSA RTD Air Temperature Sensors with Protective Cages: RTDs detect temperature through a thin metal film or wire whose resistance is proportional to temperature. These RTDs are exposed directly to the ambient air and are protected with a thin, perforated metal cage that is optimized for response time and accuracy in ambient air environments. These RTD sensors can be installed inside ductwork or, for the purposes of this application, within industrial walk-in refrigerators and freezers. RTDs with flying leads will require an additional M12 connector (i.e. M12-R-M-FM), those with integrated M12 connectors do not.

SP-005 Omega Link M12 Modular Thermocouple and RTD Temperature Smart Probe: This smart probe device accepts one or two thermocouples or a single RTD input and converts the signal or signals to the Smart Sensor digital interface, providing a simple, plug-and-play method of integrating legacy probes into the Omega Link ecosystem. It accepts standard M12 thermocouples and RTDs through an M12 4-pin connector and Omega Link interfaces through an M12 8-pin connector. Configuration is straightforward, employing SYNC's configuration interface.

IF-006 Long Range Sub GHZ Wireless Universal Smart Probe Interface: The Omega Link IF-006 Interface is designed to be used in conjunction with Omega Link Smart Probes. The two elements snap together with a twist of an M12 connector to create a universal solution for any sensor application. Sensor installations can be further customized using M12 modular extension cables to quickly tailor solutions for any application.

GW-001 Series Omega Link Wireless Gateway: Designed for robust, long-range communications, this wireless gateway aggregates data from up to 256 connected sensors and transmits it to the Omega Link Cloud, making free Omega Link Standard Cloud service – or multiple subscription-level tiers – accessible from any connected device. The Omega Link Wireless Gateway can achieve transmission ranges up to 1.2 km on standard battery power and up to 3.2 km in range boost mode powered by an external 5V USB power supply. Plug-and-play connectivity allows pairing the Omega Link Gateway with Omega Link Smart Sensors, after which it will automatically be available for data logging in your Omega Link Cloud account.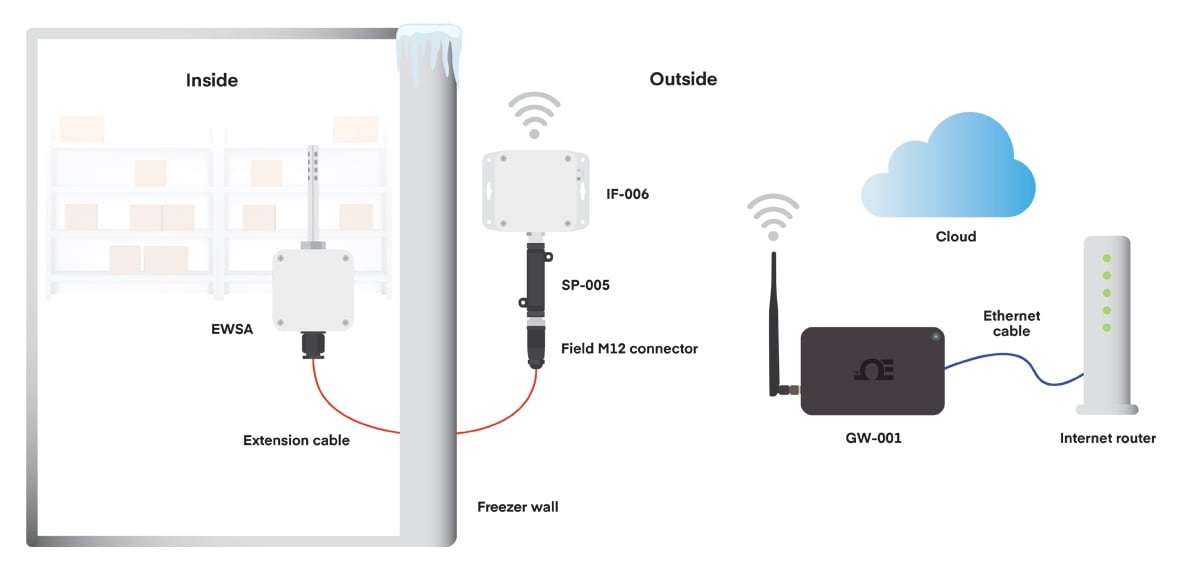 How a Cloud-Based IIoT Temperature Monitoring System Works
Since monitoring the temperature of the inside of the freezer is essential, it is imperative that the RTD Air Temperature Sensor is placed within the freezer itself. However, the heavily insulated freezer presents a unique issue – one that makes constant temperature monitoring difficult – in that it can prevent wireless connection between inside and outside of the freezer.

To circumvent this issue, a hole can be drilled into the metal freezing casing to create an opening large enough to insert the RTD wire. The hole then needs to be sealed and reinsulated around the wire, and, once this is completed sufficiently, the RTD wire leads can be connected to the Smart Probe and USB interface. The USB connector is then inserted into the Omega Link Wireless Gateway – which will transmit freezer temperature data directly to the Omega Link cloud, where it can be accessed from any connected device, including tablets, smartphones, or PCs. The wireless gateway cannot transmit its signal through the freezer's metal casing. It must be situated outside the freezer with a clear line of sight so that it can connect to the cloud without interference.
Results
Using a cloud based IIoT temperature monitoring system enables plant operators and managers to efficiently monitor freezer temperatures remotely, enhancing their ability to control, in real time, the environment in which products are being kept. For operations in the food and beverage industry, like meat and poultry producers, products are extremely temperature sensitive – so this enhanced control saves time, energy, manpower, and, most importantly, wasted product and money.